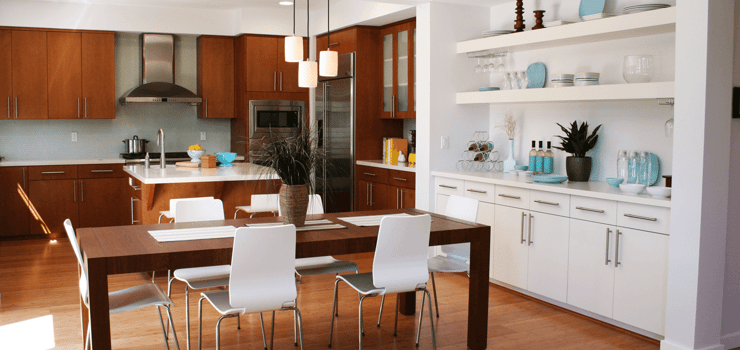 There are many things to love about a classic dining room, including the freedom you'll have from trendy whims and constant remodelling to incorporate the latest fad. But what if you aren't sure how to get that traditional dining room look?
Here are just a few ideas to spark some inspiration.
Neutral Tones
"Neutral" doesn't have to mean "boring"; especially if you play with different colour combinations, you can nail the neutral look. For example, don't make your entire dining room beige; use layered neutrals to complement the beige with light blue or grey undertones.
Don't bleach everything in a blinding white; incorporate subtle gold accents to bring out the ivory. The result will be a nuanced colour scheme that gives depth to the room.
Hardwood Table
The very centrepiece of your dining room will be your dining room table, so make sure it's a good one! Check the colour, grain, polish, and texture of the timber before you buy anything, and choose a type of hardwood that suits your unique family. For example, oak is nice and scratch-resistant, so toddlers won't be able to ruin it with their "excited to eat some macaroni" fork-banging.
Upholstered Chairs
You can't have a dining room table without chairs, but what kind of seats will best match it? The key is to find something made out of the same hardwood as your table. They should also accommodate the height and positioning of your table; you don't want your guests banging their knees during dinner! Last but not least, decorate your chairs with tasteful upholstery.
High-Quality Fabrics
While we're on the subject of decoration, nothing will cheapen your dining room faster than a plastic tablecloth. Go ahead and splurge on something worthwhile that can be used over and over again without disintegration or discolouration. Look for high-quality materials like organza and satin that are rich with details in the stitching or embroidering. Use the same kinds of fabrics that you used for your chair upholstery.
Casement Windows
There's nothing wrong with bay windows or awning windows, but they aren't usually what comes to mind when you think about classic dining room design. For that timeless, traditional aesthetic, you'll need casement windows that are long and straight. The good news is they can be any size while still retaining their ageless appeal, so don't be afraid to go floor-to-ceiling if you want. Opt for triple pane windows for the best value.
Window Treatments
Speaking of windows, your shutters and blinds can play a big role in the overall feeling of your dining room. Not only should you look into the different styles such as "plantation style" and "café-style," but you should also give yourself a crash course in things like the difference between louvred and panelled planks. This research will serve you well when it's time to upgrade your window treatments.
Cupboards and Cabinets
This is where you'll keep the fine china when it's not in use, so you'll want something with inlaid glass doors to showcase its beauty. You should also buy or build a cabinet with plenty of organizational storage in the form of drawers, shelves, or wooden compartments. You can stash your spare linens in there.
Elegant Chandeliers
One of the hallmarks of classic dining rooms, chandeliers will add a real sense of elegance to the space. But don't think that you have to go for the large, gold-plated chandeliers that you always see in movies! There are many different styles to choose from, including glass chandeliers, crystal chandeliers, and iron-wrought chandeliers, so find one that best suits your overall dining room aesthetic.
Warm Lighting
When it comes to thinking about the actual lighting of your dining room, you'll want plenty of natural light during the day so the room feels bright and airy, and when it gets dark the room should feel warm and cozy. When buying bulbs, aim for something in the 2,000-3,000K range to produce a warmer, yellow-toned glow that feels closer to candle lighting for that classic, subtle ambiance.
For tips on lighting the rest of your home, take a look at our guide to Choosing Lighting in Your Home.
Open-Air Floor Plan
If you have an open area dining room that includes parts of the kitchen or den, maximize the space by giving it a uniform design. That's to say, don't make your kitchen sleek and modern while your dining room is classic and rustic. You want to take full advantage of an open concept floor plan, creating a large and flowing space, not areas that are boxy and interrupted by competing room designs.
A Touch of Green
One of the drawbacks of a traditional dining room is that it can sometimes feel stuffy and old-fashioned, but bringing in a few houseplants will re-invigorate the air. Put a vase of sunflowers in the centre of your dining room table, or raise hanging baskets of ferns in the four corners of the room. You'll improve your indoor air quality while also bringing just a hint of the untamed wild into your home.
Decorative Wall Hangings
You'll want to avoid artwork since even classic pieces can be seen as something trendy or in vogue, but otherwise, the sky is the limit when it comes to wall hangings. Framed family photos are always nice, or you can use things like sconces to add both decoration and light to the room. Mirrors can make a small space appear larger. Fabric hangings can add colour and texture to an otherwise dull wall.
Floor Coverings
Once you've taken care of the walls, it's time to turn your attention to the floor. You can skip this step if you have a thick, plush carpet beneath your toes, but if you only have cold hardwood, you'll need something to soften it. Think about rugs with muted colours that won't look dirty even with tiny feet and muddy paws running all over them. Protecting high-traffic areas such as under the dining table with a rug and properly cleaning your hardwood floors will also better retain the wood finish over time.
These are just a few tips for an old-fashioned dining room. At the end of the day, the "classic" label means less than you might think in the ever-changing world of interior design, so don't stress too much over fabric and furniture. Decorate the room in a way that makes you happy!
Originally posted Aug 22, 2017, update Oct 11, 2018.