Our lives are busier than ever, and for families, this is only the beginning. Between work, school, team sports, music lessons, commuting, and cooking, you're riding a wave of unending activity. Amidst all of this, you may lose sight of or neglect some of the necessary tasks involved with keeping your home in tip-top shape.
So, you may ask, what is the easiest way to keep my home consistently clean? The answer is simple: stick to a schedule. Sticking to a regular and regimented cleaning schedule frees up time and helps lessen your overall stress. Once you have set up a list of tasks, you'll find that your home will never be too far from perfectly clean. Additionally, the knowledge of when you need to accomplish your next cleaning task will help to alleviate any overwhelming feeling that builds around trying to prioritize what to clean.
In order to get the most out of a whole-house cleaning schedule, here's how to create a realistic list catered to suit the individual needs of your family and home.
Step 1: Take Inventory
By taking inventory of your home's cleaning and supply needs, you're well on your way to tidier living. In order for you to create a schedule that works, you must first gain a concrete understanding of exactly what tasks to complete. So, grab a pencil and paper. Let's begin your home's inventory.
Check Supplies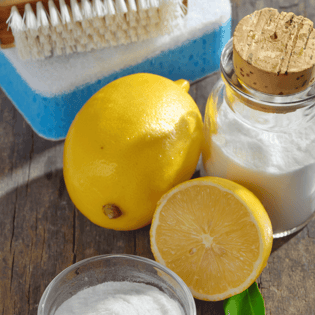 As part of the inventory process, you should take stock of the current cleaning supplies you have on hand. Having these ready to go ahead of time will help avoid any unnecessary delays.
Supply Checklist:
Microfiber cloths

Vacuum

Broom and dustpan

White vinegar

Baking soda

All-purpose cleaner

Kitchen cleaner or wipes

Bathroom cleaner or wipes

Sponges, paper towels, cleaning cloths

Scrubbers

Gloves

Mop and bucket

Floor cleaner

Oven cleaner

Wood polish

Toilet bowl cleaner

Soft scrubbing cleaner

Glass cleaner

Bleach
Please note: the above list should be adjusted to fit your home's individual needs.
Take Stock Of What Needs To Be Done
This is a crucial part of completing your home's inventory. First, begin the task by listing all the areas and rooms in your house that need to be regularly cleaned. Do not include areas that only need to be cleaned every once in a while. These less trafficked areas can be added to a monthly or yearly task list.
Walk through your home, room by room, look around and write down all of the cleaning tasks that are regularly required within each area. Order the items on your list from top to bottom or ceiling to floor. This is the order that these tasks should be performed.
Step 2: Schedule and Delegate
Every home and family are unique in their cleaning needs. However, despite this fact, there are some chores that will always need to be completed more frequently than others. This is where delegating certain tasks to family members comes into play. Tasks such as cleaning counters must be completed daily, and are easy for younger kids, whereas other lengthy tasks may only need to be checked off once or twice a year and are more suitable for older children in the home.
Your cleaning schedule must reflect the unique needs of your family. Decide how often you would like to clean each room within your home. While some areas will only need to be cleaned once a week, your family room, play room, and kitchen will undoubtedly need to be cleaned daily if you have small children. Remember, you don't have to do it all on your own. Get everyone involved.
The following list can be adjusted to reflect the needs of your family and lifestyle.
Daily Cleaning Tasks:
Clean counters and sink

Clutter clean-up

Dishes

Laundry (if needed)

Make bed

Take out trash
Weekly Cleaning Tasks:
Change sheets

Dust

Vacuum

Mop

Sweep (including porches/ decks)

Wipe and disinfect light plates

Clean bathtubs

Clean mirrors

Scrub toilets

Wipe down shower

Clean clutter in kitchen

Wipe all counters and surfaces (bathroom and kitchen)

Wipe down cabinets (bathroom and kitchen)

Laundry
Monthly Cleaning Tasks:
Clean ceiling lights

Clear cobwebs

Clean and organize closets

Dust baseboards and around doors

Dust ceiling fans

Dust/wash knickknacks

Wash rugs

Windows

Move furniture and vacuum underneath

Clean Garbage disposal

Microwave

Refrigerator

Wipe off appliances

Straighten kitchen cabinets and drawers

Oven
Yearly Cleaning Tasks:
Clean behind refrigerator

Shampoo carpets

Turn mattresses

Wipe down insides of cabinets and drawers

Wash walls
Step 3: Adjusting Accordingly
Congratulations, it's now time to put your home in order by utilizing your new cleaning schedule! Begin your first round of cleaning tasks for the day, week, and month. Keep in mind, this is a trial run. After a month, you may need to make some adjustments in order to meet the unique needs of your household.
It's not easy running a busy household in this day and age. However, sticking to a cleaning schedule is a great way to make the most of your time and reduce the stress in your life. Happy cleaning!
For more handy home tips, check out our easy guide to fall home maintenance and some fun fall decor ideas you can try in your home.