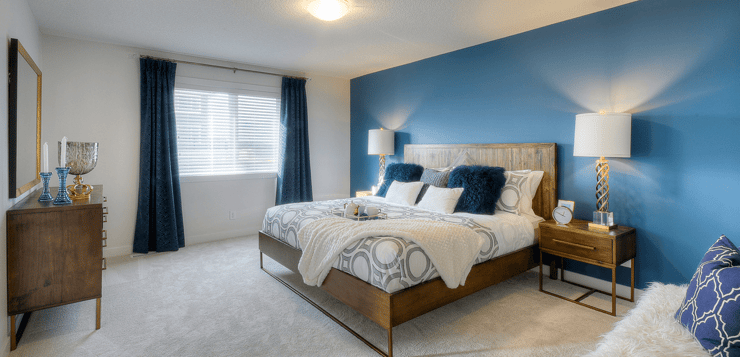 A bedroom is the perfect place to go when you want to read, take a nap, watch television, or simply sit and enjoy the peaceful atmosphere. While a bedroom with a classic design is nice to look at, an organized bedroom with plenty of open space is even more pleasant to spend time in. Consider these eleven ideas for keeping your bedroom neat and organized.

Use Bookshelves as a Headboard
If you have a lot of books and nowhere to put them, try placing a couple tall bookshelves at the head of your bed. That way, you have easy access to your books and you can keep them organized. Plus, if you leave about a foot of space between the bookshelves and your bed, you'll be able to use all of the shelves, even those close to the floor.

A Bedside Table Serves Double Duty
When you think of a bedside table, you probably envision a small table with a single drawer for reading glasses, notepad, pens and other small miscellaneous items. Why not use a medium-sized dresser as your bedside table? You can use its drawers for your t-shirts, socks, shorts and put a table lamp on top of it for your reading time.
Shoe Shelves in the Closet
Do you keep your shoes in a pile on the floor of your closet? If so, have some shelves built into one wall of your closet. You can display all of your shoes there so you can choose the pair you want in a matter of seconds. You can sort the different pairs of shoes in your closet just as you sort spices in your organized kitchen.
Hang Your House Plants
Ferns, spider plants, and snake plants are just a few of the popular houseplants you may have in your bedroom. If you have several of them on tables or on the windowsill, you may be running out of open space. Try hanging these plants from the ceiling near a window so you can enjoy them and open up some space in your bedroom at the same time.
Under Seat Storage
Maybe you have a bay window with a cushioned seat in your bedroom giving you a picturesque view of the property. Putting under-seat storage beneath the cushioned seat can keep books, magazines, candles and other items organized and out of sight. Think about stylish under seat storage featuring elaborately designed cabinet doors.
Built-In Bookshelves
Built-in bookshelves in a bedroom can really help you organize your books and keep them in excellent condition. Plus, you can use the shelves for decorative items, flowers, plaques and more. One of the best things about built-in bookshelves is you don't have to surrender any floor space for stand-alone shelves.
Drawers Under the Bed
Some beds are designed with storage drawers beneath them. If you don't have a bed with this design, you can get portable drawers to put under it. You can fold clothes and place them in the drawers, so they're neatly stored and out of sight.
A Cabinet for the Television
A television can take up a lot of space in a bedroom. Plus, there are DVDs, remotes and other items related to its use. A built-in cabinet for a television gives you a place for this big device as well as its remotes and your DVDs so you can keep them where you can get to them easily.
A Walk-In Closet
A walk-in closet is a design feature you can talk to your builder about if you're getting a new home. A walk-in closet allows you to organize your clothing and shoes by colour or season. In addition, you can put other big items in it such as suitcases and trunks to keep them from cluttering the open space in your bedroom.
A Table and Pet Crate Combination
If you have a pet crate in your bedroom for your dog to sleep in, you know it takes up a bit of space. Why not get a pet crate that does double-duty? Look for a piece of furniture that's an attractive table and has a pet crate underneath big enough for your dog.
A Large Storage Ottoman
An ottoman is a familiar sight in a bedroom, but there are ottomans designed to offer storage space as well. You can stack your books inside it, use it for organizing your board games or even put t-shirts or other clothing items in it. Consequently, your ottoman serves as both a practical and attractive item in your bedroom.
Finally, keeping your bedroom organized can make it easier to find things in a hurry. Furthermore, the neat appearance of a bedroom can help you feel more at ease when you're ready to relax and finish the day. Luckily, there are many furniture designs to help you enjoy an organized and stylish room.
The organization doesn't have to stop here, either – our tips for keeping an organized bathroom and an organized kitchen can help you get your entire home in order.