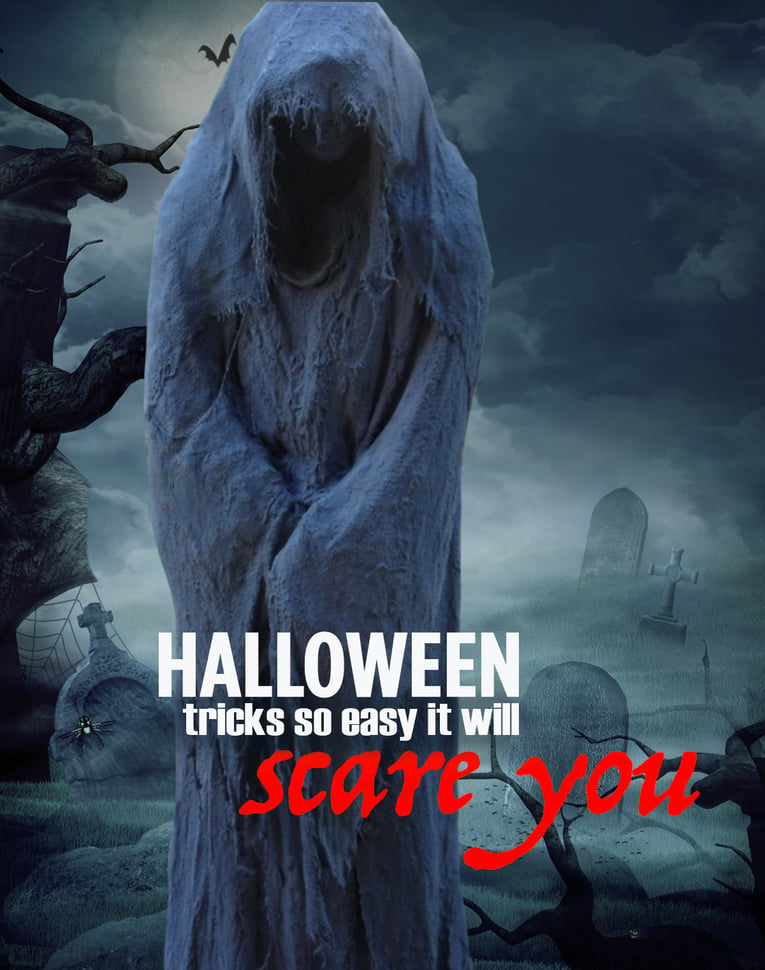 For some individuals, Halloween is the best time of year. More and more people today are getting into decorating but it definitely can get quite expensive depending what you do.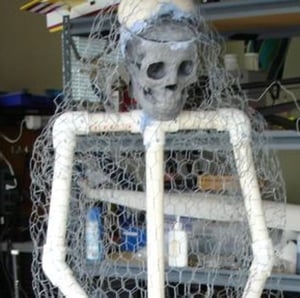 We did some research for you and found some DIY's that are super easy and some that are a little more advanced. There are a few options from big to small so you can decide what you'd like to tackle to give your new home character without breaking the bank.
Have a look at our top picks and get into the spirit!
The Grim Reaper Ghoul
This ghoulish creature looks harder than it is. We found an inexpensive and fairly easy "Monster Mud" recipe video to make it simple, plus it has many applications. To make the Reaper here, you'll need roughly these supplies:
Monster Mud (drywall joint compound & acrylic paint or powdered thin-set & acrylic paint)
Paint if desired
PVC pipe cement
Plastic skull if desired
You will need to figure out the height of your ghoul but most will want them roughly 6' tall for impact. Basically you need to create a stick figure with your skull glued at the top or at least create an opening shape where a head would be. It can be created out of chicken wire. If you want to buy a skull- think of a monk's hood down over his face idea. Glue your pieces together using your PVC cement (about $5 at most hardware stores). Next create a base stand using either PVC or wood. You can use PL400 to firmly glue it in place.
Next, mix up your monster mud. In a large bucket you can dip large section of burlap into the mud and drape over your ghoul frame or brush it on. If you are not using a skull, make sure you have a large piece laid on last so it acts as a shroud for the front.
You can leave an opening gap at the bottom base on the back side of the creature to light it up once it is dry or try cutting an opening in the back of the head and light up the skulls eyes.
For detailed step by step instructions, visit the Ghostess site.
Simple and effective spooky curtains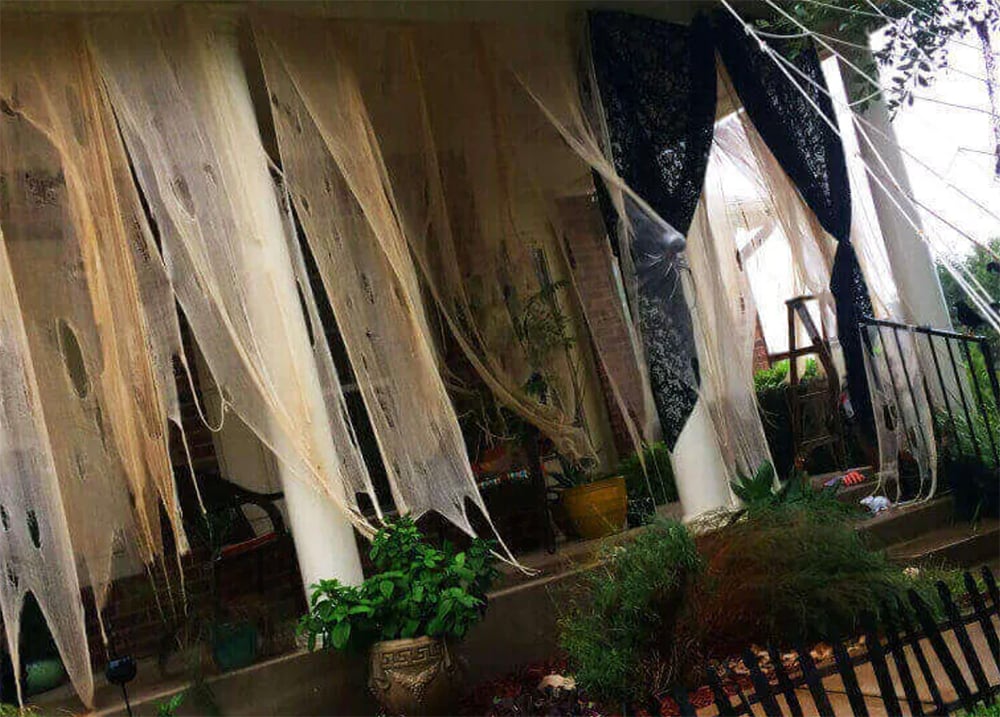 It's so easy to turn a boring front porch into scene from Tales from the Crypt! Even better...it's so inexpensive and not labour intensive. All you need it some white gauze panels from a fabric store, a bucket, coffee or tea, a stapler, nylon rope and some eye screws
All you need:
You Choice of White Gauze Panels or cheese cloth
To Stain | One large bucket
To Stain | Coffee or tea ( 10 cup pot yields approximately 4-5 curtains )
To Hang | Eye screw
To Hang | Nylon rope
To Secure | Stapler or bull clips optional
Tip: Wear gloves and use tongs or you might end up with stained hands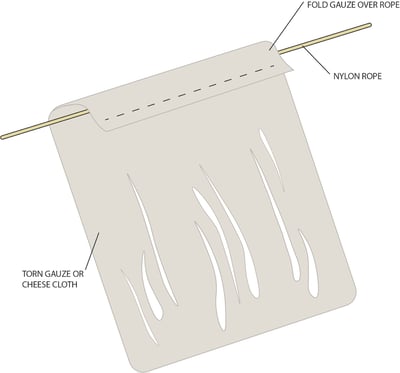 Essentially you place your gauze panels in different buckets of tea or coffee (try different strengths to give various shades) for about 5 minutes. After squeeze out excess tea and let rest for another 5 minutes. Hang to dry over something you don't mind getting tea or coffee on. Once dry, just lay a panel down on the ground and place the rope near the top leaving enough room to fold over the gauze fabric over the rope. Simply just staple the gauze closed so it acts like a curtain. Next use an eye screw to hang it up. Don't forget to make rip holes in your cloth to give it the spooky feel. Click this link for exact steps.
Want simple and less scary ideas?
How about some cute black cats that will take no time to create? Now this craft you can reuse old plastic pumpkins or hit the dollar store. All you will need is some high gloss black paint, hot glue sticks and glue gun, black felt, orange string lights and some plastic pumpkins in various sizes.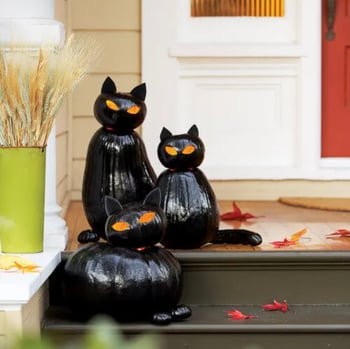 1. Select a smaller sized pumpkin for the head and make sure it's in good proportion with the base body pumpkin.
2. Cut out the eyes with a utility knife. and a hole in the bottom of the small ( head ) pumpkin and a hole in the top of the larger ( body ) plus a hole at the back bottom for your string lights to be placed into.
3. Next spray paint all the pumpkins black. You can use miniature pumpkins for the front paws.
4. Now pull your light through the base on the bottom pumpkin and into the top pumpkin carefully. It might be easier to turn it upside down.
5. Once you have them inside the upper pumpkin place a few beads of hot glue at the base the top pumpkin so the stay together. Now cut wide triangles of black felt. Slightly curl the sides forward and glue them into place. They will look like ears. For an added touch, you can glue on some black pipe cleaners for whiskers. Then plug in your lights! Super cute and you can add accents like fall flowers or even balls of yarn in different oranges and whites! Too cute.
Chic Halloween decor
You know all the fall trees branch trimmings you have? How about spray painting them black or metallic black? Add some black crows from the craft store and pumpkins in blacks and whites and bingo! Very designer chic! Add in a colour like metallic purple or orange for variety.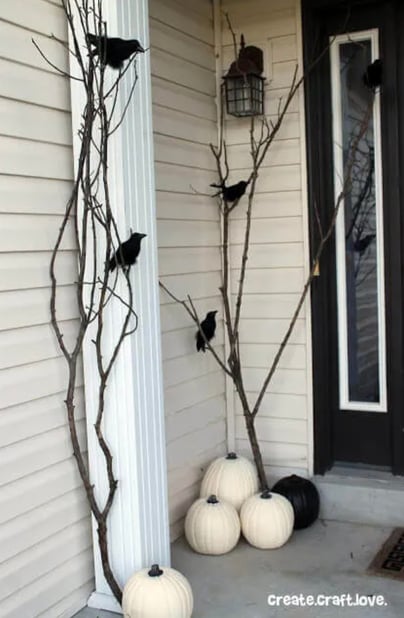 Pro Tip: Take it up a notch and add a black cat and some spiders or a hanging bat. Add some orange lights placed behind the pumpkins on the ground. Or you can place an up-light from your porch! Simple, cheap and effective.

How about a Halloween Spider Wreath?
Here is a super simple yet effective way to add a Halloween fun without going too spooky.
It's super easy and inexpensive.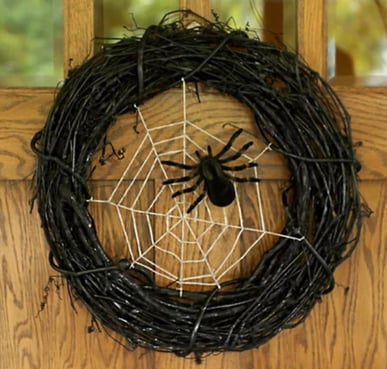 Items you'll need:
Grapevine wreath
Black spray paint
Glue gun and glue sticks
Plastic spider
Silver string
Optional ribbon or bow
Basically begin by spray painting the wreath in a well ventilated area on some newspaper. Next, tie your silver string in diagonals across the inside of the wreath in a criss cross pattern. Now knot your string in a circle around the wreath by looping and glueing each section one at a time. Lastly, Glue on your spider as shown. If you want, you can add silver or orange ribbon to the opposite side for fun. How to spider wreath video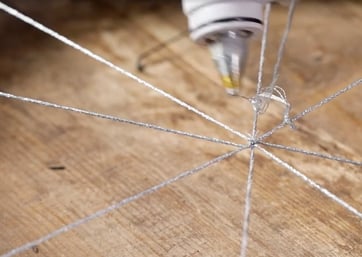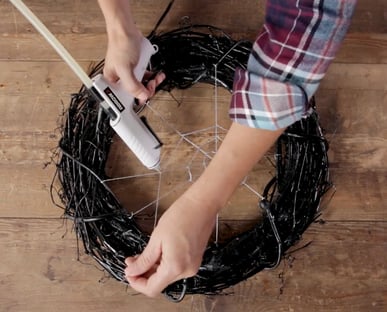 Click the various links in this blog for extra ideas if you want more Halloween craft options. No matter what skill level you have, these ideas are fairly simple and fun for you and your family to get into the Halloween spirit!
Photo credits: varnish