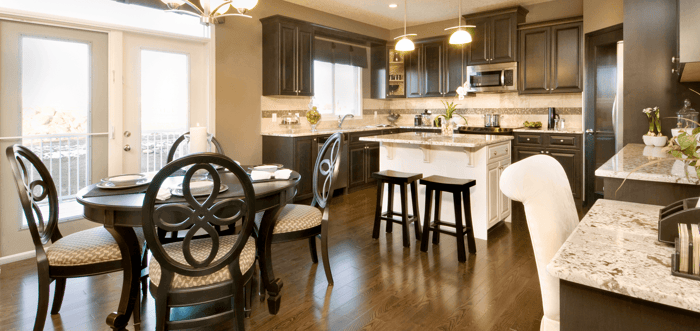 Neutral shades can be an easy way to add elegance to your home. You just have to be careful with your styling so these mild colours will still pop! Here are 14 fashionable ways to bring neutral shades into your home.
1. Spin the Colour Wheel

Most people think of neutral colours as white, grey, beige, and khaki. But they can actually run the entire colour wheel; decorators just take a neutral "base" colour and blend or highlight it with brighter tones. For example, blue-grey is grey threaded with blue notes while golden-beige is beige infused with a warm yellow hue.
2. Stay Practical

Parents sometimes shy away from neutral colours because they're worried about their kids tracking mud on a white carpet. If you're practical, however, you can prevent these incidents from ever occurring. Make the carpet brown and you'll never even notice when Cindy has been making mud pies again!
3. Pick Your Patterns

From spirals to zigzags, there are many ways to incorporate patterns in your home décor. As long as they're still in neutral shades, they'll give the room a bit of energy while still maintaining its colour palette. Think about patterns for your next wallpaper, window dressing, or upholstered couch.
4. Add Texture

Textures are an easy way to increase the visual interest of a room, especially if you're working with base colours that aren't that striking on their own. How about putting fuzzy rugs and lamp shades in your living room design? Or what about re-doing your kitchen design with hardwood floors and bamboo blinds? There are also many types of carpet with varying thicknesses and textures.
5. Add a Splash of Colour

You don't have to go 100 percent monochrome. In fact, splashes of colour here and there can really emphasize your neutral design. Toss a few orange pillows on the couch; buy golden picture frames for the family portraits hanging on the walls; arrange some table plants to bring in the green.
6. Use Naturally Neutral Materials

Instead of forcing your furniture to adapt to the neutral look, find things that are cut, created, or sold in naturally neutral colours. Wood is probably the biggest example of this, but chrome and brass also work. Wooden furniture will pair well with tan colours, and brass fixtures will look great in a neutral kitchen or bathroom.
7. Create a Focal Point
Maybe it's the red brick chimney with pictures lined up on the mantle. Maybe it's the mosaic kitchen isle where everyone gathers for breakfast. Having a focal point will give structure to your neutral room; just make sure that you don't forget tip #2. If you're going monochrome with your dining room, put something down for the spaghetti stains!
8. Brighten Your Whites

If you're decorating with darker neutrals like brown and olive, having crisp white colours throughout the room can really set off their subtleties. For example, if you have a sand-coloured carpet, white curtains and chairs will bring out every single hue of its fibres.

9. Darken Your Blacks
In the same vein as the above, black notes in your interior design can give a stark contrast to the milder colours that otherwise dominate the space. The key is not overdoing it; you don't want black to become the primary colour of the room. Install black window frames or black door frames, but don't do both.
10. Utilize Complementary Colours

Beige works well with navy blue. Cream looks great with pale pastels of green and pink. Whether you're decorating a nursery or just trying to add some style to a guest bedroom, you can open up a lot of style options by utilizing complementary colours to get the perfect paint pairing.
11. Throw Open the Windows

Neutrals look fantastic when paired with natural light. There's no depth to them that the sun can wash out, so you can open all of your doors, windows and skylights and let the sunshine come streaming inside. You can even encourage this bright, airy feeling by buying gauzy curtains or installing glass in your doors.
12. Take Them For a Test Run

If you aren't quite sure that you want to deck your whole house in neutral tones, start with the bathroom or guest room. People expect these areas not to have a lot of colour in them so you can experiment with different patterns, designs, and aesthetics until you're confident in your ability to work neutral magic.
13. Go Grey

Grey is one of the most expressive shades of neutral on the colour wheel. For one, there are both "warm greys" and "cool greys" that can give different atmospheres to a room. There are also endless varieties of grey that run the gamut from light "dove grey" to dark "charcoal grey." Embrace your own 50 shades for a stylish home design!
14. Keep It Clean

Remember what was said about crisp whites? They'll turn into dreary off-whites if you allow them to get covered in grime. The same goes for dirty khaki or gritty grey. There's no faster way to ruin a neutral room than by getting it dirty, so if you're serious about embracing the neutral trend, commit yourself to a regular cleaning schedule. Our spring cleaning list can be your sidekick for this!
These are just a few ways that you can utilize neutral colours in your home while avoiding the dreaded "boring" label. As long as you apply the same creativity to your neutral rooms as your colourful ones, your house should turn out beautifully!