When you're looking at a new community for you and your family to call home, it's easy to get caught up with must-have features like nearby schools, an easy commute and other great amenities.
However, when scoping out a potential new neighbourhood, we often miss out on the smaller, more subtle things that make a big difference in the long run. When it comes to choosing a more desirable community, these seven minor but telling details listed below can have a major impact on your selection.
1. Great Culture
While you may be attracted to a community's favourable reviews, low levels of crime, high-caliber schools, and well-loved conveniences, if its culture is not what you're used to, you could easily find yourself unhappy. Discovering the community of your dreams concerns more than just data and statistics; it needs to be the right fit. Before you begin your analysis, imagine yourself and your family actually living there.
For example, if you're in the market for a quiet, family-friendly neighbourhood, you probably won't feel content in a trendy, downtown community. Ultimately, you'll never be satisfied with a community that doesn't match your way of life. Take care to locate the appropriate community culture first, and all the other aspects will come together on their own.
2. Close to Public Transportation
As the kids get older, close proximity to transit may be a priority in order to get to and from school or other activities. Not to mention, close proximity to Calgary Transit hubs and Park n' Ride stations can be a huge money and stress-saver for your morning commute to work.
3. Houses Sell Fast
Despite it already being a great time to buy a new Calgary home, a neighbourhood with quicker home sales signifies the community is desirable - meaning higher home values. A real estate agency can perform comparative property evaluations to inform you how fast houses sell in a specific location. Other indications of a popular community are an increasing populace and a minimal number of sales listings.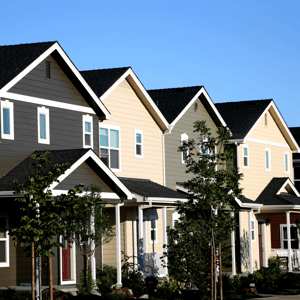 4. Residents Maintain Their Homes
Particularly during the spring and summer, try to find signs of activity indicating residents are properly maintaining or enhancing their homes. Upgrades such as shovelled walks, new drain gutters, repainting, landscape gardening, privacy fences, and decorated verandas are good indicators that owners value their properties. It's nice to be a part of a community that cares about appearance and keeping everyone's home values strong.
5. Lots of Walking Space
Many people don't give much thought to sidewalks when searching for their ideal community. But when you want to find a neighbourhood with plenty of natural space and greenery, sidewalks are often an indicator of parks, trails, and green spaces are close by.
Sidewalks are also great community safety features. No matter where you're walking to, your chances of being struck by a vehicle are much lower when you're on a sidewalk. This safety factor makes sidewalks particularly attractive for your pets and/or children, as they may be strolling through the neighbourhood routinely.
6. No Obnoxious Sounds or Smells
A good reason to drop by a prospective neighbourhood at various times during the day before buying a home is to hear and smell what it's like there. No, really! A location may seem ideal in the listing, but whenever you pay an impromptu visit, you could discover the line of trees in the backyard actually conceals a loud highway.
Train tracks, pubs, airports, hospitals, and even neighbours can all be potential nuisances. Annoying noises like these are most likely permanent, and although you may learn to tolerate them, they can affect your quality of life. Furthermore, these types of noise disturbances will make the home a tougher sell if you want to move.
And, as you're tuning into the sounds of the neighbourhood, remember to have a little smell also. Faulty sewers or street drains, nearby sloughs or ponds, and even nearby shops or restaurants may produce unwelcome smells that are probably permanent as well.
7. No Likely Future Development Plans
It may seem like a community is ideal at the surface because it's quiet, charming, and affords a lot of privacy. That is, until you discover a land developer is cutting down the woods behind your prospective home to build a new housing complex. That's why it's a good idea to do a little research ahead of time to ensure there won't be any major developmental changes around your property.
When you've grown tired of the atmosphere, lack of amenities and poor accessibility of your present neighbourhood and want to upgrade, it's easy to rush into a decision and buy in a community that looks better on the surface than it really is. The seven tips listed above will help you to look a little bit deeper into your prospective neighbourhood to see if it's truly the right match for you and your family.