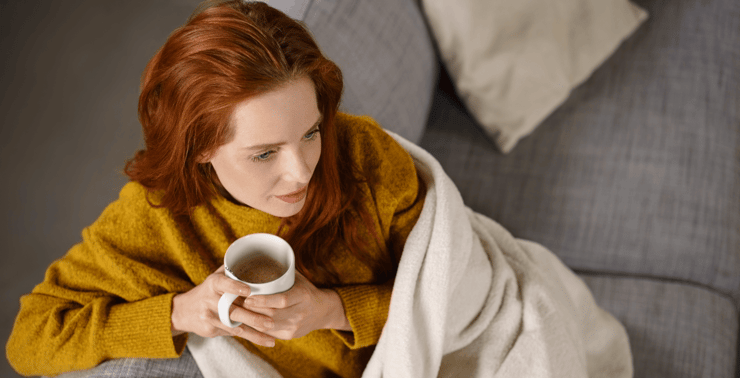 As winter looms near, you may find yourself struggling to stay warm and toasty in your new home.
It might seem that no matter how many thick shirts you pile on or how high you turn the thermostat, there's still a vague chill in the air that you can't quite shake.
Fortunately, there are many simple, cheap ways to increase the warmth and coziness factor of your home.
So if you want to make this winter cozier and more comfortable, the quick tips listed below should do the trick.
1. Light up your space with candles.
Candles are natural heat sources that can give a space a warmer ambience. While modest tea candles won't exactly warm your hands, placing sets of small tea candles in front of windows and mirrors can increase the feeling of warmth in any room.
Scented candles that give off warming aromas like cinnamon, cloves, or ginger increase the coziness factor. Candles are a fantastic finishing touch to any room in your home, especially those dedicated to relaxing, such as your bedroom and living room. Remember to never leave candles burning unattended, though, and always put them in safe places where nothing flammable is nearby.
2. Bring in some plants.
Living plants are commonly added to homes in the spring and summer months but are often overlooked when the weather gets colder. However, keeping plants in your home throughout the winter can bring a liveliness as well as a coziness to any space. The best part? They also act as marvellous air purifiers, supplying oxygen and fresh air during the harsh winter when you're spending more time indoors.
3. Use throws when it snows.
Throws, quilts, afghans, and blankets are fast and simple options for warming up your home. They not only impart a warmer look, they can be easily draped over your shoulders and carried throughout the house when you want physical warmth. Accessories made with thicker materials such as cable knit or faux-fur throws provide the most insulation and comfort.
4. "Winterize" your ceiling fans.
Many people let their ceiling fans sit idle during the winter, reasoning that the extra breeze isn't needed. But many modern ceiling fans can be switched to a "winter" setting, which makes them spin clockwise rather than counterclockwise. Making the switch can be an easy task to add to your fall home maintenance.
When it spins clockwise, a fan forces any naturally rising heat down again into your living space. This is particularly useful for homes with tall or vaulted ceilings. To prevent the fan from cooling the hotter air, just set it to its lowest speed.
5. Let the sun shine in during the day.
It's smart to take advantage of the free, natural heat that daylight provides. To do so, keep your window drapes and curtains open in the daytime, but close them once the sun goes down to help your home retain the heat provided by sunlight.
6. Look at your lighting.
Soft, slightly subdued lighting produces an inviting glow sure to make any room seem warmer. Bright lighting is usually more conducive to tasks requiring concentration, whereas softer lighting makes you feel more toasty and relaxed.
Rather than using fluorescent light bulbs, opt instead for table lamps and/or string lights. Incandescent bulbs are less energy efficient, but they also provide more heat. You can incorporate several different types of lighting in a room to give it the atmosphere it needs.
7. Pile on the curtains.
The time-honoured concept of changing out drapes and curtains as winter approaches is still relevant in the modern age. Window panes – older ones in particular – are notorious for letting heat escape through the glass which, in turn, makes a chilly room seem even chillier and ramps up your heating costs.
Luckily, most new homes are now built with triple-pane windows for the ultimate weather-resistance. Still, if the material of your summer drapery or curtains is thin, buy some that are made of a heavier material for the winter season, and remember to keep them closed once the sun goes down. A lot of winterized houses actually use two sets of drapes to provide a warmer, more sophisticated look.
8. Be as snug as a bug in a rug.
It goes without saying that carpet and floor rugs are a lot warmer to walk on than hard surfaces such as tile and hardwood, especially during the winter months. In the past, rugs were set out during the winter to make a space seem warmer and put back into storage during the summer. Choose an awesome area rug and make your main living spaces more comfortable – no one likes having chilly toes!
Whether this will be your first winter in your new home or you're already used to the harsh weather of the season, there's almost always something cheap and easy you can do to make your rooms seem warmer and more soothing.
The above tried and true methods are some of the most simple and affordable ways to cozy up your home and – bonus! – most of them help reduce your heating bill as well, saving you money this winter.