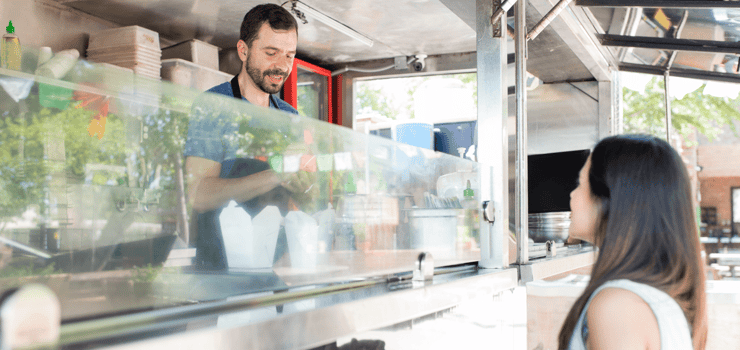 Some of Calgary's best restaurants are on four wheels - offering a taste of your favourites and some new experiences as well. Food trucks offer the best of locally-made cuisine, served in various locations throughout the city, including spots close to where you might work or shop. One of them might be making a stop near one of our NuVista communities soon, so be sure to watch for these delicious options!
The Veggie Truck
This truck offering dream foods for vegetarians is a fixture at local festivals, and you can get updates on the latest location through the Street Food App. Some of the highlights include vegan taco salad, poutine and corn dogs, made so you won't miss the meat. A nice treat worth considering here is the vegan pulled pork-style BBQ sandwich complete with vegan mayo, mustard and coleslaw.
Arepa Boss
The curbside food truck, with a location you can discover using Instagram, is the creation of two friends with a passion for Venezuelan street food. Their signature dish, chicken arepa, features barbecued chicken, chorizo, avocado, grilled queso duro cheese, and a topping of mayo garlic sauce and tomato vinaigrette salsa for plenty of spice. Don't forget the yucca fries as a perfect side dish to top everything off.
Taiko Taco
If you can't decide between Asian food or tacos, why should you have to choose? Taiko Taco serves up the best of both worlds, with a unique flair. Try a taco in a bun with green onion, cucumbers and Sichuan peppercorn sauce with a side of spicy Korean French fries.
Bandit Burger
Bandit Burger is the truck to visit for an array of burgers that includes beef, pork and chorizo selections. Mexican-style burgers featuring marinated tomatoes are popular with many diners. Appetizing, creative sides include slaw infused with Sriracha sauce that goes well with almost any burger.
Bun Boys
If you're in the mood for some Vietnamese street fare, this truck serves up everything you want, in practically no time. Just a few offerings include salad rolls, noodles, and banh mi sandwiches. These sub-style sandwiches feature tasty varieties like lemongrass chicken that are filled with flavour.
Red Wagon Diner
If you have a big appetite, the Red Wagon Diner his truck that offers diner-style favourites is just the thing for you. Montreal-style smoked meat sandwiches and smoked meat breakfast hash are worthy of your consideration. No matter whether you're starting off the day or finishing, you'll love these options and will finish your meal well-filled.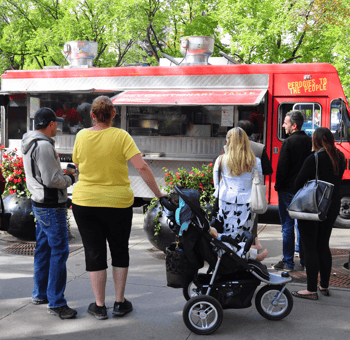 Perogy Boyz
Perogy Boyz tour the city most of the year and stands out as one of the oldest food trucks still in operation. Their signature food is their famous perogies, one of the food options with the most variety at any time of day. Choose from selections as diverse as egg and bacon options for breakfast to apple, cinnamon, bacon bit and whipped cream dessert options. Yum.
Aglio e Olio
When you visit Aglio e Olio this food truck, you're visiting is the only food truck in the city that specializes in pasta. Many of the kinds of pasta used and all of the sauces are homemade for extra yumminess, using authentic recipes. This truck also serves things in an environmentally-friendly way, with entirely recyclable utensils, napkins, and containers.
Purple Pastry Chef
This Purple Pastry Chef specializes in pastries (including cupcakes) and whatever else will satisfy your sweet tooth. One of the things that people in the area love the most about the colourful pastries is that they are hand-decorated. The truck also offers vegan and gluten-free options to suit customers with special dietary needs.
Farm Girls
If you're in the mood for comfort food with a unique twist, Farm Girls (who makes the rounds regularly) will fit the bill. Some of the unique foods that draw attention include macaroni and cheese with truffle, shepherd's pie, meatloaf sliders, and butternut squash with onion, pumpkin seed, and bacon crust. Regardless of whether you want a nice break from your usual lunch to go or treat yourself, you're in luck with these tasty treats.
If you're a dining or food truck enthusiast, our communities put you close to all the food action - in addition to many other great and important amenities. Stop by one of our show homes to get a good idea of what living in a NuVista neighbourhood could be like for you and your family.