The area around your fireplace is one of the coziest places to hang out on chilly nights. Why not decorate this area to increase the cozy atmosphere of your living room design? Your household members will love it, and you'll also please your guests.
1.Put Up Moroccan Tiles
Moroccan tiles are a great way to embellish your fireplace area. These tiles offer a classic look that matches almost any type of decor, particularly antique pieces. Vintage sconces on either side of the fireplace are a good way to complete this look.
2. Top Off with Artwork, a TV or a Mirror
Balancing things out by placing something to draw the gaze above the fireplace helps serve as an effective counterpart, especially using antiques and eclectic pieces. Some of the choices to consider include:
• A circular or rectangular mirror;
• A large clock;
• A large piece of artwork;
• A flatscreen TV.
Make sure you select the right size for artwork, mirrors, and TVs because items that are too small look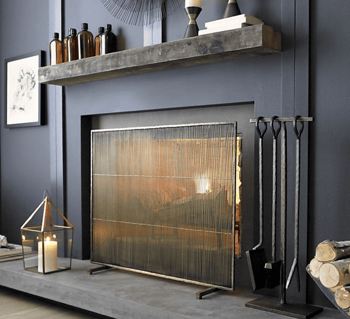 out of place, and something too big overwhelms your fireplace.
3.Pick a Unique Fireplace Screen
Whether your fireplace is wood-burning, gas, or electric, you can always increase the appeal by choosing a fireplace screen with a unique design. This can be both an eye-catching piece of art and an item of function. If you have children, putting up a screen doubles as an extra safety measure.
4. Do a German Smear on Your Brick Fireplace
A "German smear" or mortar wash is a great way to give your fireplace a distressed look. You'll be able to tone down bright bricks to make your fireplace match an existing rustic look much more easily. One of the best things about this look is that it is very easy to pull off, you can even do it yourself.

5. Arrange Your Furniture Accordingly
Because the fireplace is often your room's focal point, arranging the seating around it is always a good choice. A coffee table helps provide an anchor for this type of arrangement. Even when you don't have a fire going, this area will still look cozy and inviting.
6.Use Vases & Candles to Accent
Go for a balanced look on your mantle by placing one large object with smaller ones on either side or a smaller centred object with two larger objects on each end. Even if the objects used are different types, the balance will keep them looking even and cohesive. You can even play with mixing high and low-end décor for ravishing results here.
7.Create a Gallery Wall Using Bookshelves
A gallery wall on either side of your fireplace always looks good, and using shelves makes it easier for you to set up this type of arrangement. The best thing about this option is you can switch things around as needed to get the right look. Consider sketching everything out on paper first so you have a better idea of the space you're working with.
8.Use as a Painting Prop
Even when your fireplace isn't in use, you don't have to leave the area devoid of decoration. An unconventional way of hanging art is to actually not hang it at all! Use the hearth area in front of the fireplace to prop up a painting. You'll make great use of empty space, as well as give your hearth area a new look.
9. Use a Warm Rug in Front
While most people spend time near the fireplace for heat in the winter, you can take things up a notch with décor additions for a cozier home. A nice warm rug in front of the fireplace makes it even more inviting. The rug will also be a great place for your pets to curl up for a warm nap, or for you to warm your toes after being out in the cold. Just ensure it's placed at a safe distance.
Your fireplace can easily serve as both a visual focal point and a place to build your seating area around. Calgary's winters offer a lot for winter sports enthusiasts, but it's also nice knowing you have a warm place to head home to after your adventures. It may take a little changing and rearranging to get it right, but once you've decorated around your fireplace to your liking, settling down in front of it will be all the more relaxing.
Have a different focal point in your living area? Consider some interesting ways to decorate around your television.