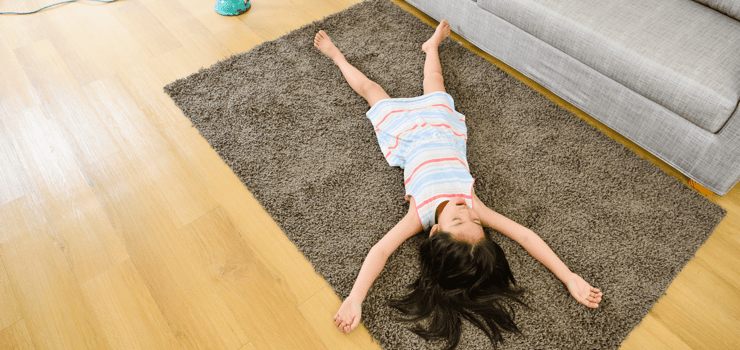 During the summer months, when you feel your home start to heat up, your first thought is probably to turn on or adjust the air conditioning. But, using your air conditioner a lot during the summertime can lead to high utility bills. Or maybe, you don't even have one! Fortunately, there are some ways to keep cool during the hot summer months without clicking on the air conditioner.
Reset Your Ceiling Fan
If you have a ceiling fan in your bedroom, hallway, or elsewhere in your home, make sure its blades are turning in a counterclockwise direction. The counterclockwise movement of the blades pushes the cool air down into the room and draws the warm air upward.
Change Your Bed Coverings
Maybe you have the same sheets and blankets on your bed all year round. If so, check to see what they're made of. If your sheets and blankets are made of polyester or flannel, trade them out for cotton bedclothes this summer. Cotton is a breathable fabric that will help keep you cool as you sleep.

Consider buying a pillow made to absorb body heat. Cooling pillows might cost a little bit more than the standard, but they can make it easier to sleep when your home is warmer during the summer months.
Run the Fan in the Bathroom and Keep the Door Closed
After someone takes a hot shower, it's important to run the fan in your bathroom to get rid of the steam and humidity. This is especially crucial in the summertime. So, run the bathroom fan while keeping the door closed so the steam and heat don't flow out into your rooms.
Apply Window Film
Applying window film to one or more of your windows helps to decrease the amount of sunlight entering your home. Window film is tinted, but still difficult to detect on a window. This energy-efficient home improvement is readily available in hardware stores and relatively easy to apply.
Sleep Downstairs
Maybe you have a two-storey home with a flex room on the main floor that serves as a guest room. On those particularly humid summer nights, consider sleeping downstairs in your guest room. Heat rises, so your upstairs bedroom is going to be warmer than the rooms on the main floor or in the basement. Think of it as a mini-vacation!
If your young kids are complaining about being hot in their upstairs bedrooms at night, tell them they can have a slumber party in the great room. Dust off the sleeping bags and put them on the floor of the room. Or, tell them they can create a tent in the basement using sofa cushions, sheets, blankets, and plenty of pillows.
Make Some Tasty Frozen Treats
You don't have to travel to the grocery store to buy boxes of expensive frozen treats. Making homemade frozen treats is just one fun at-home activity the family can participate in this summer.
Pour your favourite juice into a few ice trays. Place a sheet of aluminium foil over the tray and poke a toothpick into each square. Leave the trays in the freezer for four or five hours, remove the foil and you have homemade popsicles. Transform your patio into a summer oasis and cool down there with your tasty treats.
Open the Windows at Night
This is a simple way to cool down a bedroom at night. Keep the windows open so the cool air can circulate around the room. As an extra bonus, you can enjoy the sounds of the crickets, tree frogs, owls, and other creatures who make their home in Calgary.
Put Portable Fans in Your Windows
Another way to keep cool in the summer without the AC is to put a fan in a main floor window on the side of your home that gets the most shade. This fan will pull in cool air. Put another fan in a window on the second story to push the warm air out of your home.
Close the Curtains
This is a tried-and-true way to block sunlight from entering a room and heating it up. Get a pair of white, beige, or other light-coloured curtains to put up in a room that gets a lot of sunlight. Close the curtains during the few hours a day when the sunlight really starts to pour in.
Wash Dishes and Dry Clothes in the Evening
Your dishwasher and clothes dryer both give off heat when they are in operation. For instance, opening up a dishwasher while it's operating sends steam into the air. So, use your dishwasher and dryer in the evening when the temperature of your home has cooled off a bit.
Put in Your Screen Doors
Opening your front door or patio doors while leaving the screen door closed is a great way to let in some cool breezes. If you have a screen door at the front and back of your home, you can get a nice cross-breeze.
These are just a few of the things you can do to keep your house comfortable during the warm weather months without operating the AC. Get creative and save on your utility bills this summer!