Whether your house looks like a tornado just blew through or you pride yourself on keeping a tidy home, a thorough spring cleaning is an essential part of new home maintenance. Far beyond just removing clutter, a good spring cleaning will make your home a more inviting and pleasant place to live (and visit!).
Cleaning your home will lift your spirits, and you'll definitely be glad you invested the time and effort to do it. Once you've got a plan on how to clean your home, you'll be surprised at just how quickly you can get things done; this to-do list is here to help!
Step 1: Gather Your Materials
Whether it's cleansers, brushes, dust rags, brooms, mops, or other equipment, be sure to have everything on hand that you'll need. Few things are as frustrating as beginning a big clean-up job and then realizing you're out of something you need to keep up your forward momentum.
Step 2: Each Room Needs a List

Cleaning an entire home can feel like a task that'll never get done. Before cleaning anything, go into each room of your home and make a list of exactly what needs doing. This checklist will help keep you on track so you know where to focus your time and effort. Make sure your list focuses less on areas that are regularly cleaned and more on areas that are rarely cleaned.
Step 3: Discarding
Before the big spring clean-up can begin, it's essential to remove everything that's no longer useful, and simply taking up space. You'll need to go through each room, one by one, and set aside things like clothes, books, furniture, toys, and other items that you should get rid of.
If you've got a lot of items to discard, consider planning a garage or yard sale. In some cases, it may be better to box up items and donate them to the charity of your choice. As you handle each item, decide whether or not it's adding happiness and joy to your life. If it isn't, it's time to say goodbye to these items so that they don't weigh you down.
Step 4: Get Some Helpers

Whether it's your family or friends, spring cleaning is a lot easier when you're not doing it all on your own. Even if a friend can only help out for a short time, this will do wonders in boosting your mood and keeping you motivated to get the job done. Find ways for the whole family to help, as many spring cleaners make light work. If you've got enough helpers, assign each one a room.
Pro tip: Put on some fun, high energy music while you work. And if some family members are reluctant to help out, consider offering a reward for when the work is done. Ice cream should do the trick.
Step 5: Clean Room by Room
While no two homes are exactly alike, here is a sample guide of what you can consider cleaning/tidying in each room of your house.
Foyer/Entryway
Dust/clean lighting fixtures.

Wash/clean walls and baseboards.

Remove all movable furniture (shelves, dressers, benches, tables, etc.) and dust/clean underneath them.

Take everything out of your coat closet. Wash the walls and floor. Before returning items to the closet, sort them. Store what you won't need for spring/summer.

Wash or replace the entry mat.
Kitchen
Open all windows.

Remove and dust/clean any coverings.

For every drawer/cabinet, remove every single item. Clean and dust, then sort items before returning them.

Sharpen your knives.

Wash all cabinet doors.

Clean your oven and stovetop.

For the pantry remove every single item. Clean and dust. Throw away expired/unneeded food before returning items to the pantry.

Remove everything from the refrigerator/freezer. Clean (and defrost, if necessary). Throw away spoiled or expired food.

Move the refrigerator and other items so you can clean underneath and behind them.

Clean your microwave, toaster, and other appliances.

Dust light fixtures.

Wash all floors, windows, doors, and surfaces.
Bedroom
Open all windows.

Dust furniture.

Move all movable furniture (including the bed) and clean/dust behind/underneath.

From each drawer, remove all items. Clean drawer and discard/donate what you won't keep. Neatly fold/store all items you're keeping.

Remove every item from closets. Wash/clean the walls and floor. Sort items.

Launder linens and clean curtains/window coverings.

Dust light fixtures.

Wash/clean windows, mirrors, doors, and surfaces.

Sweep, vacuum, then wash floor.
Bathroom
Open all windows.

Empty all cabinets and doors. Sort items, discarding anything that has expired or you don't need.

Clean the tub, including the drain.

Clean the sink, including the drain.

Dust light fixtures.

Clean toilet inside and out, including the base.

Wash the walls, door(s), and surfaces.

Sweep and wash the floor.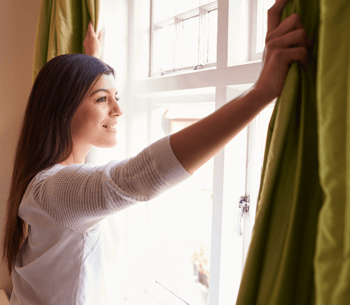 Living Room/Playroom/Family Room
Open all windows.

Dust shelves, light fixtures, furniture, and decor.

Launder everything you can (pillows, blankets, etc.).

Clean television screen and dust all electronics.

Tidy and organize all wires and cables.

Sort through DVDs, magazines, books, and other items. Discard/donate what you don't need and then organize what you're keeping.

Wash hard toys with water. Launder stuffed toys. Discard/donate items your children have grown out of.

Wash/clean walls, doors, and surfaces.

Sweep, vacuum, then wash floor.
Stairs
Dust handrail and any light fixtures.

Sweep then vacuum stairs.

Clean walls and dust/clean any hanging items (like photos).
Exterior

Sweep your porch, walkway, and any paths.

Wash the thresholds and outside of doors.

Clean or replace welcome mat.
Remember, although it may seem like a big job to give your entire home a thorough spring cleaning, it's definitely worth the effort. Once you have a good plan in place and some helpers to assist you, you'll find that the work will fly by in no time. After your house has been aired out and is looking tidy, treat yourself to a reward (pizza party!?) and enjoy living in your fresh, clean home.