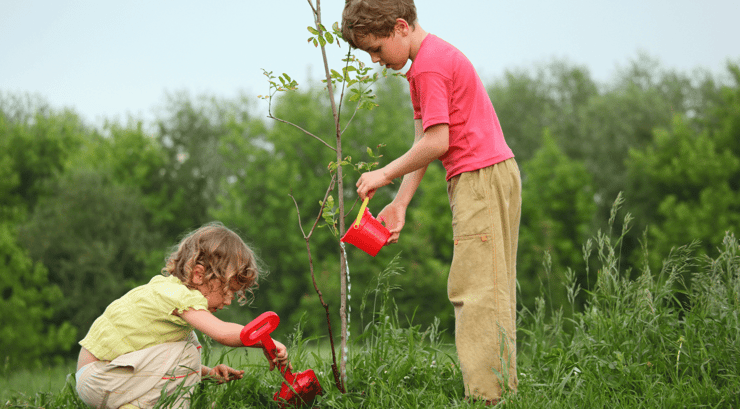 When you plant trees in Calgary, you're both adding to your neighbourhood's aesthetic appeal and overall environmental health. Our local climate presents both opportunities and challenges to keep in mind during planting. Consider some of the top tree species for Calgary that do particularly well in our climate for your new home's yard.
Before You Start
One of the most important tasks to see to before you begin beautifying your yard by planting trees is find any underground utilities. Alberta On Call is there to make sure you have everything in order before you start your planting project. If you take this step, you'll avoid the frustrations that come with inadvertently digging into an electrical or water line.
Trees to Consider
One of the best things about planting trees in the Calgary area is there are several species well-suited to the local climate, including the tougher winters. You'll probably also want to select trees based on the purpose you intend to use them for in your yard. As one example, Swedish Columnar Aspen trees are very suitable if you're looking for trees that use less space.
Evergreen options to achieve that great Christmas tree look all year long include:
Colorado Spruce

Norway Spruce

Siberian Larch

White Spruce
Flowering or fruit trees that offer colour, fragrance and tasty treats are:
American Mountain Ash

Crabapple

Japanese Tree Lilac

Ussurian Pear
Shade trees that give your yard plenty of sun protection include:
How to Plant Your Trees
Taking a few easy steps during planting will your ensure your trees become better established. The better established your trees, the healthier they will be in the long run. A yard with healthy trees is always very inviting.
Dig a Wide and Shallow Hole
Dig the hole no deeper than the root ball, but three times the diameter of the root ball. Breaking up a bit of the soil near the root ball will help make it easier for the roots to penetrate the soil. You'll want to avoid heavily compacted soil if you want healthy growth. If you haven't already, think about starting a compost pile to create your own nutrient-rich soil.
Ensure the Tree's Proper Height
The trunk flare or area of visible roots spreading out should be high enough to put the tree two or three inches higher for better settling. Most of the roots will develop in 12 inches of soil. When you do have to adjust the tree's position, handle it by the root ball instead of the trunk.
Use Proper Backfilling Techniques
Make sure you've looked at the tree from more than one angle so you can make sure everything is straight. Fill the hole about a third of the way up and make sure the soil is packed around the root ball. Filling the hole a few inches at a time while adding water makes it easier for everything to settle.
Mulch the Tree
Mulching helps prevent weeds and grass, moderates the temperature, and helps the soil keep its moisture. The mulch should be two to four inches deep and removed enough from the tree trunk to prevent disease. To provide better coverage when watering, use a soaker hose.
Possible mulching material choices include:
Wood chips

Peat moss

Shredded bark

Pine straw

Leaf litter
Initial Care
It's important for the tree to stay moist, without oversoaking, which can lead to yellowed or lost leaves. Water the tree weekly while the tree is becoming established, and water when the soil under the mulch is dry. You might also want to trim off any branches that may have been damaged while you were transplanting the tree.
A fertilizer with nitrogen will help your tree get better established. If you start to have any issues with insects, a diatomaceous earth and water mixture will help you get things under control a lot more quickly. You want the tree to get established well, without any of the problems that come with overdoing the water, fertilizer or insect control products.
With wise tree choices and right maintenance, the area surrounding your home can look just as beautiful as the home itself. Tree placement is something to think about when choosing a lot for your new home. Don't hesitate to ask your builder about landscaping options to ensure you have the nicest yard on your street!