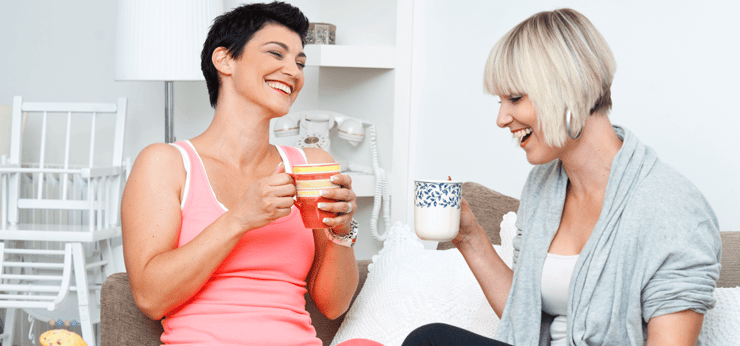 There are many reasons why you should want to get to know your neighbours, and they're not all about having someone who can help when you need them. Being able to help others can make you feel just as good. After getting settled in your new home you should make getting to know your neighbours a priority. Living in a community where the people around you have your back is a very valuable thing.
Here are seven reasons why it's smart to approach your neighbours early on, so you can develop a strong relationship; one that's mutually beneficial.
1. Getting Social
It's nice to have friends who you've known for years, but getting together with a friend who lives across town requires planning. When you're friends with your neighbours, you won't have to go far to have a good time. You'll realize how nice it is to have an impromptu gathering on a Friday night, with everyone chipping in to order a few pizzas. It's also nice to live in a neighbourhood with people at the same stage of life. If other families in your neighbourhood have children the same age as yours, they'll have friends to play with. This helps get kids away from screens and outside playing.
2. Reliable Resources

Neighbours can also be a good resource when it comes to finding quality service providers in your area. Whether you need lawn care, house cleaning, or a new doctor, you'll feel a lot more confident if you have a recommendation from someone you know and trust. This is especially essential for people who are moving to a new city and have no idea where to start.
3. Security
Good neighbours look out for each other. When you care about the people who live nearby, you naturally take more of an interest in their safety and the safety of their homes. For instance, a neighbour on her morning walk who notices smoke coming out of your home will have no hesitation contacting the fire department or walking up to another neighbour's house to borrow a phone. That early recognition and response can make the difference between minor and major damage.
4. Service Swap
There's nothing more frustrating than being stuck without childcare when you need to be somewhere last minute. As you become close to your neighbours, you'll find that you have more people who might be willing to help out on a moment's notice. You might swap babysitting duties with another nearby family so that you can take turns going on date night, or simply know that you have a good backup plan in your neighbours next door.
5. Borrowing Essentials
It's hard – and expensive – to do it all on your own. Many new homeowners are surprised by all the little "extras" they need, especially if they're moving from an apartment. You don't necessarily want to buy a $300 piece of equipment for a small project. Fortunately, most neighbours are happy to lend tools and other things to the people they know and trust. Before spending money on something that you know you'll only use once or twice, you should ask around for one to borrow.
6. Problem Solving
Things aren't always rosy. Your backyard barbecue might be getting a little loud or going on a little longer than you anticipated. Your child might be taking a short cut through a neighbour's yard, ruining her grass. These types of problems can typically be avoided with a simple conversation, but when people don't know each other well, they might resort to escalation to handle the problem. This is embarrassing and creates harsh feelings. However, a neighbour who knows you will not feel as bad about approaching you personally with the issue.
7. Stress-Free Vacations
When you want to go on a vacation, there's often the stress of figuring out who can watch over your home. This is especially true if you have expensive landscaping to maintain or pets to take care of. In a friendly neighbourhood, though, you won't have to worry as much. You can ask your neighbour to come over to water the garden in the mornings and feed your cat. This activity – and the evidence that others are caring for your home even if you're not around – is a big deterrent to would-be thieves. Just remember to return the favour!
The right community should promote social connections and encourage neighbours to look out for each other's best interests. So, if you've been putting off getting to know your neighbours, don't wait any longer - you could be missing out on lasting friendships!