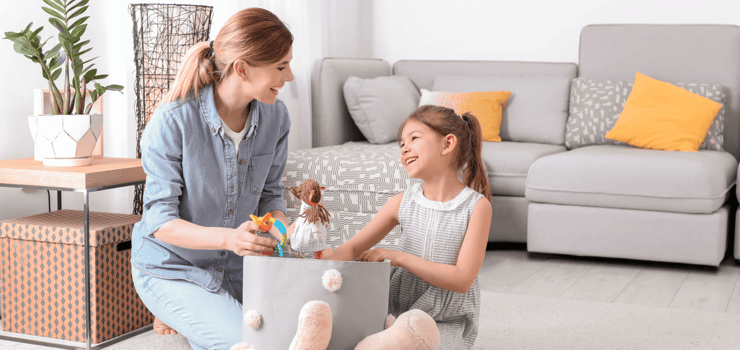 If there's anywhere in your home where you struggle to stay tidy, we're betting it's your kids' rooms. Every time you open the door you find toys and clothes strewn everywhere, no matter how many times the room is cleaned.
Now that you've organized your kitchen, bedroom, and bathroom, here are some tips for finally getting organized and with strategies that help your child stay on top of the clutter.
1. Sort and Declutter
Before you even think about organizing your kids' rooms, you need to simplify what's in there and figure out where to start. Children's rooms tend to be small with inadequate storage. Closets can become crammed with outgrown and out-of-season clothes, old toys, and sometimes items from other areas of the house.
Start by paring down and donating items your child has outgrown. If you can, find alternative storage solutions for out-of-season items your child doesn't really need access to such as the garage, basement, or a spare closet. For young children, freeing up some room can be as simple as a "toy library." Grab a large storage container and add a selection of toys to the "library" which is stored somewhere out of the way. Your child can swap out toys as needed.
By keeping these toys out of sight, your child will either a) regain interest in them a few months down the road or b) not want them anymore. Either way, there's way less clutter in their room, and if it ends up as option B, you can donate those toys and not feel bad about it!
2. Get Your Child Involved
The typical routine of cleaning a kid's room doesn't usually involve the child! Instead of working around your child, include them in the clean-up and organization. When kids are a part of organizing their own stuff, they feel more connected to the project, learn where everything goes and can be more motivated to keep their room tidy going forward.
3. Label Everything
Labels don't just make your life easier; they also help your kids learn where everything goes while making cleaning up a bit more fun. For small children, print simple graphic labels for dolls, blocks, and Legos to remind the kids where the items live in drawers or bins.
For older children, use large text with a simple font to help improve reading skills. Don't be afraid to stick labels on everything, much like a classroom, including the edges of shelves, dresser drawers, plastic storage containers, and bookcases. Use the labels to making picking up toys and clothes a game at the end of the day.
4. Organize From the Bottom Up
Get down to your child's level to start organizing. The belongings and toys they use most often should have a home on the floor, low shelves, and bottom drawers. Reserve higher storage spaces for items that aren't used frequently.
5. Create Activity Zones
One reason children's rooms are so prone to disorganization is they tend to be just a large, open space, unlike the rest of your living areas. Creating zones with boundaries makes it easy to identify and contain activities and belongings. If you have room, add a small table and chairs grounded by an area rug for homework, crafts, and pretend play.
5. Create a Pickup Routine
Tired of the messy room cycle? Break out of it by helping your child adopt a room maintenance routine. In the morning, they can straighten their blankets and pillows and put dirty clothes in the hamper. At night, before getting ready for bed, help them put away their toys from the day.
Pro-tip: an easy routine for children is learning to put away 10 things at a time by counting down from 10.
6. Keep Backpacks and Coats Off the Floor
Your kids come home from school and shoes, coats, and backpacks go flying. Sound familiar? Give them an accessible place to store school and outdoor items to keep them off the floor. An easy solution is adding reachable hooks on the back of their bedroom door to hang outdoor gear and backpacks out of sight.
7. Corral the Stuffed Animals
Do you feel like your child's stuffed animals are multiplying every time you shut their bedroom door? There's a better alternative to the massive pile of stuffed toys taking up room on the bed, floor, and closet. To keep stuffed animals corralled, store them in a designated canvas bin or a stuffed animal hammock which keeps them out of the way. If you're not a fan of the hammock, check out this article with over 100 different animal storage ideas!
8. Take Advantage of Wall Space
Get creative and maximize your vertical space for storage. Floating frames can transform a narrow wall space into a library or the perfect way to store and show off a collection. Narrow picture ledges are great for storing and displaying books without taking up much room because they extend just a couple of inches from the wall.
9. Add Combination Furniture
If space is at a premium in your kids' rooms, it's time to get creative with your furniture. Bunk beds are one solution but you can also look for bed and desk combinations to give kids a place to do their homework without the extra room. Simple bookshelves can be turned on their side and repurposed into seating and storage with the addition of foam cushions and baskets. Adding a hutch over the dresser gives you space to store toys without taking up floor space.
Finally conquering the clutter of your kids' rooms is possible but it's not a project you should tackle on your own. Get their input and help to create storage solutions that they will actually use for the best chances of a room that stays at least somewhat tidy.