Those months of the year when the weather is pleasant, entertaining outdoors can be enjoyable and relaxing. Before you have people over, however, there are a few things to do that will help the party go smoothly.
First, you'll want to make sure you have a comfortable and well-organized space for your guests. You deserve to enjoy yourself too, so doing as much as you can ahead of time will give you more time to spend with friends. Here are a few tips to help you get ready.
Prepare Your Space
The first thing to do when having an outdoor get-together is to make sure everything is clean and in order. Wash down your patio, and give the outdoor furniture a cleaning while you're at it. Make sure your lawn is nicely landscaped and, if you have problems with flying insects, put out the citronella candles. Then add a couple of trash cans in discreet places at each end of the gathering space.
Make sure there's enough seating for all, and arrange chairs with a few here and there, rather than around tables or lined up at outer edges. People like to gather in intimate groups and move around during parties, and the seating should facilitate this. One thing that everyone will be looking for is a place to set a drink or plate. You can use small end tables and even children's tables from inside to create these convenient spots.
Set the Scene
There are so many fun and attractive dishes and glasses suitable for outdoor use. You don't want to bring your china and glassware outside where they could drop and break. Instead, check out the broad selection of melamine plates and glasses available online. You can also find paper napkins and plates with colourful party themes.
For a touch of elegance on your patio, add a tablecloth to each outdoor table and place a bouquet of flowers in the middle. Lighting can also have a real impact on making the space lovely and inviting. Paper lanterns or strings of fairy lights will give a special party atmosphere to your gathering.
Go with the Flow
Visualize ahead of time the way your guests will interact. You don't want them to have to step all over each other to reach the food, drinks, and seating areas. One way to spread people out is to use stations. The drink station can include beverages, ice, and drink cups. The food table can be set with plates, utensils, and napkins at one end and food at the other. Just make sure your stations are spaced away from each other and the grill.
Don't forget guests will be coming inside to use the bathroom or get out of the sun. Make sure the inside of your home is clean and organized before the party, with special attention given to the bathrooms. For a large crowd, replace the hand towel with festive stacked paper towels in a basket.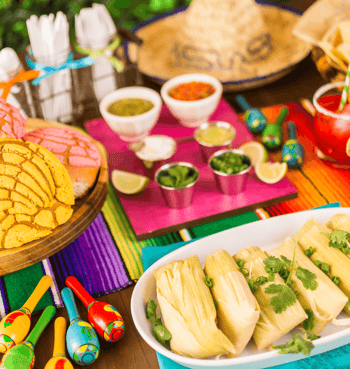 Consider Guests' Needs
Check ahead of time to find out if anyone has a food allergy or special diet. It's easy to throw in an extra menu item they'd enjoy, or it's perfectly okay to ask them to bring a favourite dish to share.
You can also ask a close friend or two to arrive early and help during the party. This will allow you to spend more time with your guests while still making sure they're comfortable. Preparing food in advance will also give you more time to mingle, and it will make you a much less stressed host or hostess.
It's always entertaining to serve a surprise food that no one is expecting. One dessert creation that can be made ahead of time is "flowerpot pudding". You simply serve the pudding in little foil-lined flower pots with chocolate cookie "soil" on top. When you stick a small plastic flower stem in the middle, it looks just like a little potted plant!
Observe Grilling Basics
If you're going to grill out, make sure the grill is away from the area where people congregate. You can even pull it out onto the lawn to give the chef some space. Nothing is more annoying at an outdoor party than a hot cloud of grill smoke wafting over the guests, so the location of the grill is a priority.
Set up the grill area ahead of time, and include a small side table for platters and cooking utensils. And don't forget to fill a large spray bottle with water to keep the flames from getting out of hand. A chef's apron with a funny slogan can also liven up the party and add to the spirit of fun.
Enjoy Yourself!
If your friends see that you're enjoying the gathering, they'll be able to relax and have fun as well. Taking these steps ahead of time will give you the freedom to spend time with guests and have a lovely time at your own party.
Planning ahead takes the pressure off, and it keeps you from having to make decisions on the spot while entertaining. You deserve to have an outdoor party that's fun, relaxing, and memorable!
If you're eager to have guests over but feeling like your backyard is a little too "blah," consider some ways to beautify your backyard and you'll be prepped to party!