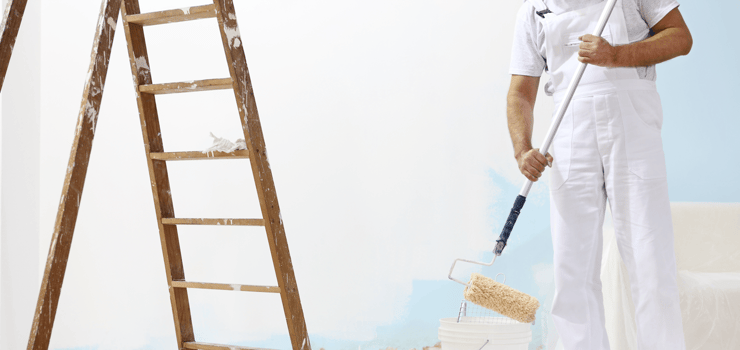 House painting is the kind of project you either love or hate. It's time-consuming, requires lots of preparation, and the results can sometimes look nothing like the slick paint store brochure. Unless you're extra handy with a brush, it's likely you won't be able to master painting like a pro without some practice. If painting isn't your forté, the best solution might be to hire a professional painter.
Advantages of Hiring a Professional Painter
Zero Prep Time

Other than moving a few treasured breakables and furnishings, hiring a pro requires zero prep time for homeowners. An expert painter will take care to use canvas drop cloths to cover furnishings and accessories like shields, tape, and plastic to keep excess paint off your floors and valuables.
Better Results
Most professionals know what it takes to produce a high-quality paint job. No drips, no splatters, perfect edging and a smooth, even coat are to be expected when you hire an expert.
More Cost-effective

Painters are responsible for bringing their own paint tools, supplies, and equipment: ladders, brushes, rollers, paint sprayers and drop cloths. High-end equipment like paint sprayers and ladders are expensive and cost-prohibitive for most homeowners. An airless paint sprayer can run from $350 to $600; some commercial grade models are several thousands of dollars. Good quality brushes can also cost a chunk of change, and a nylon brush from a DIY store is not capable of producing a high-quality job; your walls will be full of streaks and loose brush bristles.
Less Time

In less time than it takes for most people to gather supplies, tape off a room, cover up furniture, and barricade out the cat and kids, a professional painter can have the job done. Pros are experts at efficiently prepping and they know all the shortcuts and time-saving measures to get in and out of a house quickly. Depending on the project's scope, a reputable paint contractor may dispatch a team of painters: one to "cut in" the perimeters of a room, another to spray or roll large areas, and a third to paint trim moulding around windows, doors, and ceilings.
What If Things Go Wrong?

If you hire a professional and the job turns out poorly or your knick-knacks get broken, you can demand they correct the job or replace damaged objects - that is, if you have a written agreement that stipulates making restitution.
A reputable company or independent painter should have no problem correcting an error like painting a room the wrong colour or getting overspray on an heirloom piano.
Get A Contract

Professional painters are required to be licensed, bonded and insured. Make sure they present their certificate of insurance and general liability policy when the contract is signed and be sure to review and sign a copy of their scope of work.
The scope of work is part of the painter's contract, and will detail what areas of the house need to be painted. It will also outline a paint scheme, specifying the type and colours of paint to be used. Your contract should also include the cost of the project and method of payment.
What to Expect from a Professional Painter
A good painter will follow a standard method of prepping and painting:
Preparation
Prior to getting started, a professional painter will cover flooring with good quality canvas drop cloths. Some contractors may require homeowners to remove furniture, paintings and wall hangings prior to beginning.
A pro also will prep walls by removing nails or tacks, filling holes in woodwork and trim with wood filler or caulk, and spackling and sanding depressions in walls. Prepping may also include applying stain blockers or primer coats to get rid of dirty or stained walls and make it easier for finish coats to adhere.
Cutting In

Your professional painter will take a chiselled brush and "cut in" or apply paint along the outer edges and inner corners of a room from floor to ceiling. Cutting in might eliminate the need for taping off doors and trimming moulding.
Painting Molding and Doors

Trim moulding is typically painted in a white, washable, high gloss enamel to resist fingerprints and dirt. A professional trim painter is skilled at applying paint to trim mouldings, baseboards, around windows and on doors. The white high gloss paint pops and puts the proverbial "icing" on the cake.
The decision to go with a pro or tackle a painting project yourself really comes down to money, time and whether or not you're comfortable wielding a brush. If you're all thumbs and don't want to spend the money and time, contract with a reputable painter. Just make sure to get a contract that outlines the scope of work and a list of references. It will be money well spent. If you do feel comfortable enough to tackle the job yourself, be sure to check out our guide to Perfect Paint Pairings to make sure you get the right combinations of colours for your new décor.