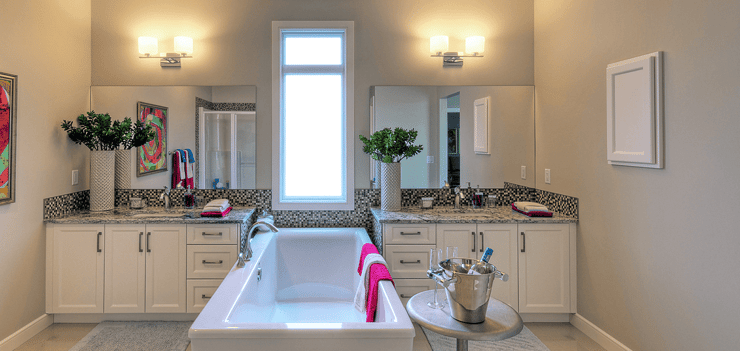 Your bathroom is probably one area of your home that tends to get more cluttered than you'd expect. Even with a good-sized bathroom, there's a lot of stuff in there to keep track of and keep put away. The fact that multiple family members often use the same bathroom adds to the potential for clutter.
The bright side?
There are several easy fixes you can use to get your bathroom organized and keep it that way.
1. Purge Out the Non-Essentials
Items that aren't used anymore or are expired ought to be the first to go. Also, consider getting rid of bulky packaging and condensing the contents into less bulky containers. If you have three bottles of conditioner each with only a few squirts left, reduce clutter by transferring that to one, smaller container.
An excess of things like bobby pins or hair ties could probably be purged as well, but again: if you must keep, at least condense. Use office supplies like a paperclip holder for bobby pins and loose-leaf ring for hair ties to prevent them from ending up everywhere.
2. Organize Out of Sight

While necessary items you'll need daily like toothbrushes and soap should stay on the counter, stash as many of your bathroom items as possible under your sink. But be sure you also apply some under the sink organization tactics so you aren't just hiding the mess out of sight. This could include things like plastic containers, tension rods, or a Lazy Susan to maximize the use of this space.
2. Drawer Dividers for Makeup

Keeping your makeup in a drawer makes it easier to access when you need it. Using drawer dividers, much like you would use in your kitchen, makes it easier to keep everything separated and orderly. You can even find adjustable drawer dividers that make it easy to customize to your needs. If you don't have a lot of drawers to use, over-the-door shower caddies can also work very nicely hooked on the inside of vanity doors.
3. Make Use of Your Over-the-Toilet Space
Ever wondered what to do with the space above your toilet? Well, it's one of your most effective options for storage space. You can easily store towels, extra toilet tissue, and other items without taking over other spaces in your bathroom. While there are pieces you can buy, either open or closed shelving can be something your builder installs at the time of your new home construction – don't be afraid to ask!
4. Use a Ladder as Shelving Space
Ladders that have wide steps resembling trays have another purpose - they can also double as shelving to use in the over-toilet area. These wide steps make it easier to put out storage like baskets to keep everything better organized. You can even take advantage of this arrangement to put out a houseplant with a healthy sprawl.
5. Recessed Tub Shelving
Have you ever experienced settling into a nice, hot bubble bath only to realize you forgot to grab the products you wanted? Or, even worse, knocking them off the side of the tub causing a slippery mess? See if your builder can create some recessed shelving beside your bathtub. It can be functional if used to store necessities or if used to display decorative items. Either way, it makes for a classy bathroom design – plus, it wouldn't take up any space in the room!
6. Don't Forget About the Bath Toys

If you have younger kids, they likely have an assortment of bath toys that you'll need to find a place for where they won't accumulate mildew if put away dump. Lingerie bags designed for laundering delicates make the perfect receptacles for these toys. Hanging up the bag with a suction cup is a good way to ensure that everything in it will drip-dry more quickly.
7. Use a Small Cart
Carts not only offer a quick form of extra space, but they're also totally mobile. They're perfect for towels, makeup, toilet paper, and just about anything else you need access to in your bathroom. You can choose from contemporary options easy to paint in the colour of your choice, or you may want to seek vintage options.
Getting clutter under control in your bathroom is easier when you do some clearing out and find effective ways to organize what's left so it's both accessible and tidy. Don't forget to talk to your builder about bathroom design options that make this easy to do and even better to look at.
Eager to get more organized? Why not tackle the kitchen next with our ten tips for keeping an organized kitchen!