Despite all the cheerful decorations, glittering lights, delicious food and good company we look forward to every December, we all know preparing for Christmas can be overwhelming at times. Ultimately, the best way to ensure your days will be merry and bright is to get organized and stay on top of the tasks that need to be done.
That's where our ultimate Christmas checklist comes in handy. Stick to the checklist below and, barring any massive turkey failures, you're Christmas should be worry-free and wonderful!

One Month Before Christmas
Make A Plan
What are your big plans for the holidays? No more wavering back and forth, now is the time to answer this question. Are you going on a trip to visit your in-laws, your parents, or your grandparents? Perhaps, you're staying home this year. You should try to decide now in order to get the appropriate amount of time off work, book travel fare, or save up for the trip.
Mark Off The Calendar
There is little doubt the holidays are a hectic time. With so many events and tasks set for the month of December, it's best you mark your calendar well in advance.
Plan For Guests
If you will be hosting guests during the holiday season, it's a good idea to plan for their visit ahead of time. Check your home and make sure you have an adequate stock of the supplies needed to keep them comfy and happy. These items may include things, such as pillows, towels, extra soap, toothbrushes, travel shampoos, etc.
Bake And Freeze
Stockpile cookies, casseroles, and other things you can bake and then freeze. In order to make the most of your time throughout the holiday season, the strategy of baking and freezing can help alleviate much of the seasonal stress. Also, did we mention cookies? Be sure to make cookies.
Create A Master Gift List

Shopping ahead of time is crucial during the holiday season. For this reason, you should create your master gift list as soon as you're able. This gift list will help you keep track of what presents you need to buy and help prevent those dreaded last minute shopping trips - though, who doesn't enjoy an impromptu trip to the mall on December 24th?
Update Christmas Card List And Begin Addressing Cards
'Tis the season to collect addresses of neighbours, friends, and family. Making sure you have the correct addresses will be helpful once you begin sending out your Christmas cards. After all, depending on how long your list is, it may take a while.
Stock Up On Gift Giving Supplies
Now is the time to stock up on cards, wrapping paper, ribbon, tape, and other items you will need to prepare your gifts throughout the season.
Set A Budget
Setting a budget is an important part of planning for the holiday season. Ideally, your budget will be created at the same time as your master gift list. Make sure to set a spending limit for each person on your list.
Shop 'Til You Drop
If you haven't started already, now is the time to begin your Christmas shopping and avoid the holiday rush. Armed with your master gift list and budget, you're well prepared to take on your holiday shopping. Go forth and conquer!
Buy Online Gifts
Buying gifts online is very convenient, but ordering them ahead of time is critical. By ordering one month ahead, you'll have plenty of time for the shipping and wrapping of your gifts.
Unpack Decor
Before you even begin decorating your home for Christmas, it's a good idea to take stock of what you already have. This will also give you an opportunity to untangle the massive ball of Christmas lights and assess if any bulbs need to be replaced.
Check The Holiday Place Settings
During the holidays, many people plan to have big holiday meals. These special meals have a unique way of bringing family and friends together. The place settings, dishes, and even cutlery help to ensure holiday meals get the attention they deserve. With time to spare, unpack and take stock of your holiday dishes. This way, you know you'll have enough to entertain everyone at your holiday gatherings.
Three Weeks Before Christmas
Mail Out Cards
The first week of December is the best time to mail out your holiday cards. With so many people sending their cards at the same time, It's best to send them out as early in the season as possible.
Buy Your Christmas Tree
Now is a great time to get your Christmas trees, greenery, and fresh garland. Purchasing your fresh greenery three weeks ahead gives you enough time to enjoy the beauty of your evergreen decor while ensuring it will not go bad before the big day. It will also give your home a natural, seasonal scent to enjoy as you make your other preparations.
Decorate
It's the first week of December, and that means it's officially time to deck the halls. So, grab the garland and get decking!
Two Weeks Before Christmas
Mail Out of Town Presents
The goal should be to get the presents in the mail by December 10th.
There, that was easy.
One Week to Go!
Finalize Menu
Deciding on your menu ahead of time will help you shop and plan a timetable for cooking your meals. Also, check with family members and friends and see what contributions they might be making towards holiday meals. Then, complete your master grocery list.
Deep Clean Home
There is no better way to showcase your beautiful holiday decor than by cleaning the surrounding space. In other words, your tinsel will really shine once your floors sparkle.
Buy Batteries For Children's Toys
Most toys require batteries, and as we know, batteries are not included. This is especially important for Christmas Day to keep things running smoothly.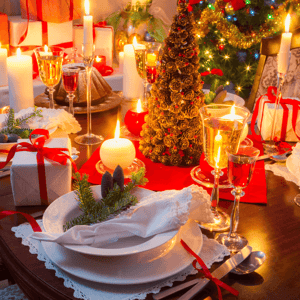 Three Days Before
Shop For Food
Get the food needed for your holiday meals. Also, eggnog. Lots of eggnog.
Set The Table
It's time to display those special place settings that only get used once a year. Set them out three days ahead of time in your formal dining room. That way you can enjoy them for just a little bit longer.
Two Days Before
Start Cooking
Now is the time to prepare a few Christmas dinner items in advance.
Buy Fresh Flowers
Buy your fresh flowers two days in advance, and give your blooms an opportunity to look their very best.
'Twas the Night Before Christmas…
Finish Last Minute Wrapping
Wrapping presents throughout the weeks preceding Christmas is the best way to accomplish what sometimes feels like an insurmountable task. The day before, finish wrapping the presents you haven't had a chance to wrap just yet.
Complete Preparations For Food
If you're planning on cooking ham or turkey, count back from the hour when you will be feasting and decide when you will need to begin cooking your dish.
Christmas Day
Relax And Enjoy
Enjoy this beautiful day and all the memories you're making with friends and family.
Don't let the stress of the season take away from the joy you'll receive this Christmas. Feel free to share this checklist with your family and friends. They're sure to thank you for it!