Two new homes are being shown in Redstone, one of Calgary's most beautiful and vibrant communities. If you've been dreaming of arched doorways, sparkling countertops and covered front porches, consider both the NuHaven II and the Banbury II for your next property purchase.
NuHaven II

Shown at 508 Redstone Drive, the NuHaven II is a gorgeous two-storey home offering three bedrooms, 2.5 bathrooms, and many extras like a flex room and a shaded verandah.
At the front of the house, the covered verandah awaits your porch swing for dusky evenings of peace and quiet. At the other end of the house, your rear garden access has mounted wall lockers for storing all of your landscaping tools and winter gloves.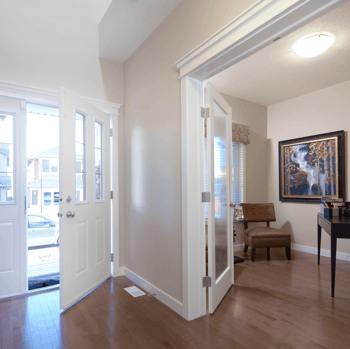 The Main Attraction

Covering 1,724 square feet in total, the NuHaven II offers plenty of space for a growing family or extended family. The front door opens to an expansive foyer that flows seamlessly into the open-air dining room and living room, and 9' ceilings make the space seem even bigger than it already is.
The kitchen is conveniently located right by the dining room and boasts a built-in eating bar where the family can gather for everything from morning pancakes to midnight snacks.
Rounding out the ground floor is a flex room that can be customized at will. Do you need a quiet place to work from home? Have you always wanted a personal library? It can even be turned into a lower-level nursery if you find yourself unexpectedly expecting. True to its name, the flex room is versatile enough to suit a wide variety of needs.
Comfort Upstairs

The second storey of the NuHaven II is just as welcoming as the first. Three bedrooms are arranged down the hall, including a master bedroom with a large closet and ensuite bathroom. The five-piece ensuite bathroom contains a toilet, tub, shower stall, and double-basin sink. You can enjoy a luxurious soak after a long day at work without worrying about your kids banging on the door needing the facilities.
Speaking of facilities, the upper level also contains another full bathroom. It's so voluminous that it even boasts a built-in linen closet in addition to the usual fixtures. This will come in handy when you're washing your sheets and towels since the laundry room is just across the hall.
If you're looking for a gorgeous, spacious home to call your own, consider the NuHaven II model for the upwardly mobile family, especially one that wants to join Redstone's thriving community.
Banbury II

Offering 1,612 square feet of quaint country charm, the Banbury II at 512 Redstone Drive will bring to mind the olden days of family dinners and games played on the lawn. It comes with three bedrooms, 2.5 bathrooms, and a multitude of perks like walk-in closets and spacious kitchen pantries.
The first thing you'll notice about this show home is its large, covered verandah. It extends the whole width of the house and comes with both an awning and a railing to nurture your comfort and protect your privacy. If you prefer to enjoy the sights from indoors, a large window will allow you to overlook the verandah and any flowers you feel like planting.
A Functional First Floor

Stepping into the house and through the foyer will reveal a generous living room space with stairs leading to the upper storey. Adjacent to the living room is the dining room and open concept kitchen that offers beautiful countertops, gleaming appliances, and a walk-in pantry for all of your food storage needs. Prepare dinner without being shut off from the rest of your family; since the floor plan is so airy and open, you'll always have your finger on the pulse of the house.
The final area of the ground floor is your rear home access point. Leading into the back garden, it comes with mounted lockers that can be used for things like winter coats and boots. You'll definitely appreciate them during a Canadian winter! There's also a half-bath with a toilet and sink where you can wash up after a dirty day outside.
A Spacious Second Storey

Going up the stairs, you'll be greeted with the three bedrooms that make up the bulk of the upper level. The master bedroom is the most impressive since it contains luxuries like a walk-in closet and ensuite bathroom, but all of the living areas are stylish and spacious.
There's also a full, main bathroom sandwiched between the bedrooms. It comes with a vanity for your morning rituals and a shower-tub for your nightly soaks and showers. A laundry room is right across the hall, so you'll never be too far from fresh towels.
All things considered, the Banbury II is a home that's meant to be shared with the ones you love. Not only is it a picturesque residence on the outside, it's also a fashionable, functional abode on the inside. You'll feel good about raising your kids in a home that's beautiful both internally and externally.
These are the two new properties being shown in Redstone. Whether you're a young couple looking for a starter home or a growing family just hoping to upgrade your square footage, the NuHaven II and the Banbury II are two good options for buyers of all types.