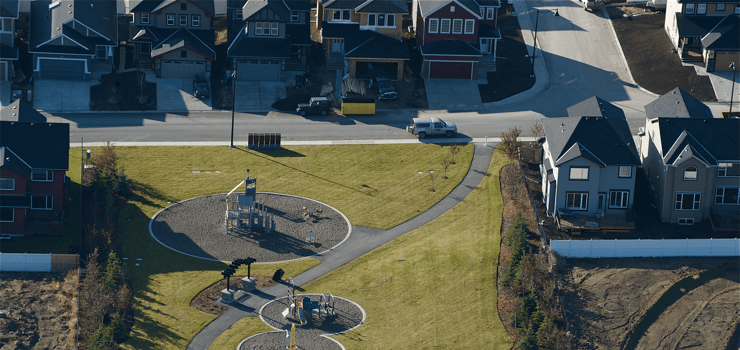 Are you looking for a new place to live in Calgary?
If so, it's important to think about the home design you want as well as the lot it sits on.
When considering lots, there are several things to keep in mind as you figure out which one would be best for you and your family.
The Size of the Lot
You want to choose a lot with plenty of room for the type of house you want to build. Make sure to select a lot that accommodates your home while leaving enough open space around it for a garden, a play area for the kids, or whatever else you envision on your property.
You may want to use the additional space around your home to include a verandah or porch. Whether
you want to add on to your home or not, having free space on your property means you're leaving your options open.
The Communities
Most new communities have a character all their own. Some are filled with parents with young children and designed for families, while others are home to mostly retirees. It's best to visit a community and take a walk around to find out what it's like firsthand.
Another idea is to visit the available lots in a community. By doing this, you can get the feel of the place and imagine the arrangement of the rooms in your new home. If you visit at different times, you can learn how much traffic moves through the area at various times of the day.
What Type of Lot Are You Looking For?
There are different types of lots to consider.
Do you want a lot located on a cul-de-sac? If you prefer to live in a quiet area without many cars passing through, then your answer may be yes. A cul-de-sac also offers wedge-shaped lots paired with long driveways which gives this type of property a unique look.
A quick access lot is perfect if you want to be able to enter and exit your home in a hurry. On this type of lot, your home is located near the entrance to the community. Keep in mind there'll be more cars and trucks passing by a home located on a quick access lot.
A corner lot is a favourable choice if you want your home to be easily visible to people visiting the neighbourhood. You must take extra care with the maintenance of your yard due to its visibility. Living in a home on a corner lot means you'll probably hear more traffic sounds and see more cars passing by.
A regular lot is of average size and sits between other similar lots on a street. This is an excellent choice for a starter home for a small family. Remember, just because it's a regular lot doesn't mean you can't create a spectacular landscape you can be proud of!
Your Commute to Work
Commuting from a new neighbourhood can be a big deciding factor. As you evaluate lots, take the time to estimate how long it will take to get to work. Be sure to factor in traffic and possible changes in the route.
If you're interested in moving to a community where you will have a short commute to work or school, you should do this quick test before committing to build.
The Proximity of Stores and Businesses
Do you want to live in a community where you're close to stores and businesses? If so, do some research. Find out which communities are close to the action (schools, doctors' offices, dentists' offices, restaurants, grocery stores, and more, are things to look for.)
Another way to find out more about a community's proximity to stores and businesses is to ask the neighbours. Where do they shop and visit the doctor or dentist? Most neighbours will be glad to share this sort of information with you.
What Kind of View Would You Like?
Maybe you want to live in a home where you can see a group of trees through your master bedroom window. Or, perhaps you have your heart set on making a garden you can admire through the kitchen window. The lot you choose should have the view you want so you can design a house to suit your preferences.
Sun exposure should also be factored into the equation. For instance, if you want a lot of warm sunshine to flow into your home in the afternoons, you need a lot with west facing elevation. Alternatively, a design with an east facing elevation gives you a large amount of sunlight in the morning.
Think about what you'd like life to be like in your new home.
The Desirability of Your Home
When selecting a lot for your new home, consider its desirability to buyers. This may seem like a strange thing to do before you've even built a home, but it can be important in the future. Are you choosing a lot style others may also find appealing? Someday, if you want to move, you'll want to use your lot's desirability as a selling feature.
The lot you choose can help lay the foundation for a happy life in your new home. Take the time to evaluate lots using the above criteria so you end up in a home and community you love.
Photo credits: mobile