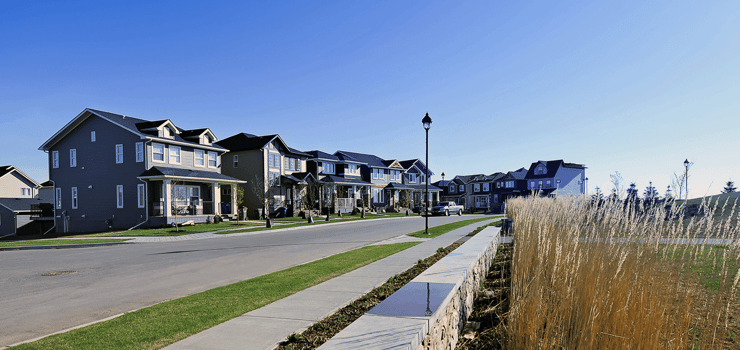 If your neighbourhood is no longer making you happy and you're looking for something more upscale, closer to schools, shopping, and recreational amenities, then Ravenswood is ready for you!
Situated in southeastern Airdrie, this diverse neighbourhood has something for everyone, offering easy access to both city life and nature.
As a new homeowner in Ravenswood, you can easily walk to downtown Airdrie, and Calgary is just a short drive away. A relaxed and unique residential neighbourhood, Ravenswood's recreational parks, roadways, and houses offer residents a true sense of satisfaction and convenience.
Lots of Sun and Fun

It's easy to lose yourself in the rich, small-town appeal of Airdrie in Ravenswood. You'll find six parks, four playgrounds, and a soccer field, in addition to 2.4 km of scenic walking paths and 8.2 hectares of green space blooming throughout this community. It's the place to be if you want to lead an active lifestyle; jog, walk, or just meeting up with like-minded neighbours in the lush scenery.
Nearby, Nose Creek Park is a 40-acre expanse of greenery with more than three kilometres of cement walking trails. A glorious lake provides ice skating during the winter months and is a haven for many birds and freshwater fish in the summer. Nose Creek also hosts many cultural celebrations and sporting events throughout the year.
In terms of indoor recreation, Airdrie's Genesis Place is a fully-equipped recreation centre featuring everything from children's programs and adult fitness classes to swimming pools, soccer fields, NHL-sized arenas, and running tracks. You'll never run out of things to do around here.
A Great Location
While Ravenswood allows you to enjoy the low-key elegance of Airdrie's natural landscapes, you'll also benefit from fast access to all big city amenities. For example, CrossIron Mills Outlet Mall is just a couple of minutes away, easily accessible from the QE2.
Many of Canada's biggest merchants sit right across QE2 Highway from this neighbourhood as well – Home Depot, Walmart, Tim Hortons, Canadian Tire, and much more. Anything you could possibly need can be found quickly and easily in this shopping district.
If you happen to work in Calgary, or like frequent out-of-town getaways, Deerfoot Trail provides a fast, straight drive to the heart of Calgary, while Stoney Trail serves as a route to resort towns like Kananaskis and Banff.
Fit For Families

Highly regarded schools in both Airdrie and Calgary are also easily accessible from this community. Whether you are looking for public, Catholic, private or specialty schooling options Ravenswood has it all. There are even two schools right within the community so your children can learn close to home!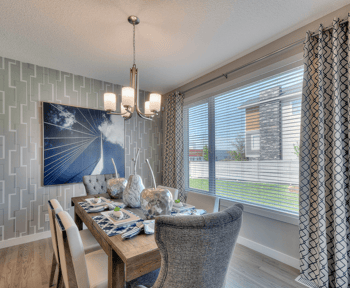 Boasting larger lots than most communities, a home in Ravenswood means more yard space – a recipe for a happy childhood.
Diverse Home Styles
The spacious homes in Ravenswood come in many different models and floor plans, allowing you to choose a design unique to your family. Most models feature open concept main floors with towering 9-foot ceilings and master suites with walk-in closets and glorious ensuites.
Front Attached: the front attached homes in this community include a double attached garage, three to four bedrooms, two and a half bathrooms and a variety of models to choose from.

Rear Lane: also offering a diverse selection of models, Ravenswood's laned homes are roomy and feature a minimum of three bedrooms, two and a half bathrooms, and plenty of yard space.

Duplexes: For those looking for a more manageable, scaled down style of living, Ravenswood's variety of duplex models feature anywhere from two to three bedrooms, two and a half bathrooms, and plenty of space without the maintenance demands of a single-family home.
When you're ready to escape the hustle and bustle of your current neighbourhood and its poor accessibility to amenities, consider Ravenswood in Airdrie. Here, you can enjoy easy access to the hearts of both Airdrie and Calgary while still enjoying plenty of green-space. Welcome home!
* Originally posted Oct 04, 2016, updated June 14, 2018