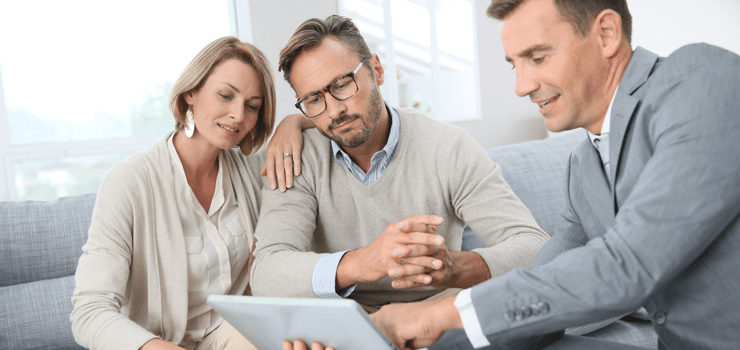 One of the most common concerns for new home buyers is whether they need a realtor to guide them through the process. A realtor is necessary when buying a used home, but if you want to buy a brand-new build, many builders have their own sales reps who can swiftly and easily handle all of the same duties.
The scope of these duties may vary depending on the builder, but most sales agents share the same essential responsibilities as a realtor. In many cases, the agent is your first point of contact when you visit a show home. From that point on, they will remain your primary advisor throughout the sales process.
To give you an idea of how your builder's sales agent can help you, let's take a closer look at some of the duties they handle.
Getting You Pre-Qualified
If you need help with financing or getting a mortgage loan, the sales rep will usually guide you through all the necessary steps to get pre-qualified. This can include helping you fill out and submit all the required paperwork. As builder's agents, they're familiar with the financing procedure and can connect you with a trusted lender. This helps to streamline the process.
Providing You With Visuals
Taking you on a visual tour of the home is one of the sales agent's key responsibilities. If the house is under construction, they will usually take photos of the home to provide you with a clear visual idea of how it's progressing and what you can expect to see moving forward.
Familiarizing You With the Builder
Another important function of the sales agent is to fill you in on the builder. Your trust in the builder is important, so they'll sit down and familiarize you with the company's reputation, history and number of completed projects. They'll also provide you with references from other satisfied buyers. They can also often walk you through a vacant, finished home to provide you with a firsthand example of the company's completed work.
Helping You Select Features and Finishes
As well as their knowledge of new home financing, most sales agents are also aware of common trends and desirable new home features in new home designs. Some builders have design teams to assist you with this, but often the sales agent will consult with you about specific features and finishes.
They may work with you to customize the floor plan, make cosmetic changes, and select upgrades within your budget. In the beginning, it can be difficult to know exactly which features and upgrades you want. In this case, they should be willing to get to know you a little and chat about your options to discover your specific needs and wants.
Introducing You to the Community
The sales rep also serves as a well-rounded resource on the home's neighbourhood. They'll know the community inside-and-out and can answer questions about local shopping, services, schools, parks, work commutes and events.
It's usually a good idea to research a the community yourself beforehand and perhaps even create a list of specific questions to ask the rep so that you'll get the benefit of their expertise.
Negotiating and Preparing the Contract
Perhaps the most important duty the sales agent has is handling the purchase contract and its terms. It also involves negotiating the sales price and inclusions. An agent can usually add buying incentives or discounts to your contract to secure it, helping you to get the best possible price.
Next, they'll factor these incentives into your contract along with lot premiums, design upgrades, appliances, and any other add-ons you've selected. This will then reflect your home's full value and be ready for you to sign.
Much like a realtor, a sales rep acts as a collaborative partner when buying your new home. Based on the scope of their duties as described in this article, it's plain to see that they cover many of the same functions as realtors and provide you with as many details as possible, helping you to explore all angles of the sale so that you can make a smart purchase.
Most of all, they want you to buy a beautiful home to keep, making the entire process as pleasant and affordable for you as possible, and thereby counting you as another satisfied customer of the quality builder they represent.