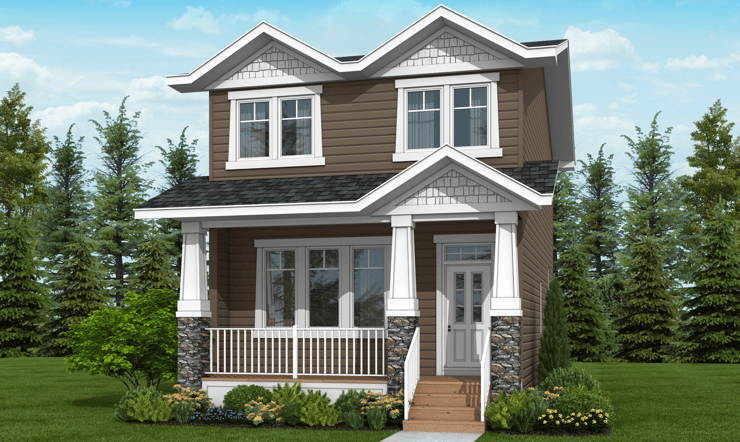 First-time home buyers have a lot of things to think about when they're deciding which path to take. The various home plans from NuVista provide maximum flexibility, energy efficiency, and cost efficiency. These options worthy of your consideration will provide a great foundation for owners who plan to renovate or upgrade to a bigger residence eventually. No matter what your ultimate plans for the home are, you'll have a great start with one of these home models.
Colby
Although the Colby is a bungalow design, you won't feel cramped at all with the 9' ceilings and windows that add natural light, reducing some of your electricity usages. The kitchen, dining, and great rooms are all in one open-concept space, making more even heating and cooling easier. An advantage of open-concept living and kitchen spaces is making the whole area feel much more extensive, giving you more flexibility.
Additional space-saving features include a walk-in pantry, combination laundry, and mudroom with built-in bench, and a bedroom with four-piece ensuite. These features combined help you make the most of your new home, proving that size doesn't always matter. This floor plan helps you get all your household tasks completed quickly, as well as enjoying your leisure time to the fullest.
Clairemont
Another plan that has a convenient, attractive bungalow style is the Clairemont. One ideal feature is an optional lower level that allows you to add a rec room, an additional full bath, and two more bedrooms. Should you opt for a finished basement, you'll be able to upgrade as your family's needs change, and will have maximum flexibility when hosting overnight guests.
The great room has a fireplace to help keep everyone warmer on cold nights, as well as large windows for better natural lighting. A helpful thing to know about these gas fireplaces is that Canadian law requires minimum amounts of energy efficiency so that you will save money. Having windows that allow in more natural light helps reduce your dependence on artificial lighting so you'll use your electricity more efficiently.
Hannah
The Hannah is a great choice for any young families. With 3 bedrooms and 2.5 bathrooms, there's plenty of space for families to grow, and the open-plan kitchen area has a double-door pantry and a large kitchen island to make preparing meals a breeze without feeling cramped.
When it comes to getting everyone into and out of the house, the Hannah also has a lot of convenient options. At the front, there's both a porch and a foyer, and the rear garden access room has a bench so there's plenty of room for everyone to remove their muddy boots.
Arden
The living area of the Arden feels huge due to its completely open-plan design which allows you to see all the way from one end of the home to the other. Not only is it perfect for keeping an eye on the kids, but when you're entertaining it lets you be in the kitchen preparing snacks and drinks while still being part of the conversation.
In the upstairs, there are three bedrooms, and the master suite features an ensuite and walk-in closet. There's also a convenient upstairs laundry room, so you won't have to carry heavy piles of clothes very far.
Wilshire
Buyers enjoy plans like the Wilshire because it uses a compact space so effectively in ways that allow you to expand. 9' ceilings and 40 1/2" upper cabinets will make you feel like you're in an even bigger house. The more space you have to store everything, the better organized your home will be at all times.
An island kitchen that features a walk-in pantry makes it easier for you to prepare and organize everything. The laundry has a mudroom location that makes post-gardening cleanups easy. If you want to make sure the space available in your home is used in the best way possible, it is effortless for you to do this.
If you're ready to jump right into the adventure of home ownership, we have just the right options to get you started. Feel free to contact us about any of these models or come by and tour our show homes. You'll be able to pick the perfect home and enjoy the features you want most.