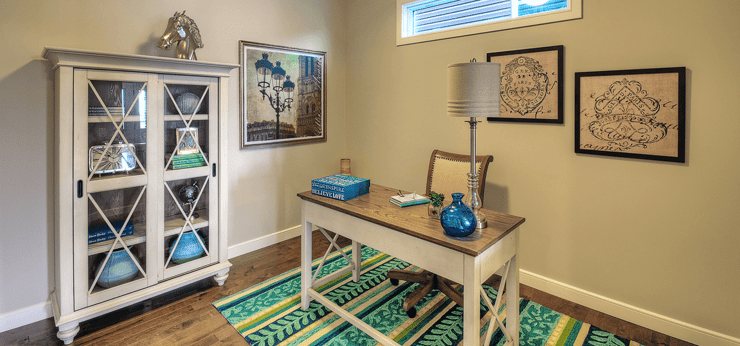 Looking for more space to meet your family's changing needs? Calgary is a virtual hot spot for new homes offering larger square footage and all the amenities to suit a growing family. A bigger home equals more opportunities to make your new home a haven.
Today's builders are adding playrooms, gourmet kitchens, and home offices with open floor plans that promote functionality, efficiency, and aesthetic appeal.
Before planning your home office, consider these ideas to make your in-home workspace functional and fabulous!
1. Location
To minimize distractions and noise, choose an area of the house away from the television or high traffic areas. A spare room on the opposite wing or a bonus room tucked away can offer the most privacy where ideas and productivity can flourish. Even better, most new homes have flex rooms built exactly for this purpose.
2. Lighting
Before you approve your new home building plans, make sure to install lighting that will brighten the interior of your home office. Natural light helps save on electric bills and provides sufficient illumination, especially during the day. A wall of windows lets natural light in, but ambient lighting fixtures in strategic places like ceilings and walls can brighten a home office when natural light is unavailable.
Ask your builder to install track or recessed lighting to illuminate an entire room effortlessly. A fluorescent ceiling fixture is cooler and more efficient in an office setting than an incandescent light which tends to add heat.
For detailed work at your desk, only task lighting will do. Gooseneck lamps can be plugged in where they're needed to put a spotlight on a drawing, a book or writing tablet. A built-in desk with glare-free overhead task lighting is also ideal for late night projects.
3. Layout
Your home office should be versatile to meet specific, yet changing needs. Flex rooms are a great idea, giving you space to accommodate work areas, as well as seating for a place to lounge and relax.
Need a bedroom for guests AND an office? One wall of a guest room can easily serve as a place to work, organize, and create in private. When guests arrive, simply stash away papers and office supplies on built-in bookshelves or a roll-top desk.
4. Furnishings
When it comes to choosing the right office furnishings, think about how you want the space to function. A one-person workspace requires a writing surface. Choose a desk with ample storage if you will have a lot of paperwork to juggle. A desk with drawers, a built-in filing cabinet, or caches for mail might suit your lifestyle.
Hours spent at a desk also makes choosing an ergonomic chair a must. Easy on the back and the eyes, ergonomic styles come in several materials and finishes that make working at home feel comfortable. Extra seating for guests is also a consideration. Add a multi-purpose table and chairs to welcome visitors or clients with style.
5. Storage
To keep your new workplace clutter-free, make sure to carefully consider your storage options. A large walk-in closet can be outfitted with horizontal and vertical open shelving for storing materials. Open floor-to-ceiling shelving not only makes it easy to find and store supplies, but it also enhances the space with colour and texture.
Important papers should be organized and stashed safely away in file cabinets, but filing doesn't have to be boring. Art supply stores carry a wide range of colourful cabinets, mobile carts, and wire racks to make your home office a work of art!
6. Colour
A well-designed workspace will not only offer serenity and privacy, but also stimulate the creative juices. Used correctly, colour has the power to change the atmosphere and recharge your batteries.
Soothing colours like seafoam green, dove grey, or eggshell provide the perfect backdrop for doing paperwork or writing. Bright primary colours like red, yellow, green or blue stimulate the senses and work well for creative types. You may even consider how an interior designer can help you choose the paints that add colour, durability and distinct design to your home office.
If you long for a home office, ask your builder to help you find a floor plan that suits your needs. An experienced builder will provide the expertise and creative ideas to make working at home really work for you.