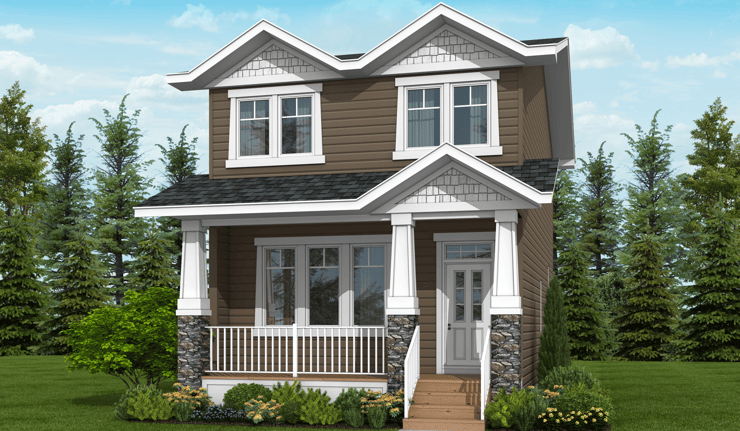 If you've been hoping for a home model that combines modern, open spaces with valuable and convenient features, the Arden has it all.
Welcome Home...

You'll have options to suit your style preferences when it comes to the exterior of the Arden. You may like the classic Craftsman style elevation and soft chocolate with white trim for colours, but there are other colour and elevation options to choose from.
Elegant accents like stone columns framing the doorway and grey roof tiles add elegant charm to this ideal family home. The Arden is a 1,235 square foot home with three bedrooms and two and a half baths and built using the latest innovations in energy efficiency, safety, and durability.
The First Floor
The ground floor of the Arden features a spacious front porch that opens into the foyer. From there, the ground floor boasts an open concept design that begins with the living/dining room area and seamlessly continues into the full kitchen. The ground floor also has a half bathroom and a rear exit door.
The open concept design has a unique ability to help bring people together so you can enjoy quality family time. Whether it's quiet contemplation with a book or an animated group dinner, the Arden elegantly combines greater natural light from three front windows with a welcoming gathering point for the whole family.
The Second Floor

From the ground floor, stairs lead up to the second floor featuring a laundry room for extra convenience, a master bedroom, and two additional bedrooms. The master bedroom has its own ensuite bathroom and a large walk-in closet. The relaxing ensuite includes a vanity, toilet, and shower-tub. This three-piece ensuite, in addition to the walk-in closet, makes it easy and enjoyable to get ready in the morning in this master bedroom.
The laundry room is optimally placed for functionality, making household chores much less of a hassle. The second floor also has a useful, separate main bathroom. The two bedrooms on this floor can be used for growing families or can be converted into home offices, workout rooms, sewing rooms, or any other unique purpose.
The innovative two-storey floor plan of this home allows for the ground floor to be a gathering point for family members and visitors while keeping the upper floor a sanctuary.
The Arden model is a prime choice for a family home that will be beautiful, functional, and affordable. To learn more, contact a representative to hear about all the little details that truly make this model a winner.