A new sight to see has just cropped up in the Willows of River Heights. When you spot the earth-toned exterior, accentuated by brick and white trimmings, you'll know you've arrived at our new show home at 231 Willow Place!
Designed with our Hamilton floor plan, this is a stately two-story home with an attached garage for your convenience.
Take a look at some of the appealing features of this amazing new home.
The Main Floor
The main floor of the Hamilton measures 1,047 square feet and features 9-foot ceilings. Walk up the front steps and across the porch of this charming home and you'll find yourself in an inviting foyer. There's a half-bathroom just off to the side for family members and guests who'd like to freshen up before heading toward the main living space.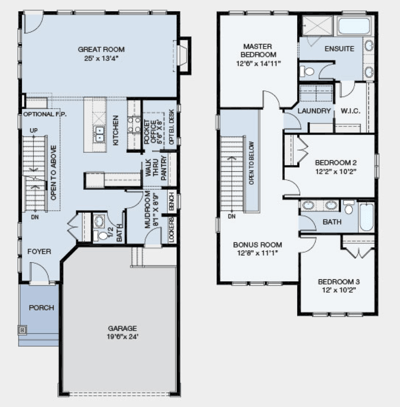 Move a little further up the hallway and you'll reach the kitchen. If you love to cook, the large island and collection of modern appliances are sure to impress. The sizeable walk thru pantry offers convenient access to the mudroom as well as space to accommodate all of the canned goods, dry ingredients, and other cooking supplies you need for your household.
The main floor features an impressive great room where families can gather to talk, watch television, play games, and more. Open a door from the great room to walk out onto a large deck. This is the perfect place for barbecues, outdoor family dinners, or just a quiet afternoon spent with a favourite book.
Another entrance to the home from the garage leads straight into a mudroom. Snowy boots, dirty shoes, coats, umbrellas, and more, can be organized using the built-in bench and row of coat hooks. The half bath on the main floor is just a few steps away for family members who want to wash up after leaving their outerwear in the mudroom.
A pocket office space located just beyond the kitchen is a cozy area providing lots of privacy when you have to bring additional work home from the office. Or, it can be a quiet place for kids to do their homework and finish projects for school. If you have no need for another office, you can use the pocket office as a hobby room or even just extra storage space.
The Upper Floor
Make your way upstairs to the second floor and you'll see a luxurious master bedroom at one end of the hallway. This master comes complete with a five-piece ensuite where you can relax after a hard day at work. Hang, fold, and otherwise organize your wardrobe in the beautiful walk-in closet.
A well-equipped laundry room is located next to the master bedroom featuring built-in shelves. This location is convenient for all of the family members in the three upstairs bedrooms. In this show home, an optional sliding door has been added to connect the master walk-in closet to the laudry room, offering even more convenience!
The young children or teenagers staying in the second and third bedrooms on the upper floor have easy access to a bathroom located in-between the two bedrooms. Any visitors staying in the upstairs guest room can also utilize this bathroom.
The 1,108 square foot upper floor includes a bonus room that can be used as a guest room or perhaps another bedroom for a child who wants his or her own space. It could also be turned into an office or a nursery. The bonus room receives plenty of natural light and would be a pleasant place to work or sleep.
Living in the Willows
The Willows community has lots of green space, making it a picturesque place to live. The sidewalks and pathways are perfect for jogging, bicycling, or taking the family dog out on an evening walk.
Residing in the Willows means you can enjoy the atmosphere of your quiet neighbourhood while living just a short drive from restaurants and businesses.
Also, you have quick access to the highway from the Willows making it an easy commute to work in Calgary. Lessen your stress regarding your drive to work and live in a place you love!
The natural surroundings, beautiful homes, and proximity to businesses combine to make the Willows a desirable community for people of all ages. Live in a modern, new home while enjoying all this friendly community has to offer.
Stop by for an in-person look at the Hamilton at 231 Willow Place. It's sure to be worth the drive!