Are you ready for a fresh start in 2019? Now is the perfect time to look for a new home in the Calgary area. Let's look at some simple selling tips you can put on your list of New Year's Resolutions for an easier and faster transition into the new home you deserve.
1. Set a Date to Put Your Home on the Market
Look through your calendar and set a specific date for listing your home. This gives you a time frame and keeps you on schedule as you work through the process of preparing your home for sale.
2. Replace Old Fixtures in the Bathroom
When touring a home, potential buyers take a closer look at certain rooms. The bathroom is one of those rooms. Take a critical look at your faucets, cabinet handles, shower head, towel rack and other fixtures in your bathroom. If they are older or have lost their sparkle, replace them with updated fixtures.
3. Give Your Rooms a Fresh Coat of Paint
This is one of the easiest and most effective ways to jazz up the look of your home before listing it. If you have a living room, bedroom or kitchen with dark walls, paint them in a pastel colour or even a bright white. This will make the room appear larger and more cheerful especially if it has several windows.
If you like the colour of the rooms in your home, consider repainting them the same colour. This will refresh your rooms while allowing them to maintain their appeal.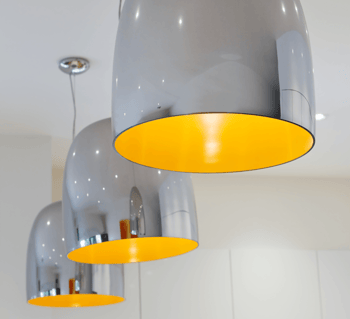 4. Upgrade Your Lighting
Perhaps the fixtures in your home are the same ones you've had since you bought the place many years ago. If so, think about updating your lighting by putting in recessed lights, pendant lights or even a chandelier. Modern light fixtures serve to increase the style of kitchens, bathrooms, bedrooms and more.
5. Freshen Up or Replace Your Garage Door
The garage door is another thing potential buyers notice as they pull into your driveway. A fresh coat of paint can make a garage door look brand-new. Or, if you've had the door for many years, you may want to replace it. That way, you can include a new garage door as another highlight in your home's listing.
6. Start Removing Clutter from Your Rooms
Removing old clothes, books, toys and even old furniture items from your home helps in a couple of ways. One, you don't have to move those things to your new home when the time comes. Secondly, removing clutter makes your home look bigger to potential buyers taking a tour.
To make clutter removal a little easier, separate the items into three piles. One pile goes to the trash, the second pile is for donation to a local charity and the third is to sell online.
7. Boost the Appeal of the Entrance to Your Home
The front door of your home and walkway are the first things potential buyers see as they drive up to your place. So, it's worth your time to make this area as appealing as possible. It may be as easy as putting fresh paint on your front door and replacing its knob with a modern-looking handle. You could also put a beautiful, hearty winter plant in a decorative pot near your front door for a welcoming touch.
8. Look at the Prices for Homes in Your Neighbourhood
Another important tip to follow when preparing your home for sale in 2019 is to check out the prices of other homes in your neighbourhood. You can start to do this months ahead of your planned listing date. You want to know how much your neighbours' homes are selling for, so you price your home in an appropriate way.
9. Update Kitchen Appliances
Along with the bathroom, the kitchen is another room that potential buyers pay close attention to during a home tour. After all, the kitchen is one of the most popular rooms in any home! A collection of updated appliances including a refrigerator, oven, stove and dishwasher is definitely a strong selling point for any home.
10. Make a Plan for Staging Your Home
Proper staging puts your home in its best light when potential buyers come through, and you can even sell for more money. Take a critical look at your living room. Can you remove a table or chair to give the area more walking space? If so, it will leave buyers with a more positive impression of the room.
Natural light plays an important part in staging a home, too. If you have dark, heavy curtains on a window, consider replacing them with a pair of white, lightweight curtains. These curtains will allow more natural light to flow in lending to an airy atmosphere to the space. Other ideas for staging your home:
Remove papers and other clutter from the kitchen counters leaving behind a simple vase of flowers

Put very few pieces of artwork on the walls so buyers can easily envision what they would put up
By following the above tips, getting your home ready to sell in 2019 will be a breeze! Potential buyers will get excited about your current house and you can fulfill your dream of moving into a brand-new place in the new year.