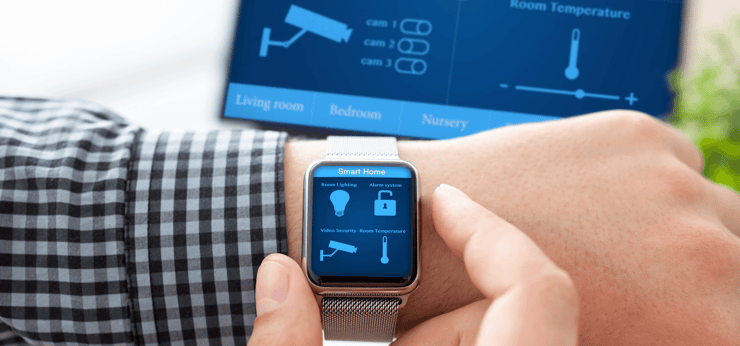 Do you love to stay current with the latest trends in technology? Want to make your home a bit smarter and put it to work for you? One of the latest technology trends is in the area called home tech. From sustainable and low-maintenance products to thermostats and appliances that work via your WiFi, these smart home trends can make your life easier, save you on energy costs, and reduce maintenance on your new home.
1. Learning Thermostats
For many, learning or smart thermostats are the best-known example of smart home technology. There are many types of learning thermostats on the market today, but they all share the same benefits. Rather than setting your thermostat manually or creating a program, a smart thermostat will learn your schedule and preferences and adjust your home's temperature automatically.
Smart thermostats easily pay for themselves over time and make you more conscious of your energy costs with daily reports that break down your energy consumption. According to independent studies, smart thermostats saved customers up to 12% on heating costs and 15% on cooling costs. Depending on the model you choose, your thermostat can also be accessed over your WiFi or using your smartphone while you're away from home.
2. Smart Sound Systems
Do you dream of the ultimate home theatre, or perhaps a way to listen to an audiobook while you prepare dinner? Smart sound systems range in complexity and price. Options range from basic sound systems that work over your WiFi connection to Bluetooth speakers that have voice-activated features to control other gadgets in your home. Most high-tech sound systems today allow you to listen to music from your favourite streaming service and control your speakers with a smartphone app.
3. Remote Security Monitoring
Smart home tech is about more than reducing energy costs and improving your enjoyment of your home; it's also about helping you feel safer. Smart home security systems allow you to monitor your home while you're away, receive alerts on your smartphone, and much more. With the right system, you can check on your pets while you're away, make sure the kids got home safely from school or even view a live feed of your home if the smoke alarm goes off.
4. Sustainable Materials
The demand for low maintenance and environmentally friendly homes has led to the introduction of many sustainable building materials over the last decade. One of the most important is bamboo, a renewable, green product. Unlike wood, bamboo can regenerate very quickly and grow up to 100cm in just 24 hours.
Bamboo is actually a grass, but it's heartier than oak and can be used to replace wood in many areas of the home. While bamboo can be used for support beams and structural frames, it's most often used for green flooring and eco-friendly bath and kitchen products.
Another sustainable material that is catching on in construction is paper insulation. This type of insulation, made from recycled cardboard and newspapers, offers superior insulation to chemicals and it's resistant to fire and insects due to the addition of natural chemicals like boric acid. While it isn't something you can see and enjoy every day, paper insulation can make your home draft-free and reduce energy costs.
5. Energy Efficient Technology
One of the most important trends in home technology is making today's homes more energy efficient. Homes today use about 37% more energy than in 1980, but you can reduce your carbon footprint and save a substantial amount of money each year by adopting new home technology.
There are dozens of examples of exciting energy-efficient technology on the horizon, including new insulation that is being developed to prevent heat from escaping during the winter and clothes dryers that use a heat pump cycle to reduce energy consumption by 60%. Examples of energy-efficient products available now include:
Triple pane windows are a smart investment that will pay for themselves by reducing your annual heating and cooling costs better than double pane options can.

Solar panels that can be used to generate electricity for your home.

Cool roofs which are designed to reflect heat back into the atmosphere to lower cooling costs.

Energy-saving outlets allow you to turn off appliances and lights automatically when not in use or select wattage for a variety of devices.

LED lights use just 9.7 watts of energy and produce 940 lumens to reduce energy costs without sacrificing on the amount of task lighting in your home.
Home builders in Alberta conform to changing city building codes that dictate construction requirements. One of the most recent additions to local building code is improving the energy efficiency standards in homes in terms of HVAC systems, lighting, and building envelopes. Some builders are also adapting to changing trends by including smart home technology in new homes in the Calgary area.
NuVista Homes believes in adopting new, green building technology so homeowners can reduce their long-term energy costs and get maximum enjoyment from their new homes. Remember, you can always ask a builder to learn more about the eco-friendly and energy-saving technology that's included in your home and what you can add to your build.