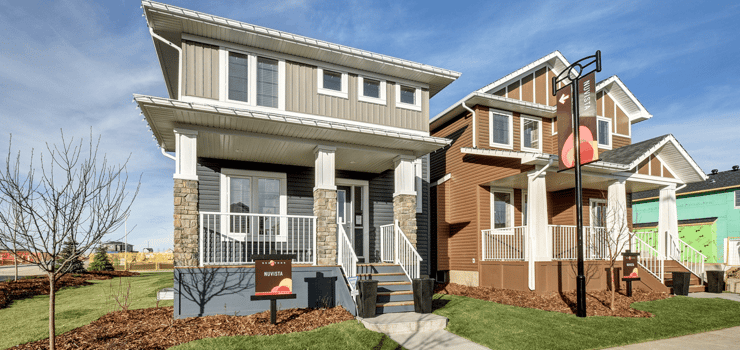 When you're looking for an ideal home style to suit your family's needs, laned, front attached and duplex forms are all options worth considering. Each of these homes make use of open floor plans that have everything your family needs, along with specific features unique to each style.
You'll want to learn all about these styles, so take a peek at one of our show homes to see which is the perfect fit for you and your family. Depending on what you ultimately decide to buy, you might even be able to get a quick possession home that lets you move in sooner so you can start enjoying all the great features.
Laned Homes
Laned homes offer the convenience of single-family living with a yard and garden space, ideal for enjoying the beautiful scenery. If you're looking forward to having plenty of outdoor space, these homes are perfect, especially if you're a frequent entertainer. The styles available offer plenty of room for your needs both inside and out.
One example of our laned home designs is the NuHaven II, which features an open concept great room, dining room and kitchen, which also has a walk-in pantry and an eating bar. A master bedroom with an ensuite, as well as access to an upper-floor laundry room, make this home style ideal for family convenience.
Space is the biggest perk involved with the Banbury II, which boasts 9' ceilings. Your kitchen is not only open-concept but also features a walk-in pantry that makes it easy to keep everything perfectly organized. The rear entrance even features built-in lockers that allow for easy storage, a good place to keep your gardening tools.
The Elina has a functional island in the kitchen that makes preparing every meal a breeze, no matter how big or small. There is a flex room on the main floor you can use as you wish, for anything from a playroom to a home office. The deck door opens to the garden area and features benches that make winter boot removal easier.
Front Attached Homes
Front attached homes offer the convenience of garage parking, perfect for shopping on snowy or rainy days. Another advantage is having plenty of driveway space available when you have guests. The garage area also has storage options that make it easier for you to keep everything orderly.
Speaking of winter, you'll find nights spent in the Abbington home cozy with a great room that features a fireplace and is perfect for setting up your TV or stereo system. Upstairs media rooms make sleepovers and movie-watching even more fun. Another convenient touch is a kitchen with a walk-through pantry, leading to the mudroom.
If lots of space is a priority for you, the 2238 square-foot Rosewood could be the home for you. It features a two-car garage, 9' ceilings on the main floor, a bonus room on the upper floor and a five-piece master ensuite. The upstairs bedrooms are also located away from the master suite so you'll never be disturbed.
The Avonley II has a five-piece ensuite bath, including a peninsula tub. A laundry room is on the upper floor as well, complete with a linen closet. You'll also enjoy access to a kitchen that features an eating bar, great for busy school days when you need to get everyone fed quickly.
Duplex-style Homes
One of the things many people enjoy about having a duplex is low maintenance living, without compromising any of the living space that comes with other home styles. These homes also have garden access, which pleases many would-be residents trying to decide between multiple styles. You'll enjoy the same advantages of home ownership without having to make any serious sacrifices. In fact, because of the shared wall duplex homes often provide a better price per square foot, so it may not be any sacrifice at all!
Duplex-style homes are also popular with multigenerational families, especially those with older parents or grandparents. They can buy the adjoining home so the family can stay close together, while still maintaining privacy.
If outdoor entertaining makes up a significant part of your life, the Barrett is an excellent style to consider. A rear deck is perfect for BBQs and drinks, and the back garden has a lockable door for family privacy. The kitchen is stylish, with lovely pendant lighting.
Style is also a major feature. Tile and hardwood flooring provide a beautiful look that makes the home appear even more inviting. The countertops feature natural stone, including the kitchen island.
No matter which of the styles you ultimately select, you'll have a house in one of the best areas of Calgary, where you can enjoy everything the city has to offer. But don't just take our word for it, stop by any of our show homes for a visit, we'd love to show you more!