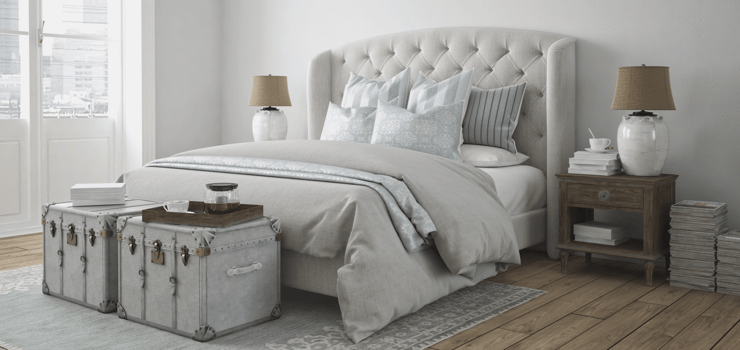 You want your master bedroom's design to come across as pleasant and inviting and the furniture you choose goes a long way towards setting the perfect tone. Consider these tips on how to select the ideal furniture items for your bedroom.
Choose a Style for Your Bedroom
What sort of style do you envision for your bedroom? Do you like a rustic style? Or perhaps you'd prefer a contemporary look for your bedroom? After you decide on a particular style, it's important to choose furniture that works compliments it.
As an example, if you want a rustic bedroom, you could get a bed with a weathered oak frame. A bedside table and bookshelf made of the same weathered wood will complement the design of the bed's frame and adhere to your room's style. Lamps with carved wooden bases and picture frames made of wood are two more items that would suit rustic bedroom.
Consider Your Furniture
If you want a matching set of furniture in your bedroom, decorating is going to be relatively easy. You can purchase a full set of furniture in the same material and colour.
If you're not too keen on this idea, you can purchase individual pieces with similarities to lend interest and visual harmony to your bedroom. For example, if you want to go with antique bedroom furniture you could choose a Victorian-style bureau with elaborate designs on its drawers and ornate handles. In addition, you could find a roll-top desk with the same type of ornate handles and design work. The items would be different, but will compliment one another as they belong to the same "era".
Think About Dimensions
No matter what style you choose for your furniture, you'll want to ensure it suits the dimensions of the space. When deciding how big your bed, bedside tables, bureau and other furniture items should be, factor in free space. You'll want plenty of open space in your bedroom around your furniture items so you don't wind up feeling cramped. Plus, you want to avoid bumping into furniture as you make your way around your bedroom!
Do You Like Multipurpose Furniture Items?
One example of a multipurpose item of furniture is a bookcase doubling as a headboard for your bed. Items like the multipurpose bookshelf help you save space while adding to the attractive look of your bedroom. Plus, your books will be easy to access while you're lying in bed! You could also consider other items such as a trunk, ottoman or storage bench (storage and seating!).
Do You Have a Favourite Piece of Furniture?
Maybe you have a desk that belonged to your grandparents. Perhaps it was in their house for fifty years! It has sentimental value to you and you want to put it in your bedroom. Make it the focal point of the bedroom and select other pieces of furniture based on the style or appearance of the desk.
Perhaps you have an antique loveseat that's travelled with you since you were in your first apartment. You can stain it to match the rest of your other bedroom furniture or upholster its seat in a new colour to go with the other colours in your bedroom. In short, you can renew the look of a piece of beloved furniture to make it suit the décor of your bedroom.
Select Furniture Based on Your Colour Theme
There's a good chance you have a colour scheme picked out for a few or even all of the rooms in your home. If you have navy blue carpet in your bedroom along with medium blue walls, you may want to go with light-coloured furniture items for contrast. A bright white bed frame paired with an antique white bureau would be an appealing choice.
If you want your furniture items to flow with your colours, you can choose furniture items within the same colour family. For instance, if you have a bedroom with a purple theme, you can get a writing desk in light-coloured wood paired with a lavender upholstered chair. A bed frame painted lavender is another idea. Small details such as a vase in pastel purple, purple-themed artwork and purple lampshades can all serve to echo your theme.
Lastly, think about getting furniture that would look appealing in other spots in your bedroom. So, if you ever want to change the look of your bedroom, you can move items around. For instance, you can move the trunk at the end of your bed to just beneath the window. Making small changes can completely refresh the look of a bedroom.
Photo credit: luxury vintage bedroom, master bedroom