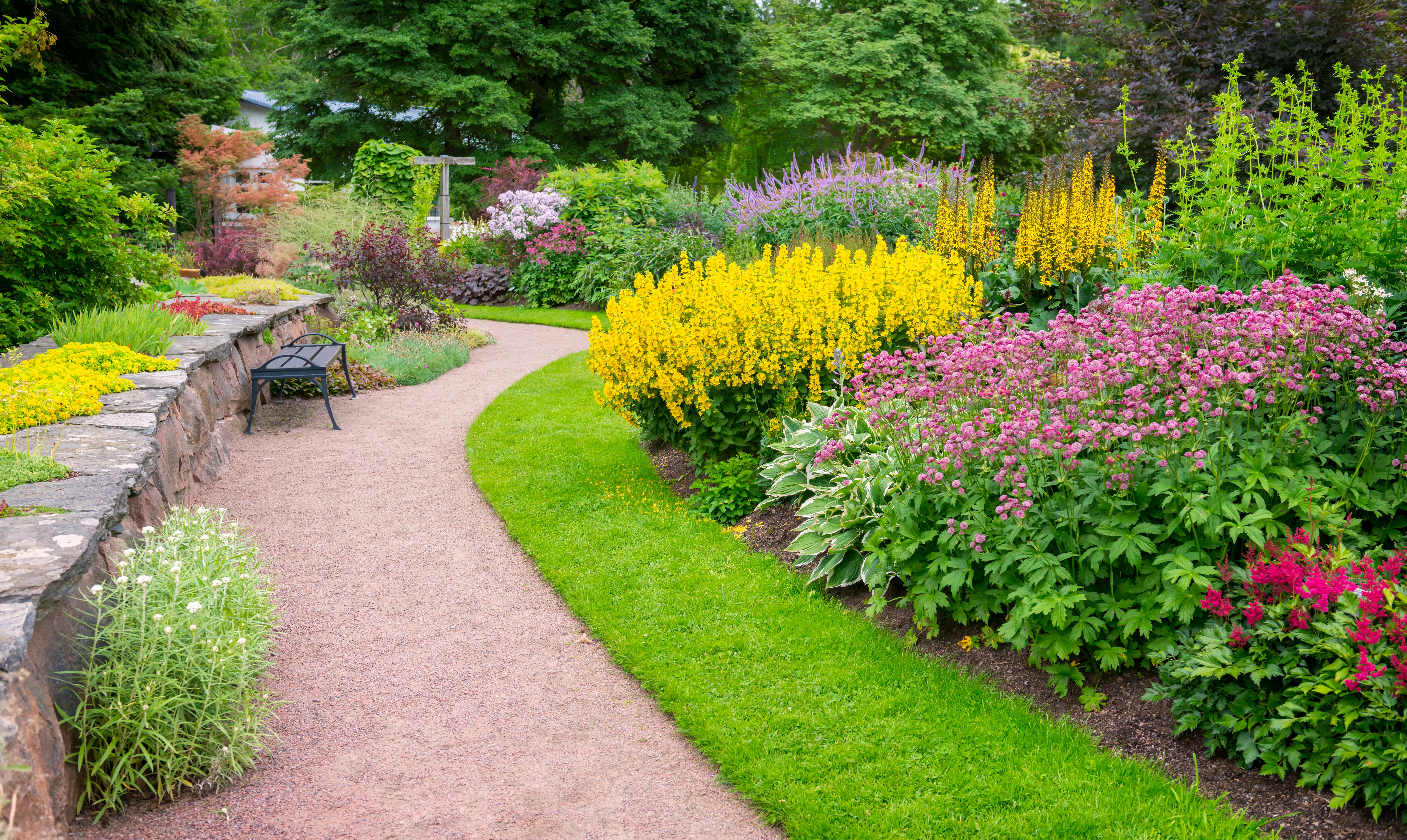 Thinking of doing a little back yard DIY? Dividing your yard into useful areas is a great place to start. Maybe you need a play area structure but still need an entertaining or relaxing area and maybe a little garden too? Segmenting your space is where you need to start and then a pathway system to connect them together efficiently and aesthetically. There are so many choices but here are 5 top picks! Remember 36" is the typical width but you can modify that to suit your space.
The Mosaic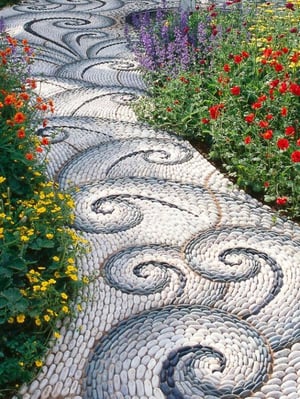 You can truly let your creativity flow with a mosaic path. There are no rules here so have fun you can even get older kids involved. It's roughly a 3 day job for sure but the results are amazing. You can use coloured stones or stick to one tone.
Friday: Sorting the stones & laying out a pattern
Saturday: Laying the base, set the stones and let the concrete begin to cure
Sunday: Grout the stones into place!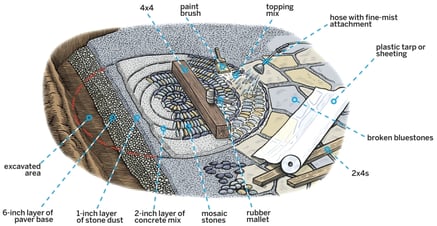 Image Source: beesandroses.com
For a great step by step video on to create a mosiac pathway from this old house.
The Flag stone look and edging choices

Image Source: sunset.com
Another beautiful yet fairly easy concept is a flag stone pathway. You can choose all kinds of edging for this look or none at all. Plastic is also your best bet if you are on a budget though it doesn't offer the most attractive look, it is durable and easy to install. Plastic or rubber edging that can be curved for a meandering pathway and is installed with stakes but isn't the greatest choice for sharp corners.
For a straight, simple path, wood edging offers a charming rustic look. As it's difficult to curve, you'll need a thinner bender board to successfully curve your path. Cedar is an perfect option for wooden path edging because it is resistant to insects and decay and is durable enough to hold up to the elements. The warm color of the wood will give your path an charming look that plastic or metal can't offer. In an Asian-inspired garden, bamboo edging is another attractive option for your path, consisting of bamboo poles that are raised slightly above the path for a truly distinctive look.
For a classic look such in home design, a brick pattern would be an ideal choice. Brick pavers offer a wider edge for your path and come in an assortment of colours, allowing you to customize the look of your landscape. The most simple way to install them is to place your brick paver edging vertically or horizontally, but for a dramatic look, try setting them on a diagonal to create a striking border for your path. To install brick edging, place the pavers on a sand bed and use soil or gravel to hold them in place.
Stone edging such as Kendall dry stack, Rundle, field stone or bronze stack create a rugged, natural look but you can even use a stack stone such as expocrete which are easy to work with. The trick with stone edging is getting the fit as tight as possible to create a smooth even look for your path. To make sure that your stone edging is secure, set it in a sand bed and use a mallet to pound the stones into place.
Just follow sunsets 6 simple steps and your path will stand the test of time. Actually it is easier than you might expect. It's not very tricky and doesn't require any power tools
Large pavers with gravel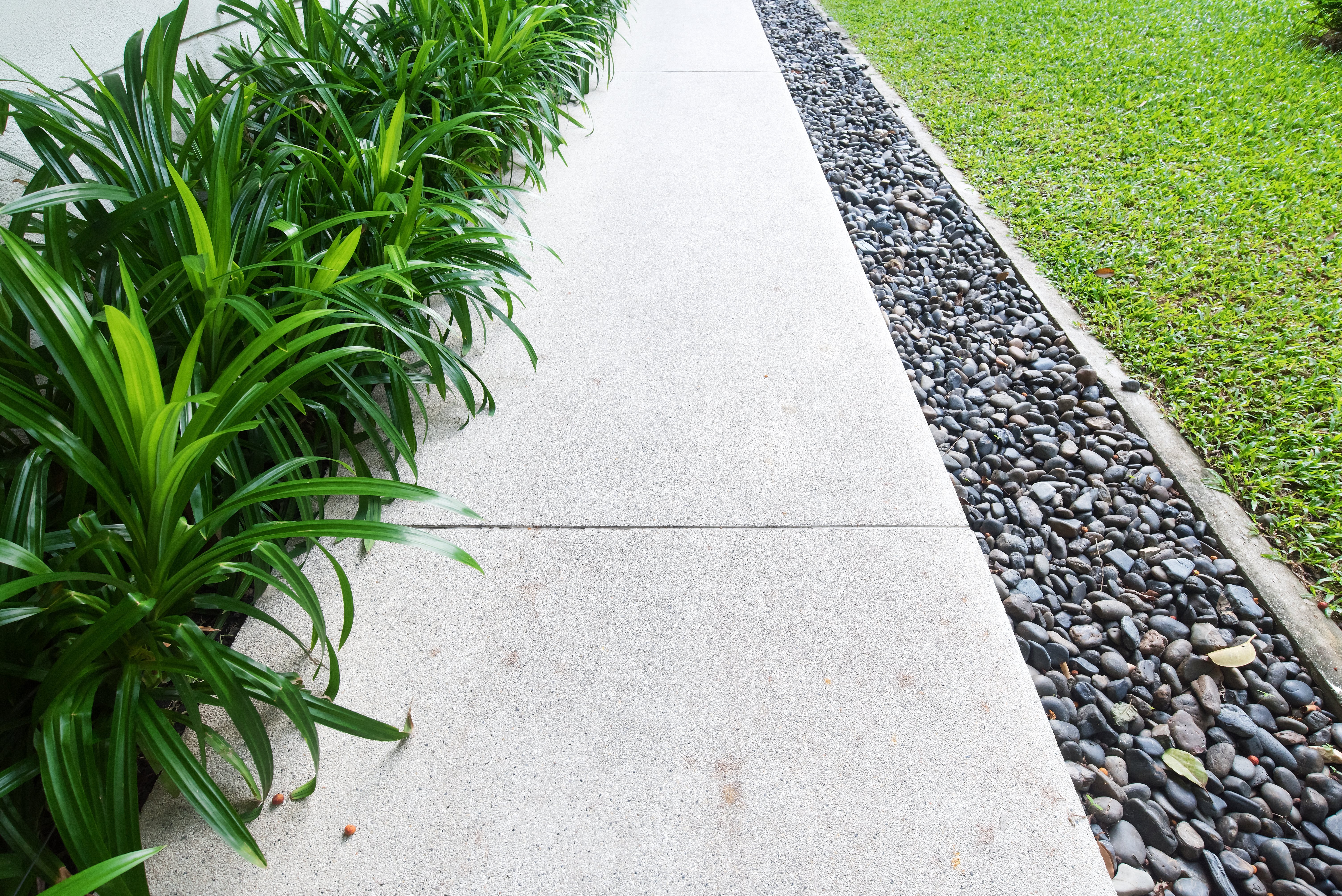 Large Paver and gravel edge. This look lends itself to a contemporary and a clean look. This technique can utilize cement to secure the large pavers in place. Landscape centres offer a variety of large pavers in various colours and textures. By having gravel surrounding the pavers will offer good drainage and look clean. Premier landscaping offers a simply step by step paver video to follow.
Inter-locking brick or stone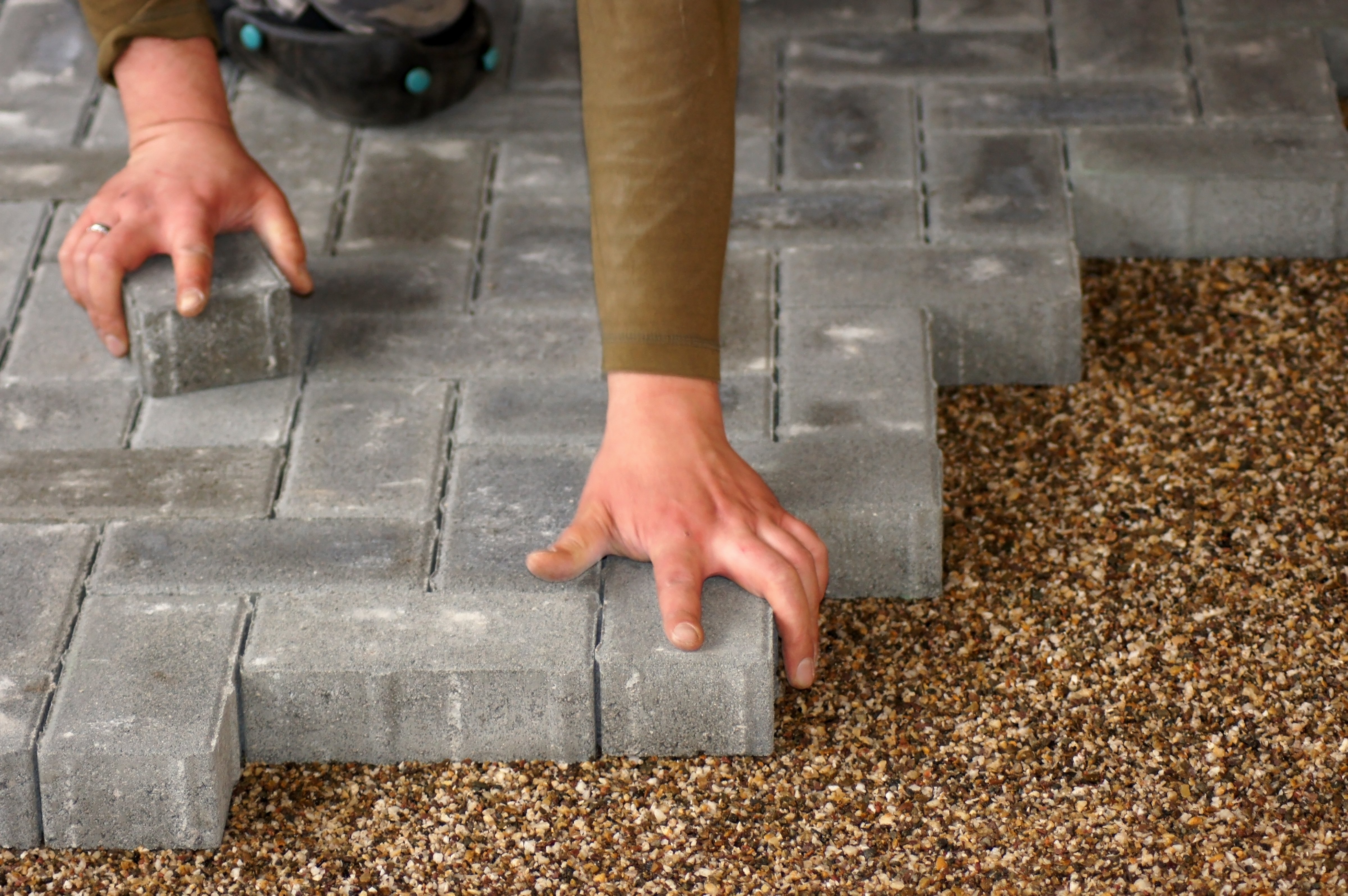 By choosing inter-locking brick or stone, you will create a sturdy, easy to walk on pathway. You will need to set your pavers on a bed of gravel and sand. With a solid gravel base, a brick path will last for the life of your house. You can watch this quick How to do an interlocking stone paver video to help you.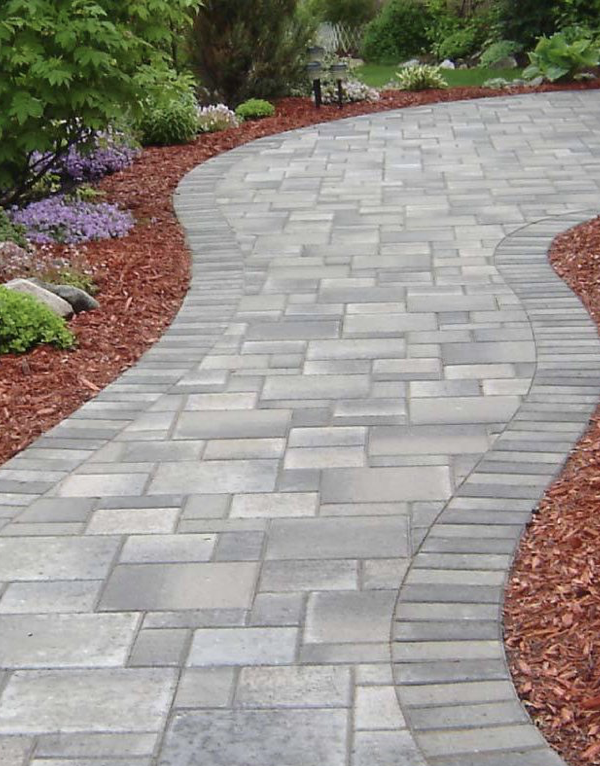 Image Source: kingstoninterlocking.com
Make sure to make your excavation for your path wider than your finished pathway for ease of installation of bricks and don't forget your weed barrier!
Pebble path or crushed gravel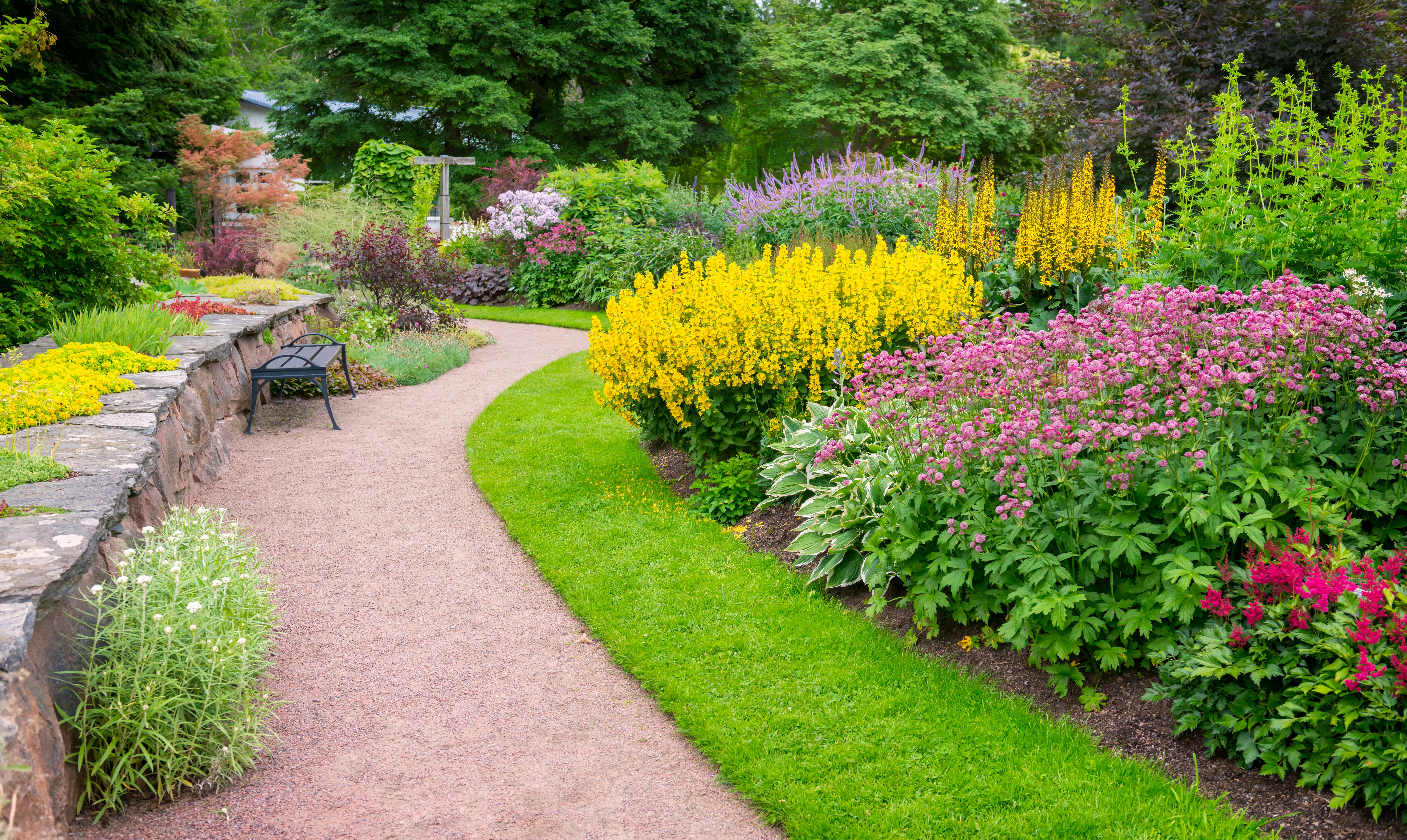 For a simple natural look, try creating a pebble or crushed gavel pathway. It's really easy and can be curved to suit your setting. This is also considered a more economical version as well. Here is 6 easy steps to follow:
Mark out your desired path way. Use a 2 x 4 cut to the width of your path

( typically 36" wide ) to ensure the path stays the same width the entire way.

Excavate the area to roughly 5 – 6" in depth.

Install landscaping barrier or weed barrier and make sure it hangs over the width of the path. You can trim the excess off after.

Next, install your desired style of edging. You can choose from plastic, rubber, stone or even wood. When you install your edging over the weed barrier, it will help keep the barrier fabric in place.

Following that, you will need to add 2 ½" of sub base or crushed aggregate. Rake it our evenly and then tamper it down.

After you've tampered it good, add 2" minimum of your chosen rock or gravel and rake out evenly. Trim off any excess weed barrier fabric and you're done.
There are still more options, however, these were our top picks. Just remember the tricks to a great pathway is a solid sub-base, landscape / weed barrier and lots of tampering! It takes time to complete a good path so don't stress if it's taking longer that you expect. When you're done, you'll smile every time you or your guests walk over it.