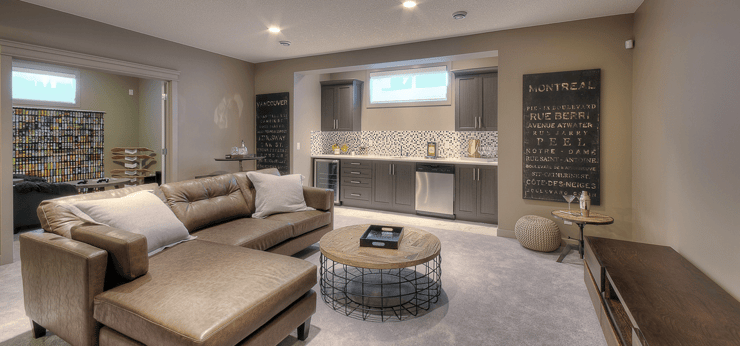 One of the most common questions for homeowners is whether or not it is worth the time and money to develop an unfinished basement. Chances are you're already using your basement as a storage area, but should you take the plunge and finish it so you utilize it even more? There are a number of advantages that come with developing your basement and using it for more than just a place to keep boxes.
Increase Your Home's Value
One of the top advantages that comes with developing your basement is increasing the value of your home. The extra square footage in your house can make it easier to sell and can add thousands of dollars to your property value from investing an average of $10,000.
Finishing the basement is a wise investment that more homeowners are using to their advantage. Having a finished basement allows you to enjoy a useful space while you live in your home, and you can make a profit from your investment when the time comes to sell. This allows future buyers to see the potential of the space and decide if they want to use the basement for a game room, a home gym, or an extra bedroom in the home.
Enjoy Your Home
Developing the basement in your home ultimately leads to enjoying your home more. Children can have a space to themselves where they can play or watch movies. Adults can enjoy using a room that features a pool table or an entertainment system on the weekends.
You'll have the freedom to determine which type of space you'll get the most use out of in future years and you can set your basement up to suit your lifestyle. This can also reduce the amount of money you would spend on entertainment outside of the home during the year.
Reduce the Cost of Utilities
Many people don't realize that finishing their basement can actually reduce their utility bills throughout the year. When you take the steps to finish your basement you will ensure it is free from any leaks or moisture issues, and you will add substantial insulation between the walls and on the ceiling. This will prevent heat from escaping and cold from seeping in, which means you are lowering the overall cost of your utility bills. The money you save here can help offset some of the cost of developing your basement.
You'll also use less energy in the summer months by spending more time downstairs than any other room because the space is naturally cooler than the rest of the house. You also won't have to rely on the air conditioning system as much if that is a feature in your home.
Work From Home
As more people telecommute, or work from home, home offices are becoming a practical room to include on the property. Unfortunately, many homeowners do not have the luxury of an extra room to use as a home office and they often resort to converting one of the bedrooms or a large closet into a space that they can work in. Developing your basement can provide lots of options for a work space, and it may even give you the opportunity to start a home based business.
The basement makes a fantastic home office as it is separate enough from the rest of the home to offer a high level of privacy for increased productivity throughout the day. This can make it easy to stay focused and avoid distractions without feeling the need to leave the home. You can also avoid the expense of renting office space or commuting to a different location each day.
Accommodate Guests
Whether you have friends that want to stay with you from out of town or you need to care for an elderly parent, a developed basement can offer a customized space that allows you to comfortably accommodate your guests.
The basement can make for a great space where guests enjoy a higher level of privacy instead of feeling as if they're in close quarters with other residents in the home. Some basements can even be developed to include a bathroom and small kitchen area for added functionality as an extra living space.
Developed basements are also ideal for growing families who plan on having more children in the future and don't want to relocate to another property in future years. This gives parents peace of mind knowing that each child can have their own room in the home and that space won't be limited, even with a larger family.
Strengthen the Foundation
Refinishing a basement means that the foundation of your home will become stronger due to repairs that will be needed to complete the project. This will require that the foundation is free from mould or wear and will also work to protect your investment.
Added Storage Space
Although the basement has traditionally been used to store boxes and holiday decorations, it can still function as a place for extra storage. Consider adding built-ins with shelves for extra books or family photos that you want to put on display. Deep cabinets or closets are great places to hide storage containers that hold extra clothing or family mementos and this frees up extra space in other rooms in the home. This will make it easier to stay organized and enjoy rooms that are less cramped and have less clutter.
Finishing your basement is a large task to take on, but it has a long list of advantages that will last for years to come. It is an investment that will boost the value of your home and set you up financially for the future, but you can enjoy the benefits of it immediately as you customize the space to best suit your family's needs today.