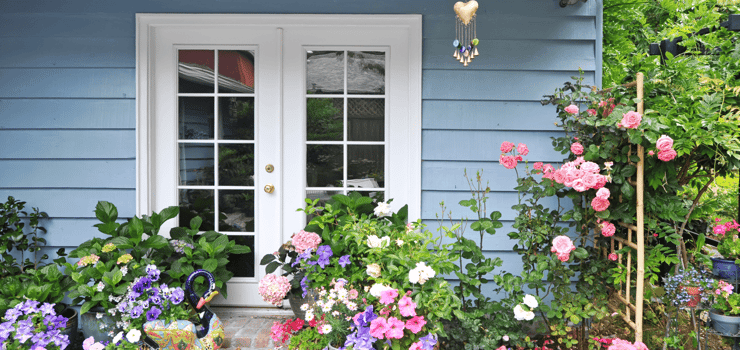 A side entrance is a convenient, cost-effective addition to many larger homes. If you often find yourself inconvenienced by having to enter and exit through the front or back door, you might want to consider this type of renovation. Here are some of the situations in which a side entrance can be the most useful.
1. For a Rental Suite
Many individuals are now looking into becoming landlords. If you create an apartment in your home, you can rent it out. However, that can become awkward if the person is moving in and out of your common area. Whether you want to rent out a complete basement suite or you want to rent out just one bedroom, a side entrance will improve privacy.
Not only that, a rental suite with an extra door is also going to be considered more desirable. You'll find that it will rent out faster and you'll be able to ask for more money for it.
2. For Multi-Generational Families
Rather than purchasing a property separately, multiple generations of a family can live together. The answer is to separate family areas. For instance, older parents may appreciate a basement suite to call their own while mom, dad and the kids occupy the upstairs. With a side entrance, this becomes easy and convenient. Grandparents can come and go as they please while still being an active part of their children's and grandchildren's lives.
3. For Pets and Kids
Do you have children and pets who need to come in and out of the home quite often? For kids and teens, a side door makes it easier for them and their friends to come in and out without having to go through the main home. If they have sports equipment with them, they can put it to the side. Your side door can easily open to a mudroom, which can be positioned between your main home and the garage. Your children will be able to clean themselves and their shoes up before they mess up the rugs!
This is also very useful for dogs. If you have dogs that you frequently walk, you don't want them dripping muddy paws or wet dog water everywhere. A side entrance that opens into a mudroom can even be fitted with a small shower, so you can wash off your precious pup before they get inside.
If you're renovating with your pet in mind, you can also check out our guide to Pet-Friendly Features For Your New Home to get some more good ideas.
4. For Easier Access
Often when you create an add-on to your home, you're adding to the side or the back of the property. A side door makes these areas more readily accessible, especially if you tend to park outside of your house rather than inside of your garage.
The ease of access doesn't just include general purpose activities; it's also good in case of an emergency. If you've already placed an extra side door, the outside is going to be easily accessible, and you're going to be able to get to safety sooner.
5. For Curb Appeal
There are few features as dramatic as an entrance. If you want to improve the curb appeal of your home, adding a second entrance is a great way to jazz up an otherwise empty surface. You can add both an entrance and windows to make sure that it looks well-balanced. This will give you some opportunities to also update the styling of your property.
Curb appeal is especially important if you're thinking about selling your home in the future. Selling your home requires that your home be unique and exciting. Few homes have a well-appointed side door, and this is going to be something that will be memorable about your property.
Installing a side entrance is likely easier than you think! In fact, side entrances can be installed directly into brick walls, concrete, and any other surface you can think of. Not only can you add doors, but you can also add windows and other features, to make your home look more attractive. You can get a consultation today regarding how much this type of renovation would cost.