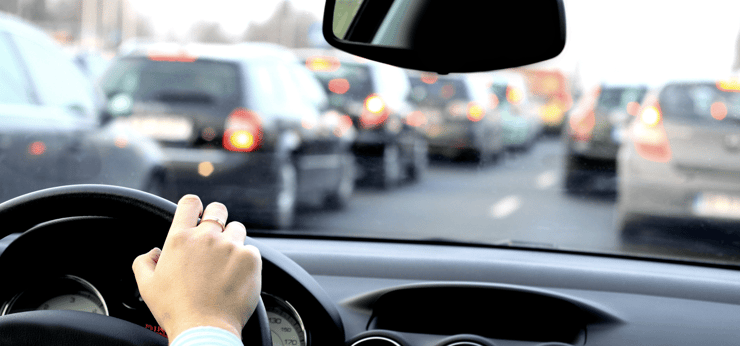 Living in Calgary gives you a major advantage over many other major cities when it comes to commuting. In fact, the average Calgary commute puts our city at a respectable #10 on the most congested cities in Canada list, with Montreal at the #1 position.
But did you know that moving to a new community could reduce your driving time even further?
While most communities are connected to smaller feeder roads which then connect to freeways, new neighbourhoods in Calgary are usually structured around major roadways. This means your commute to work could be shorter even though you're further out of the city. Here's what you can expect commuting from some of the best new communities in the Calgary (and surrounding) area.
Note: travel times are if you're commuting to downtown Calgary.
Redstone
The Redstone community is designed to promote physical activity with pedestrian environments and alternative modes of transportation. Redstone is located close to Alberta Highway 2 and a future C Train station.
Driving
Redstone is only minutes from the AB-2 and from there you take the Memorial Drive exit to downtown Calgary for a 25-kilometre commute or about 20 minutes - a pretty decent time, we think! An alternative 22-kilometre route using Métis Trail and the Deerfoot will take about 30 minutes with traffic.
Transit
You can also use public transportation to commute from Redstone. The bus stop is just a two-minute walk from the community and you can take the Calgary Transit bus to the Saddletown LRT Station, then take the train to downtown. Including walking time, a public transit commute to downtown would take just under an hour from Redstone.
Evanston
The Evanston community is designed with wide open spaces and verandahs with plenty of green spaces for you to enjoy. Evanston in northwest Calgary is one of the closest communities to downtown, located just on the city's north edge.
Driving
The AB-2 is very close to Evanston. You would be looking at about 25 minutes for the 22-kilometre drive.
Transit
To reach downtown from Evanston, take the North Pointe bus to EB Country Village Rd at Harvest Hills and then take the rapid transit bus to the downtown exit. Using Calgary Transit, your commute from Evanston can take anywhere from just over an hour to about an hour and a half, depending on the time of day.
Silverado
The Silverado community in southwest Calgary is located just minutes from recreation, schools, shopping, and the South Calgary Urgent Care facility. The Silverado community is less than four minutes from Highway 22X for easy commuting to nearby areas.
Driving
Silverado is located near Highway 2 for a short drive of 32 kilometres into downtown Calgary, about 27 minutes without traffic. If you want to avoid the highway, you can also take Macleod Trail SE for a just over 20-kilometre commute into downtown. This route may shave a few minutes off your commute if the highway is busy.
Transit
Calgary Transit has three stops nearby the Silverado community including a stop on Silverado Blvd at Silverado Crest. If you're commuting downtown, you can take the bus to the Bridlewood C train station, then take the NB Tuscany train before taking another bus to downtown. This route in the morning would have you hopping on your first bus just after 7:00 am and hitting downtown shortly before 8:00 am.
Harmony

The community of Harmony is located 10 minutes west of Calgary is built for life! You can play all day with the kids, enjoy a taste of lake living, check out the Village Centre for shopping and amenities, and there are some great schools close by.
Driving

It's quite easy to get into the core of Calgary; simply hop on Highway AB-1 and head into town! You're looking at a 34-minute drive to take you about 30 kilometres.
Transit

Unfortunately, Harmony doesn't have transit service just yet. However, the city of Calgary is looking at different options to help outlying communities who don't have transit services right now.
Crestmont
The Crestmont community has worked hard to create a great balance for work, home, and nature. Enjoy the escape from hectic city life without losing the convenience. Another bonus? Crestmont is only 45 minutes from the Rocky Mountains!
Driving

Using Highway AB-1, you'll be in the downtown core in 20 - 25 minutes after travelling 20 kilometres. You can use Bow Trail SW or Memorial Drive NW as well, the timing and distance are all extremely close.
Transit

By catching one bus at 6:53 am, you can ride it all the way to 5 Ave SW at MacLeod Trail, walk for three minutes and you'll be in downtown by 7:51 am. There are a few other transit options as well (if you need to be downtown a little sooner), all within a one hour to one hour and 15 minutes time frame.
Ravenswood (Airdrie)
The master-planned community of Ravenswood is ideally located on the southeast end of Airdrie for a short drive to downtown Airdrie. Technically, you're within walking distance! While located further from downtown Calgary than say, Silverado, Ravenswood still offers a short commute thanks to its close proximity to AB-2.
Driving
The commute from Ravenswood to downtown Calgary varies, we all know Calgary traffic is not predictable! However, you're looking at 35 minutes on the low end, and just under an hour on the high end for this 31-kilometre drive, via AB-2 South, which is less than four kilometres from Ravenswood.
Transit
Airdrie's Intercity Express (ICE) offers direct routes to Calgary, providing convenient access to Calgary Transit transfer stations including the downtown area. Services run seven days a week and take a half hour to an hour, depending on which route and the time.
Cooper's Crossing (Airdrie)
Voted Airdrie's Best Community for six years in a row, Cooper's Crossing has it all! It's full of nature (over 300 acres of parkland, trails and greenspace to be exact) and appeals to those with a traditional nature. Major amenities are within walking distance and there are plenty of recreation facilities to enjoy.
Driving

The drive from Cooper's Crossing is similar to Ravenswood, about 31 kilometres and 25 minutes with minimal traffic, via AB-2 South.
Transit
Cooper's Crossing is another community where you can take advantage of Airdrie's Intercity Express Option.
Willows (Cochrane)

The Willows of River Heights in Cochrane is only 15 minutes from Calgary. This community offers you and your family smooth access to Bow River Valley, the Rocky Mountains, and is filled with bike paths and walking trails.
Driving

To get into downtown Calgary from this neighbourhood, you're looking at about 40 - 45 minutes of drive time for the 42-kilometre trip. Taking AB-1 for most of the drive means it'll go by quick.
Transit

Unfortunately, the city of Calgary does not have transit service to and from the Willows.
Fireside (Cochrane)
Since Fireside is also located in Cochrane, you get the same great access to the Rockies and other nature destinations in the area. You will also enjoy the new K-9 school in the area and The Embers centre that will see to all of your families' needs.
Driving

The simple commute from Fireside should take you about 35 - 40 minutes via AB-1 and Memorial Drive, with light traffic.
Transit

Unfortunately, the city of Calgary does not have transit service to and from Fireside.
No one enjoys a long commute. Aside from the financial cost and stress it adds, it also takes away from time you could be spending with your family or participating in activities you enjoy. As mentioned, Calgarians already enjoy some of the lowest commute times in Canada, but many new communities boast prime locations to cut your commute even further. While living in the suburbs used to mean trading a longer commute for more home, that's no longer the case. Choosing a new community close to major highways can help you shave time from your Calgary commute to spend more time doing the things you love.
Originally posted July 14, 2016, updated December 11, 2018.