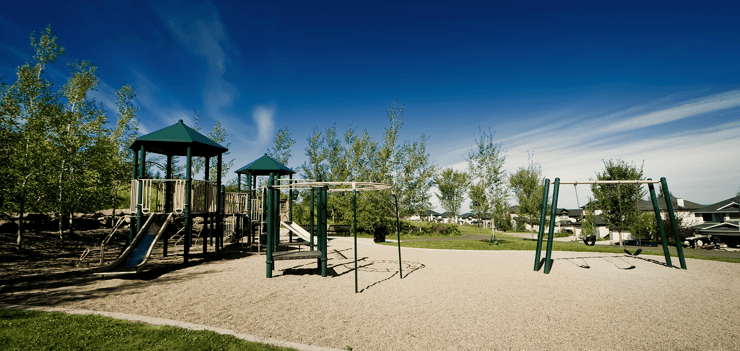 Tranquil, friendly, and welcoming. These are just three of the many words to describe the appealing community of Crestmont. This community is a special favourite with growing families looking for a safe place to raise their children that's just a short drive from the city of Calgary.
An Inviting Place for Families
When it comes to finding a brand-new home in Crestmont, your family has many design options. Choose a home design with all of the rooms, features, and amenities your family deserves. Take the plunge and move into the home of your dreams in one of the most pleasant communities in Calgary.
An Abundance of Greenspace
People who live in Crestmont get to enjoy a breathtaking view of the Rocky Mountains every single day. Along with a view of the mountains, Crestmont has walking trails and lots of flourishing, mature trees. Whether you're jogging through the quiet streets listening to your iPod or taking your dog out for an evening walk with the family, this community has attractive greenspace everywhere you look.
Moving into Crestmont means your children get to play on the slides, swings, and bridges at the local playground. There is even a splash park for some cool, refreshing fun on those, especially warm days. Visit with the other parents and get to know your neighbours as you watch your kids enjoy the excitement of exploring a new play area.
Crestmont has a stormwater retention pond featuring an attractive fountain. The expert landscaping and elegant Crestmont Hall building add to the appealing atmosphere of this sustainable community.
Enjoy Shops, Restaurants and Other Businesses Located Close-By
Many families who make their home in Crestmont appreciate being so close to a variety of businesses. Just think of accomplishing all of your daily errands while still having plenty of time to spend with your family.
The shopping centres near Crestmont have hair salons, clothing shops, jewellery stores, a dry cleaner and more. If you want to get a quick bite for lunch or enjoy a family dinner, there are many restaurant options with a variety of cuisine. Whether you're seeing a doctor or picking up groceries, the business you need is just a short drive away.
Work Closer to Home
One of the most appealing things about living in Crestmont is you're close to many businesses and workplaces. This makes for a short commute to and from work each day. When you're done with work, you'll be glad to leave the city behind and return to your quiet neighbourhood to relax after a hard day.
The Ideal Choice for Active Families
The community of Crestmont is located near the Crowfoot YMCA as well as the Westside Recreation Centre. This is perfect for families who like to swim, play sports, use exercise equipment, or take classes to stay in shape. Just hop in the car for a quick drive to a modern recreation centre.
In the summertime, there are camps at the Crowfoot YMCA giving children the opportunity to explore the natural scenery all around them. This is an excellent option for parents who want to keep kids busy during the summer months. The Westside Recreation Centre offers day camps and classes for children to keep them active throughout the year.
Excellent Schools and Employment Nearby
Do you have a child who is headed to college soon? If so, the University of Calgary is conveniently located close to home. It will be easy for your college student to visit during the holidays.
A selection of quality schools is another benefit of living in Crestmont. Your elementary, junior high, or high school students will have a place to flourish in their studies after moving into their new home.
And for you, Crestmont's location just 15 minutes from Calgary's downtown core means commuting from this new neighbourhood would be a breeze.
Fun Activities and Events Year-Round
The community of Crestmont provides you and your family members with plenty of fun activities and events year-round. For wintertime fun in Calgary, visit the Canada Olympic Park WinSport just next door for activities such as skiing and snowboarding, luge or tubing, bobsledding, skating and more or challenge your neighbours in Crestmont to a snowman building contest!
The warm weather months around Crestmont are just as exciting. Take in a day of golf at the local golf club, visit one of the many nearby parks for a walk or bike ride, or attend a family festival. You won't have to travel far from home to find an activity your family loves.
Oh, and how could we forget? Residents of Crestmont are fortunate to be near the biggest playground of them all – the Rocky Mountains! You'll find getting on route to be quick and easy, benefitting from the best access out of the city on the west side of Calgary.
If you're looking for a peaceful place to live that's close (without being too close) to the bustling city of Calgary, then Crestmont is worth a look. Join a community with neighbours who care about one another. Get the new house you want in a community you will love coming home to.