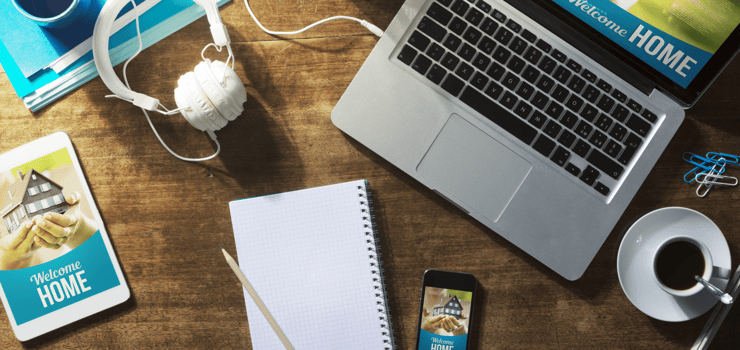 Buying a new home is no minor undertaking. While it's exhilarating to become a homeowner for the first time, this will be one of the biggest investments you'll make in your life.
Fortunately, technology can lend a huge helping hand. To help you streamline the process of finding and buying a new home, we've rounded up seven of the best free apps and online tools.
Budget and Mortgage Tools and Apps
Mortgage Qualification Calculator
When you start your home buying journey, one of the first things you'll want to know is what's realistically in your price range so you can start searching. This calculator will give you a handy starting point by suggesting a price point based on your finances and potential mortgage setup. You can get suggestions based on your income or how much you'd be comfortable paying per month for your mortgage.
The Canadian Mortgage App
A favourite among Canadians, the Canadian Mortgage App is currently the top-ranked online mortgage tool. As one of the most detailed mortgage applications you can find, it will help you calculate your next home purchase by assessing your future household expenses and will even approximate the singular cost of purchasing a home.
It's easy to enter the necessary data, and you have the option of switching back and forth between an annual or semi-annual interest rate. Best of all, it helps you estimate first-time homeowner rebates and property transfer fees, according to your location.
The professional version of the app enables real estate specialists and attorneys to brand the software, but the free version is more than effective for the everyday homebuyer.
It's currently accessible on iOS, Android, and Blackberry devices.
Globe and Mail's Down Payment Tool
Saving up your down payment is a true testament to how much you want to own a home. With the Globe and Mail Down Payment Tool, you can determine how long it will take for you to enter the Calgary real estate market with a 20% deposit. From there, you can adjust the numbers accordingly.
Karl's Mortgage Calculator

This handy app/online calculator is great if you would like to play with a variety of mortgage variables such as down payment amounts, annual prepayments, and extra monthly payments.
User-friendly and easy to read, Karl's Mortgage Calculator also includes graphs, tables, and lets you break down costs annually or monthly.
Mint

For day-to-day home budgeting, one of the most popular apps is Mint, from the makers of Quickbooks and Turbo Tax. It syncs to your bank account meaning it's always up-to-date with your finances, and you can easily use it to create custom budgets for whatever you want to save up for, whether it's a mortgage downpayment, a renovation project or even a new car or vacation.
Closing Cost Calculators

Ratehub Land Transfer Tax App
LTT (or land transfer tax) is frequently forgotten when determining the sum total of buying a new home.
With the exception of Saskatchewan and Alberta (which instead impose a significantly lower transfer cost), all Canadian provinces levy a land transfer tax.
If you're thinking about buying a home and need to determine the LTT and if you're eligible for a tax rebate, Ratehub has your all-in-one tool.
Just enter the house's purchase price, city, and province; answer whether this is your first home purchase, and the calculator instantly yields your report.
CMHC Premium Calculator
CMHC's premium for mortgage insurance is computed as a ratio of your loan and depends on the amount of your deposit.
This premium calculator lets you know the amount you'll have to pay for mortgage insurance if your down payment is under 20%.
These seven online tools and mobile apps are just a few of the most trusted resources to help you determine everything you'll have to pay for your new home; from the beginning stages of finding a mortgage all the way to the closing fees.
Originally posted December 20, 2016, updated November 13, 2018.
Photo credits: technology, smartphone, documents