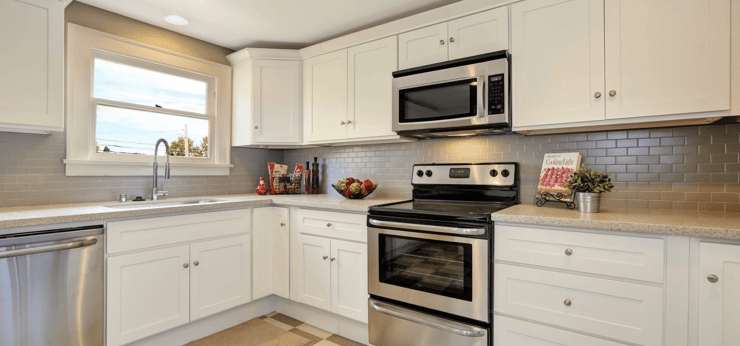 As we survey the year ahead, we see some home trends that have lasting power and are sure to continue into the new year. However, we also clearly see some trends that have reached their expiration. So, as you say goodbye to 2016, be sure to say goodbye to the following design fads as well.
1. White-On-White Kitchens
White-on-white kitchens have been popular for many years. However, the white walls, kitchen cabinets, flooring, backsplash and even countertops can be seen as either too modern or sterile. The lack of colour has become a point of inspiration for many contemporary designers. They feel that it's time for a return to rich woods, raw materials, jewelled tones, and darker colours. In 2017, you can expect the new rich colour palettes to leave their mark in the modern kitchen.
2. Copper Accents
In 2016, we saw the popularity of copper home features surge. However, if designers are correct in forecasting the new trends of 2017, the popularity of copper will fall off drastically. Experts in the field of home decor almost unanimously agree that the metal material will disappear from our style consciousness during the next year.
3. Kitchen Office Nook
Kitchen offices should only be created by necessity. For instance, if you hopped on the tiny house bandwagon and are making the most of less than 1,000 square feet, then you get a pass. Otherwise, it may be time to find a new home for your desk. Kitchens are high traffic areas, and as such, are not ideal locations for an in-house office. Ideally, office space should be located in an area of the home that's more private. Many new home builds offer a flex room that can be used as a home office.
4. Rustic Sliders
We thought they were gone, but this trend can still be seen in homes across the country. In some home settings, the rustic barn door accent is appropriate. However, for most homes the door is distracting and doesn't fit with the design of the home or its overall theme.
5. Neutral Colour Schemes
The days of neutral colour schemes are numbered. Rich tones, jewelled colours, and bold choices are brightening up once bland spaces. In this brave new world, neutrals still have their place as a background for rich bold colours.
6. Open Floor Plans
A return to traditional floor plans is driving current consumers in ever-increasing numbers to homes with distinct and partitioned spaces. Home buyers are often choosing layouts with separate living, cooking, and dining spaces rather than the open layouts that currently dominate home design. The new trend is a reaction to the inherent problems found with open space living, such as cooking smells and problematic acoustics.
7. Industrial Interiors
The industrial look is over. Unfinished walls, exposed returns, and minimalist interiors are fading into the background as consumers opt for lush traditional interiors that offer all the comforts of home. Based on recent housing trends, it would appear that people are finally fed up with living in spaces that look like a giant garage.
8. Misplaced Laundry Rooms
Have you noticed that in today's modern homes, laundry rooms are often located somewhere near the kitchen or the garage, rather than the home's actual living spaces? It is our hope that in 2017, this trend will finally shift and give way to a more thoughtful and coherent overall home design. With this in mind, many new home builders are already implementing options that allow buyers to choose layouts, including an upstairs laundry location right next to the bedrooms.
9. Subway Tiles
From restaurants to residential bathrooms, subway tiles are present in nearly every corner of North America. These tiles have become a popular option in both bathroom and kitchen design for their adaptability and affordable price. Many designers believe that in the coming year the use of subway tiles will decline in popularity, while others argue their classic appeal will always be in vogue.
10. Grey Everything
In 2016, the design world began to shift away from the popular neutral. However, many designers still use the colour grey in everyday home designs. We fully expect the use of grey to decline in popularity as other colours that offer more contrast gain favour in 2017.
Out With The Old And In With The...Old?
Although it's hard to pinpoint exactly what home design trends 2017 will bring, experts say we're sure to see a few throw-back trends such as wallpaper and a resurgence in repurposed and vintage furniture.
That being said, if you're looking for a few design ideas that won't go out of style in a year, check out our posts on classic living room design, kitchen design and design tips for functionality at home.