When it's time to buy a place of your own – or move up to a larger home – one of the first decisions you'll need to make is how much space you will need. The last thing you want is to quickly feel cramped in your new home without adequate storage space or room for family members to spread out and enjoy hobbies. Of course, having too much space can also be a problem as it's more room that you need to clean, maintain, and heat.
Here are some important considerations to help you determine your square footage needs and suggestions based on your family size and lifestyle.
Bedroom Space to Living Space
One of the biggest reasons potential buyers are looking for square footage is for more bedrooms than their current home has to offer. The number of bedrooms you need will likely drive your decision as to what type of home you want, whether it's a condo, townhome, or house.
Don't assume that a home with square footage on the lower end can't offer enough bedrooms. For example, our Saffron Villa plan offers 4 bedrooms and 3 full bathrooms with just over 1,700 square feet. This home plan also includes a great room, games room, and recreational area. If you're looking for a standard 3-bedroom, 2.5-bath home, the Arden home plan can fit your needs with 1,235 square feet of space, or you can move up to 2,408 sq ft with the Avonley II.
This shows how important it is to consider not only the number of bedrooms in a home but also the ratio between bedrooms and general living space. Likely, each of your children will have their own room. And the more family members you have, the larger you'll want your common living areas to be.
For example, for a family with two children, a home with three bedrooms in 2,400 square feet of living space has a good ratio. However, if a family with only one child buys a 3-bedroom home with just 1,200 square feet of living space, this can still work out well. The extra bedrooms can be used for other purposes, such as a home office, so they won't actually need larger living areas.
Lifestyle
Your lifestyle will be a big factor in determining how much space you need. Families that are active and spend a lot of time outdoors or travelling usually do not need as much square footage as families that tend to be home more often. If you entertain often and want to have your extended family and friends over for the holidays, you will probably want more living space. You may also need more space if you want room for a study or home office, a playroom for younger kids, or a hobby room.
On the other hand, a home with less square footage can be ideal for young couples, empty nesters, and small families who want less maintenance or to spend more time out of the home.
As a general rule, here's how much square footage you will want for a:
Study or home office: 150 to 170 square feet

Craft or hobby room: 150 to 170 square feet

Medium or large family room: 280 to 380 square feet

Recreation room: 380 to 540 square feet
Budget and Maintenance
Cost is a big concern when buying a home. As you can imagine, the higher the square footage, the higher the purchase price, as a general rule. Still, the purchase price of the home isn't the only way the square footage can affect your budget. Smaller homes are more affordable to heat in the winter and cool in the summer. A smaller home also requires less new home maintenance, especially when it comes to roofing, siding, flooring replacement, and other costly home improvement projects.
Layout Matters
The layout of a home is often more important than square footage. A home with a thoughtful floor plan and functional floor plan features that works for your needs is usually more valuable than a larger space that doesn't add as much value. After all, what good is there in having a huge kitchen if your family doesn't cook or entertain very often?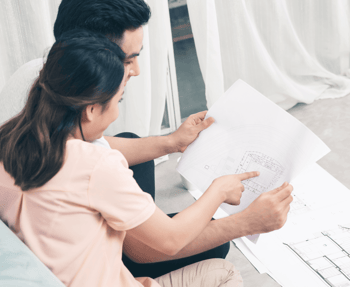 Think about the pros and cons of an open concept floor plan – is this something that will benefit you? The Upton model makes great use of its 1,781 square feet with a clever open concept layout on the main floor. Consider your needs and what does and does not work in your current home to compare floor plans.
Outdoor Space
The square footage of your home doesn't tell the whole story of your living space. Don't forget to consider the space outside! A generous backyard with a covered deck, for example, can extend your living space and give family members more space to themselves. Depending on your family's lifestyle, this may more than compensate for a smaller floor plan.
A good example of the versatility and value of a home's outdoor living space is the Barrett home plan. The covered verandah on the front of the home can be an ideal setting for enjoying a morning cup of coffee. This model also features a rear deck that can be perfect for BBQs and family time during the summer. The rear garden access includes built-in lockers that can be used to store sports equipment and outdoor activities. While these spaces may not be included in the home's square footage calculation, they certainly add value that shouldn't be overlooked.
Future Needs
It pays to consider your plans for the future. If you plan to live in the home for more than five years, how do you see your life changing? Many big life events can affect how much square footage you will want to have. Here are some important questions to ask yourself.
Do you plan to have kids?
If you have children, how much longer will they live with you?
Do you think older family members may move in with you?
Will extended family visit often?
When determining your square footage needs and choose the best floor plan for your family, it can help to first consider why your current living space does not work for you. Do you wish you had a larger kitchen? Do you need more bedrooms? Would you prefer a bonus room to use as an office or playroom for kids? This will help you focus on how you want to use your space, which will directly impact how much square footage you really need.
Photo credits: couple