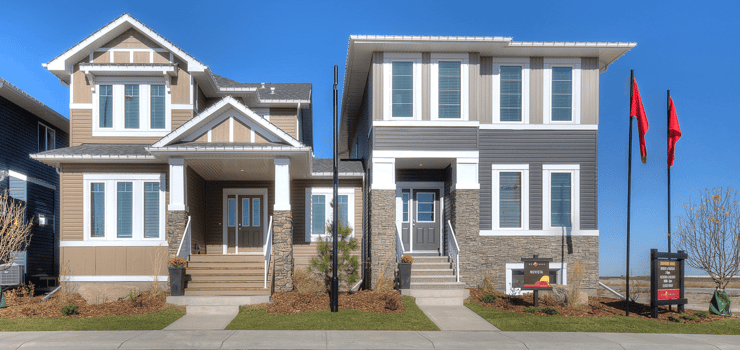 As a modern Canadian homeowner, you have more options in terms of your home's exterior cladding than property owners of earlier generations.
Along with this freedom comes the responsibility of doing your homework to find out which type of siding is ideal for your location and home type. Consider pricing while figuring out your new home finances, whether the material will improve your home's energy--efficiency, and what level of maintenance to expect.
This article will look at the costs, benefits, and drawbacks of common materials available for your new home's exterior to help you make a more educated decision.
Wood Siding
A classic siding choice, wood's popularity has decreased in recent years as its cost has gone up and property owners have begun searching for easier-to-maintain materials. It can currently be obtained as clapboard or bevel, shake, and shingle siding.
In terms of durability, cedar and redwood siding is naturally impervious to decay, and many varieties today are treated in the factory with a fire retardant to reduce flammability. Upkeep-wise, wood siding does require staining or painting every few years in order to look good, although cracked or broken boards can be easily replaced.
Engineered Wood Siding
Engineered wood is simply plywood that's shredded and recombined with a strong resin glue into siding sheets or bevel panels. It looks and feels just like real wood and can be found in both smooth and textured finishes. Lasting a total of about 20-30 years, engineered wood requires repainting roughly every 5-10 years, and unsealed cuts and/or borders may decay or wear away.
Brick Siding
Brick is another time-honoured choice, produced from fired clay, and is found in several different colours, sizes, and textures. While it must be properly supported by your home's slab, brick will not decay, burn, or lose colour, and in the right conditions ought to last at least a full century.
Virtually maintenance-free for the first 25 years (after which time the mortar joints may need to be checked), brick's durability often results in lower insurance premiums. Brick siding also offers outstanding sound and weather insulation. However, it's one of the more expensive siding options.
Stone and Brick Veneers
Stone and brick veneers are fabricated from featherweight cement aggregates and made to look like real stone or brick. They're commonly found in many different styles and may be blended with other siding materials.
Stone and brick veneers generally last as long as the building they're applied to. Like real stone and brick siding, they are resistant to decay, fire, and insect damage, only requiring occasional inspection of the mortar joints for cracking (and are also significantly cheaper than the real thing.)
Metal Siding
Metal siding comes in both smooth and wood-grain-embossed varieties, and you can find it in an array of different factory-fired enamel colours as well.
While aluminium and steel siding is usually easy to maintain and often lasts the life of the building. Metal siding repels fire, corrosion, and damaging insects, and is a very affordable option; however, steel cuts or scratches can rust, and aluminium may become dented.
Vinyl Siding
Vinyl siding is available in a multitude of colours from light pastels to deep, rich hues. Popular designs include shakes, bevels, fish scales, and scallops.

Builders and property owners appreciate vinyl siding because it lasts a long time (roughly 40 years) and is practically upkeep-free. It never requires painting, is easy to clean with ordinary soap and water, and often also comes with foam insulation for energy efficiency, while being another affordable option.
Stucco Siding
Stucco is most suitable for warm, dry environments and should be eschewed in excessively wet areas. Applied over a wood frame lined with wire mesh, stucco may be coloured, and its textures can be smooth, swirled, or raked.
Stucco is naturally fireproof and provides excellent insulation, though it is vulnerable to water intrusion, its application is quite time-intensive and its price is extremely variable.
Synthetic Stucco Siding
Synthetic stucco – or EIFS (exterior insulation and finish systems) – costs less and is less vulnerable to cracking than real stucco, though it must be professionally installed to protect against water penetration.
It is very energy-effective, easy to wash with a common water hose, and usually lasts as long as the building, but you may pay a little more for it.
Fiber Cement Siding
Fiber cement siding is an aggregate of sand, concrete, and plant fiber that looks like real wood, but is cheaper and longer-lasting. It can be obtained in boards ranging from about 5 to 12 inches in width, in both smooth and wood-textured varieties.
Fiber cement siding is a cost-friendly option, both fire and termite-resistant, doesn't crack or decay, and can go as long as 15 years without needing to be repainted.
If you're having a new home built by a Calgary home builder, the material you choose for the exterior of your residence is an important decision to make. After all, it's how your home presents itself to the outside world and is the first layer of defence against the natural elements.
Hopefully, the information presented here will enable you to make a more informed choice about this vital structural element (and move one step closer to having the nicest yard on your street!)