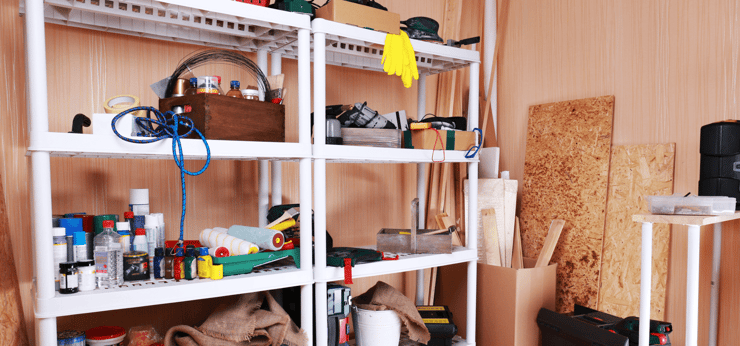 The best part about buying a brand new house is being in control of the design of your new home so that it fits your family's specific organizational needs. How often have you looked at messy spaces in your home and thought, "If we just had better storage here, we could be organized!" Apartment spaces and older homes often get untidy for a reason - they were not designed with you specifically in mind.
As you choose the layout, rooms, and storage options, you can be assured that your new home build will fit your family's needs perfectly. No more cluttered living rooms, scattered laundry, or disastrous garages. When you plan and design your family's home based on how you will live in it, it will be an organized and positive space for you to enjoy. Here are some ideas to consider as you start designing the perfect home for your family.
1.

Kitchen Layout and Storage Options
The cooking and eating spaces in your home are the ones that you are bound to use the most day to day. Because it's such a high traffic area, it seems to get messy rather easily. When you think about how you and your family typically use these spaces, there are lots of different options to maximize the space and help you keep it organized and functional.
If you and your family enjoy cooking together, choosing a kitchen with multiple prep stations and counter space might be helpful. In order to maintain an organized kitchen, hidden storage options can be used for your garbage, recycling, and small appliances.
You can also select an eating area to fit your family's space needs. If you prefer to eat in a dining room setting, that can certainly be accommodated. If you'd rather have the extra space for a larger living room or kitchen, the dining room can be eliminated and an eat-in kitchen or breakfast nook space can be created. Home builders offer a variety of floor plan options so you're sure to find the right fit.
2. Built-In Storage in Every Space
Built-in storage is a very versatile way to create home organization. Common built-ins include kitchen storage and displays for special dishes and vases, entertainment areas for living rooms, and built-in bookcases in many spaces.
There are lots of creative ways to create the built-in storage you need throughout your home based on your individual needs. Headboards that double as nightstand space, shelving above doors and windows in bathrooms, creating hidden cupboards and drawers as staircase storage, and cabinet cutouts for things like cutting boards and kid's step stools are all creative options you can include in your new home.
3. Personalized Closets and Garage
Cleaning out the closets and the garage are tasks so many of us dread. The best way to maintain a clean and organized storage area like a closet or garage is to have it personalized to what you need to keep there. If you hang most of your clothes, you can have a double rod closet installed. Shelving options are great if shoes are your thing.
Your kids may benefit from having multiple drawers and compartments for clothes, shoes, and laundry. It is easier for everyone to maintain an organized space when there is a designated place for everything.
Your garage is a great place for storing outside items while maintaining adequate space for parked cars. You can invest in storage systems for tools, sports equipment, and yard maintenance items take advantage of all the space in your garage while helping to keep the area organized. You can also decide on whether you need space for one or two vehicles based on your family's current or growing needs.
4. Consider Having an Extra Room
A bonus room can be an excellent and versatile place that helps keep your family organized. This space can become the family entertainment room, the kids' playroom, a home office, or it can morph into any of those spaces over time.
When creating your home design consider how a bonus room can really open up your options for space without increasing your budget. An extra room can also have a multi-purpose function, being used for guests as needed, or having one part of the room function as an indoor exercise space and another being an entertainment area or extra study and reading space.
5. Decor and Finishes
Selecting your interior finishes such as counter surfaces, flooring options, and paint colours is one of the most exciting parts of the process for most people designing their new home. Utilizing finishes creativity can help enhance the feeling of more space. Kitchen cabinet doors can be painted with chalkboard paint to create a message board without utilizing wall space.
Other built in cabinet fronts can be finished with magnetic paint to allow for magnetic hooks for additional storage needs that may change. Closet doors can double as mirrors, also freeing up additional wall space.
There are a multitude of design, layout, and decor options you can choose to help maximize your storage and organization in your new home build. No more unnecessary messes and clutter around your home. Choosing a new home build that can accommodate your family's exact storage needs will make you feel at home as soon as you move in and allow you to truly enjoy your clutter-free space.