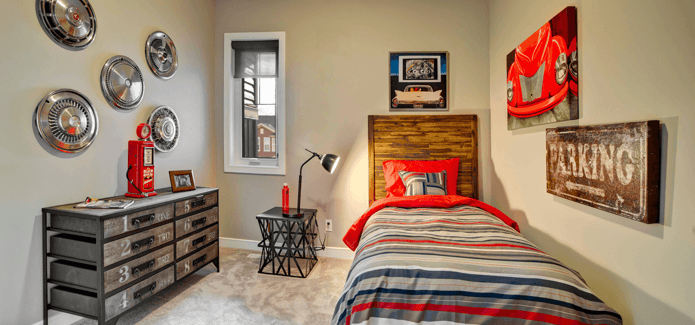 Whether or not to upgrade your home is a big decision. Many people are taught from a young age to make do with what they have, but in terms of housing, this mindset doesn't always work. It's hard to cram an extra child into a two bedroom home or be satisfied with only a small garden space if you have a green thumb. Sometimes the most practical option is to upgrade to a larger home that better suits your lifestyle. Explore these seven reasons to consider expanding into a new home.
1. A Change in Family Size
Families often grow, and when they do, they usually need more space. When children are very young, they can share a bedroom fairly easily; however, growing kids often need their own space. While a couple with a very young child may be fine in a home of less than 1,000 square feet, this space will quickly become overcrowded with more children on the way.
Some families grow in other ways. It isn't uncommon for single people and couples to get a pet, and pets need plenty of space to explore and play. This makes having ample yard space or being located within walking distance of pet friendly parks very important. Both of these factors could play a major role in your decision to upgrade.
2. You Just Need More Space
If your current home is too small and doesn't suit your needs, it's definitely time for an upgrade. Space issues can happen for a number of reasons, such as:
wanting to build an exercise room

starting to work from home

getting married or getting a new roommate

not having enough storage for your things
If you're considering moving, think about how much space you will need in order to live your life comfortably. Everyone deserves to have the space they need. A new build allows you to maximize on your storage space and create more functionality in your new home.
3. Larger Homes can be Affordable
When people think of upgrading their home, they often think of the added costs that go with it. What most people don't consider is that interest rates vary and it is possible to get a low interest rate that you can afford. In some cases, having a home built in an upscale community is more affordable than buying a resale home.
By having a larger home built, you are also protecting your financial interests. Because the home is newer, you may be at less of a risk for the home to decrease in value if you choose to sell it. Current market conditions make it easy to buy an affordable home. Find out exactly how much home you can afford and how to evaluate your financial situation with these helpful home buying calculators.
4. Adding a Garden
It isn't unreasonable to want to enjoy the space around your home. Even if you don't have children or pets, your yard helps make your property unique. The right landscaping can make you feel completely at home and relaxed. With a larger backyard space, you'll be able to create your dream garden.
Additional yard space has a lot of benefits. You have plenty of room for hosting parties and entertaining and if you want to add a pool, swing set, spa or playhouse, you have the space to do so. A large yard allows your creativity to flow and gives you the opportunity to design a space you can truly call your own.
5. Getting the Right Work Space
Whether you are working from home or working on your home, you need space for your projects. Adding a garage or choosing a floor plan with a flex room allows you to increase efficiency and be more productive when you're at home. You'll have a space to store your tools and work on projects without distraction.
If you choose to add a garage to your home, you get the added benefit of vehicle protection. Snow, excessive sunlight and rain can take a toll on vehicles, causing damage and rust over the years. Parking them in a garage protects them from the elements and helps your vehicles to last longer and look better.
6. Home Maintenance Costs Can Change
One of the biggest reasons why people move is that the cost of maintaining their current home has changed. This happens a lot with older homes that require routine maintenance or have outdated features. In many cases, it is more practical to have a bigger home built than to fix all of the flaws in your current home.
Newly built homes have the latest features on the market and are built with aging in mind. They are designed to be low-maintenance and simple to live in. This is all in an effort to make your life easier and save you money in the long run.
7. A Change in Status
Home size can say a lot about a person's social status. Whether you are hoping to meet more like-minded individuals or just want to make the right impression, a larger home can help. Having a new home built allows you to get the look you want and express your personality. You'll also be able to choose a family-friendly community that best suits your needs.
There are many reasons why you may want to upgrade your home. You don't have to settle with a house that doesn't meet your spacial needs anymore. Upgrading to a new home is an affordable investment that allows you to live your life to the fullest and keep your family comfortable.