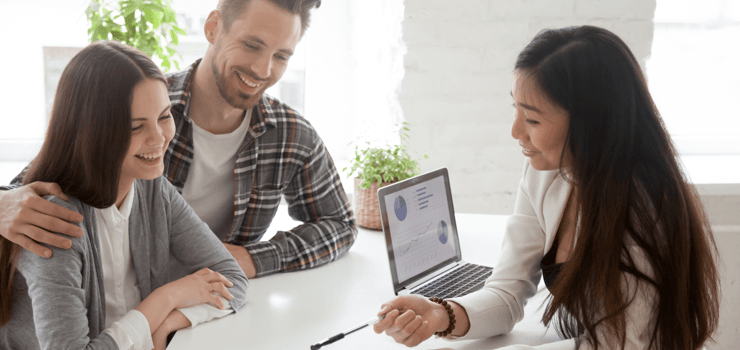 A lot of us enjoy browsing through the most expensive new luxury home listings during our free time, imagining what our lives would be like in the stately castles of royalty. But when the time comes to really consider buying a new home, it's important to know what your budget is before doing any serious browsing.
Aside from the amount of hard cash in your bank account, your household's combined annual income, personal expenses (vehicles, credit card purchases, etc.), and all pertinent homeowner expenses (like property taxes and utility costs) must be factored into your budget. These figures are absolutely essential for determining your monthly mortgage as well.
Straight off, you'll need to know exactly how much cash you have on-hand to cover your new home's down payment and anticipated closing costs. Once you have an idea of the amounts of these two upfront costs, you'll be ready to calculate the mortgage amount of your new house.
Start With Your Required Down Payment
Finding out a property's required down payment is the first step in determining whether you can afford it in the long run. Before you start figuring out your mortgage and closing fees, you can get a good idea of the budget you'll need using the following down payment formulas:
If a home's down payment is $25,000 or under, the highest total amount it will cost can be easily determined by dividing the deposit amount by 5%. So for a house with an $18,000 down payment, dividing $18,000 by 5% equals $360,000. This is the maximum amount the home will cost you.
If you have to invest more than $25,000 upfront, you should subtract $25,000 from the down payment cost and divide the remaining figure by 10%, then add $500,000 to that amount. For instance, if the down payment is $40,000, subtract $25,000 from this figure and you'll end up with $15,000, which is then divided by 10%. $15,000 divided by 10% is $150,000, and $500,000 is then added to give you a maximum purchase price of $650,000.
Calculating Closing Fees
Along with your deposit, you'll also want to have between 1.5% and 4% of your house's full sale price on-hand to cover your home buying closing costs, which are due on the day of closing. These fees are commonly overlooked by first-time homeowners as they calculate their spending budget, so you'll stay ahead of the curve by reserving some cash to cover these amounts as well.
Determining What Mortgage Amount You Can Afford
Lenders use two basic formulas to determine the mortgage amount you're eligible for. Each formula uses one of two ratios: the GDS (Gross Debt Service) ratio and the TDS (Total Debt Service) ratio. These ratios reflect your monthly earnings, property expenses, and total accumulated debt.

In terms of affordability, the CMHC (Canada Mortgage and Housing Corporation) recommends that your combined monthly housing bills – mortgage costs, property taxes, utilities, etc. – be less than 32% of your gross monthly earnings. Expressed as a percentage of your monthly income, these combined housing costs are your GDS ratio.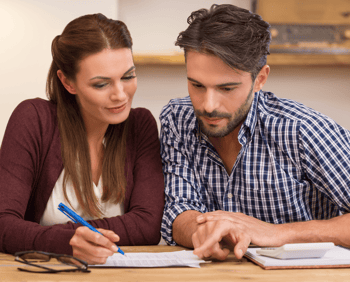 he CMHC also recommends that your combined monthly debts (which include housing expenses) not exceed 40% of your monthly earnings before taxes. Along with your housing expenses, other items considered to be monthly debts include credit card premiums, automobile payments, and any other types of loan repayments. Like your GDS ratio, the full amount of these monthly debts is converted into a percentage of your overall monthly income, and this figure is your TDS ratio.
Although the CMHC advises households have a GDS of 32% max and a TDS of 40% and under, if your credit history is clean and your monthly earnings are stable, you may be able to go beyond these boundaries. But regardless of your income or credit score, your GDS and TDS ratios cannot be more than 39% and 44% respectively.
Note that mortgages requiring a down payment of less than 20% are referred to as high-ratio mortgages, which require you to also buy mortgage or "CMHC insurance".
Other Factors Affecting Mortgage Approval
As indicated earlier, along with your down payment, affordability ratios, and cash reserves for closing fees, your lender will consider your credit score and monthly income when calculating your mortgage. These variables are equally important with respect to your mortgage approval, so any weak links – like a shaky work history or poor credit rating – can make it more difficult to be approved.

As useful as they are, mortgage cost calculators can only offer a working estimate of your costs after approval, as they don't take things like your credit profile and work history into account. For a more precise mortgage figure, you'll need to contact a lender or broker directly to see if you can be pre-approved.
Our next post in the series of "buying your first home" will be all about getting pre-approved for a mortgage! A subscription to our blog keeps you in the loop.
Now that you have a clearer picture of the figures you'll need to establish your budget, you can get the ball rolling towards your new home purchase. Once you've accounted for these costs, you'll have a valuable blueprint to help you steer your house hunting adventure toward a home you can easily afford.