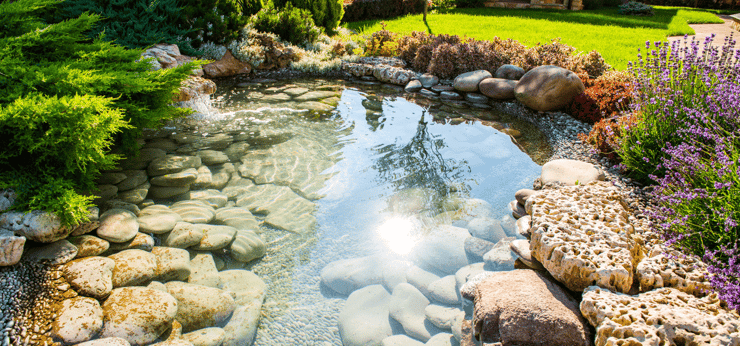 When building your brand new home, the exterior features are just as important to consider as what you include on the inside. So while you are choosing flooring, appliances, and countertops, it's also essential to start thinking about and planning for what your outdoor space will look like.
Home builders are more aware than ever of the importance of lovely outdoor spaces that make sense for their clients. Builders frequently offer additional packages that include decks, patios, walkways, and various spaces for gardening. Each community and builder is different in regards to landscaping though, so it's important to know what questions to ask as you design and plan the ultimate outdoor oasis for your new home.
1. What Does My Dream Landscaping Look Like?
Designing is a little like brainstorming. That first step to planning your outdoor space is to make a list of the features you want without limitations or judgements. Think about what your most ideal yard space looks like. Extensive flowers, winding walkways, multiple patios or decks, water features... you name it, it can be part of your backyard dream! After developing your extensive wish list, you can start to plan what you will actually build with the following considerations.
2. How Much Maintenance Can I Handle?
Your most extravagant landscaping ideas might be beautiful, but they may also require too much maintenance. If gardening is one of your top hobbies and you enjoy maintaining landscaped space, by all means, go for it! However, if you do not have the time to maintain a complex landscape design, consider options like varied seasonal plantings, mulch that will decrease the need for watering, and permanent edging that will cut down on maintenance. Choosing low-maintenance plants and soil cover can make an extravagant landscape also easy to manage.
3. What Is Included With My Builder?
The first major part of the planning process is finding out what is included with your particular builder in terms of landscaping. This will determine which features can be done and which ones you can do without. Often, landscaping "packages" are included or can be added to your home price. There may be standard landscaping included like a few bushes or a front yard tree, with other landscaping elements and services added on. It's best to find out what exactly your builder is willing and able to do for your property before you finalize your list of must-have features.
4. What Are The Regulations Based On My Location?
Depending on where your new community is located, you may have local regulations to take into consideration before designing and implementing your landscape plan. Here are Calgary's requirements regarding planting trees, permits for installing fencing and retaining walls, and restrictions on certain (usually invasive) plant species. Your builder and landscaping specialists will know these codes and regulations, but it's important to keep in mind that your local landscaping rules and regulations may determine how your plan comes together.
5. When Can Permanent Landscaping Changes Be Implemented?
In some cases, certain landscaping elements are time sensitive. For example, planting larger trees or installing fencing may have to wait until the newly broken soil and land has settled. It's important to adhere to these regulations or you will have more work on your hands later.
Asking your builder about components like soil type on your property, landfill, foundation height and backfill around the house are crucial to understanding what kinds of landscaping will be possible. Ask about drainage patterns, and consider the placement of eavestroughs and downspouts in your landscaping plan to maximize the space and minimize maintenance issues in the future.
6. Who Should Do The Work?
Lastly, when all plans and designs have been decided, it's time to ask who will do the work. Labour is not the only thing to consider. For features not included in your new home build, you may want to hire a professional landscape designer to begin your plan. Also, as mentioned earlier, the builder may include some the work and labour in the original contract. Other times, the builder will have preferred landscapers they suggest you use. You may also want to look online for landscaping inspiration and do the work yourself.
Time spent outside in the backyard of your new home is a foolproof way to relax on a beautiful day. It's where countless family memories will be made, and where restorative morning coffees happen. Your outdoor space is the first thing you will see when you pull up to your home and when you look out your windows.
Do not underestimate the importance of designing this space just as carefully as the interior of your home. Ask these important questions not only to yourself, but to your builder and landscapers so that together you can build an outdoor space you will fall in love with everyday.