Home buyers ready to upgrade will find everything they're looking for and more in a new home build. In addition to many other great features standard to a new build, new homes also come with smart home security and a great new home warranty.
Features such as nest cams, smart locks, automated lighting, smart appliances, motion sensor lights, and security systems are commonly found in new homes. A renovation with all of these features could be costly, but a new home build can easily accommodate the needs of a modern buyer with the latest smart home trends.
Whether you're considering your next move or simply evaluating your current home's smart features, safety should always be considered. Which of the following modern security features will best suit the needs of your family?
1. Automated Lighting
Motion sensor lights are a popular and practical feature in new homes. For one, they are a great security feature that help deter unwanted visitors. They also come in handy as a home safety feature. For instance, when you're arriving home late, a motion sensor light can safely light the path to your door. Motion sensor lights, are by nature, energy efficient and cost effective. It's a no-brainer to add them to your new home!
In addition to motion sensor lighting, some new homes include smart lighting solutions controllable from anywhere. Programmable lighting can be easily connected to your home's security systems and could be triggered as your alarm or security system is alerted of an intruder.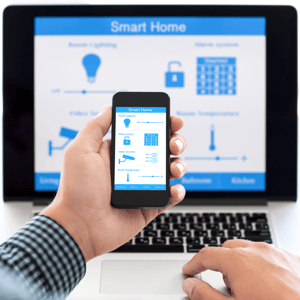 2. Smart Home Systems
Thanks to the growing number of smart appliances and apps on the market, it's never been easier to set up an all-inclusive smart home security system. Today's smart home technology can remotely control everything from your door locks to your alarms.
Additionally, smart home security systems make it easy to monitor and control your home's features from anywhere. All you need is an app and a smartphone! These systems are highly customizable, offer a great variation in features, and are available with several installation options. Because of this, smart home security is available to fit the needs of nearly every homeowner.
Listed below are the most common home features these smart security systems can control.
door and window sensors

motion detectors

surveillance cameras

lights

smoke detectors

water sensors

door locks

garage door openers
3. Advanced Alarms
A smart alarm system is a popular feature in new homes. like most systems, smart alarms are triggered when any window, door, or entryway is tampered with, but a smart home alarm systems connect to your Wi-Fi so you can control security devices using your smartphone.
This highly-integrated setup allows you to monitor your home yourself or, with a small subscription fee, have a team of professionals look after your home 24/7.
4. Nest Cameras
Smart home cameras can be linked to your home's smart security system or monitored from an app. These protective home devices allow modern homeowners to check the safety of their home anywhere in the world on their mobile device or computer.
Smart cameras offer attractive features such as 24/7 live streaming, motion activated recording, and mobile app control capabilities. Some of the smart cameras on the market can even stay alert, looking and listening for suspicious events, like the breaking of a window. If these smart home devices suspect something has gone wrong, they can send you an alert with an image of the event.
5. Smart Locks
Your older home has a front door lock, and likely has a deadbolt that acts as an added way of securing your home. However, there are locks that can do so much more. Today's smart locks offer you more control, with the ability to unlock and lock your door remotely. These space-age door devices are able to give copies of a "digital key" to your family, friends, and anyone who needs regular access into your home.
Although there are a number of smart home locks on the market, they all enable you to manage and control your locks remotely with a smartphone or web app. Some require you tap the lock with your finger, whereas others may only have you come to the door and wait for the smart technology to recognize you and unlock the door. Look at the different styles and features to see which option you like best.
Wouldn't it be great if we lived in a world where all homes used the latest smart security measures? Unfortunately, most older homes don't have these features and many homeowners are unaware of the fantastic home security options available on the market. New home builds often come equipped with the latest smart home trends to please the savvy modern buyer.
The next time you visit a showhome or talk to a new home builder, be sure to mention some of the smart home security features you're interested in learning more about. That way, when it's time to build the home of your dreams, you'll be prepared with a smart plan for its protection.