Anticipating a tax refund?
Investing the money in your home is a smart way to maximize your refund and avoid spending it on things you don't really need.
Using your refund to make improvements in your home can help you build equity that you can borrow against in the future – or recapture if you sell your home down the road. You can also spend your money to make your home more comfortable and a better fit for your lifestyle.
Here are some of the best ways to use your tax refund to boost your home's value and add a bit of fun to your daily life.
1. Add Smart Home Technology
Smart home technology has become an in-demand feature, especially among younger buyers. Many of these tech gadgets can even make your home a healthier place!
From smart thermostats to smart outlets, spending your tax refund on a few home tech upgrades can pay off. Installing a programmable thermostat like the Nest can save you up to 12% on heating and 15% on cooling costs. This means you can recover the money you spent in just 2-3 years.
A smart smoke detector can also be a great choice. These smoke detectors can lower your home insurance premiums and reduce the risk of fire. If smoke or carbon monoxide is detected, you can get an alert to your smartphone. You don't even need to worry about the detector shrieking with a false alarm like a standard smoke detector.
2. Boost Your Landscaping
Landscaping can improve your curb appeal and expand your outdoor space. You're also nearly guaranteed to recover the cost of landscaping, as long as you don't go over the top. It's hard to estimate the value of landscaping as it varies, but professional landscaping has shown to boost the value of homes by up to 20%.
As a general guideline, it's recommended that you invest 10% of your home's value in landscaping. If this doesn't fit your budget, focus on adding colour with flowering shrubs, perennials, and annuals. Edge the lawn and mulch flowerbeds for a cohesive and polished look.
Even planting a few trees can have a big impact. Once mature, trees can shade your home to reduce your air conditioning costs in the summer.
3. Upgrade to Energy Efficient Appliances

Making energy-efficient home improvements such as upgrading to a high-efficiency furnace, water heater, and refrigerator can pay off for years to come. Along with making your home more attractive, energy efficient appliances reduce your living expenses every month.
You can even qualify for energy efficiency rebates of up to $100 when you buy qualifying appliances through Energy Efficient Alberta.
Working with a contractor to add a tankless water heater to your home can save up to $1,000 through the program and give you hot water on demand.
4. Replace Standard Light Bulbs with LED
Like high-efficiency appliances, LED lights can reduce your energy expenses dramatically. LED lights use energy far more efficiently than incandescent bulbs and can last an average of 22 years or 25,000 hours (compared to just 1,000 with incandescent and 10,000 with CFLs.)
Energy Efficiency Alberta introduced an energy savings program to offer instant rebates on energy-efficient products, like LED bulbs. This program can save you money now and for years to come in your home through reduced utility bills.
5. Add a Deck
Do you want to expand your living space and get more enjoyment from your backyard?
Imagine entertaining guests, enjoying dinners with the family, and soaking up the sun during the warm months. A deck addition can pay off in more ways than one. Not only is it a way to beautify your backyard, a deck is a great addition to your home that retains most of its value and adds more functional space to your outdoors.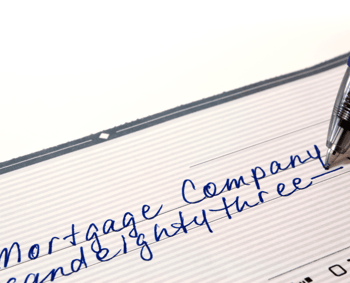 A wood deck is the most affordable option with an 81% average return on investment. If you have room in your budget, composite decking offers lower maintenance and a longer life.
6. Pay Down Your Mortgage
What if you like your home just the way it is?
There's another option for investing in your home without making any improvements: put your refund toward your mortgage.
Paying off your mortgage early can save you thousands of dollars. While you can make larger payments every month to accomplish this goal, it's not always easy to manage. A painless way to pay down your home loan is making a lump-sum payment every year with your tax refund.
Getting on the faster path to paying off your mortgage can potentially shave years off your loan. In the future, this is money you will free up to put toward retirement, a child's education, or travelling.
These are only a handful of ideas for putting your tax refund into your home, but all offer a great return on your investment. Before spending your tax refund on something disposable or forgettable, consider how much value it can add to your life in the long run.