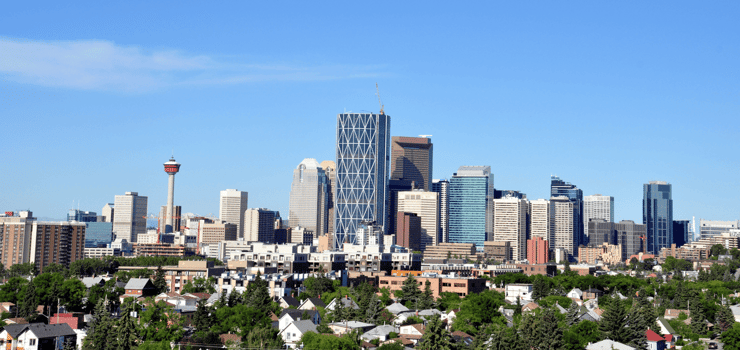 There are many reasons Calgary consistently ranks high on the list of Canada's most livable, and therefore desirable, cities. Calgary offers easy access to outdoor adventures, friendly locals, and a cosmopolitan environment that broadly appeals to people of many backgrounds.
The fact that thousands of homes enter the market in this city every month is a good indicator of how desirable the city is, but what are some other things to know about the real estate market here before you make a decision?
1. Transactional Costs Will Be Low
Alberta has not had a provincial sales tax since the 1930's thanks to the thriving oil industry. Foreign investors don't pay a tax, and there are also no land transfer taxes, only a registration fee of $50 plus $1 for each $5,000. All of these factors have helped make Calgary a good place to purchase real estate.
The sales tax for residents here is a low 5%, about half of what residents elsewhere in Canada pay. These low rates have given Alberta a competitive advantage over British Columbia and Ontario, both of which have higher provincial sales tax rates. Alberta is a province that shows a lot of promise for continued real estate and other growth.
2. Calgary is Business-Friendly
Buildings in Calgary are among some of the newest in Canada. At the end of 2017, it was recognized that the downtown part of Calgary had a rise in vacant office space. With so much available space in newer buildings, companies from many industries find Calgary a good place for headquarters. Due to the high vacancy, many landlords are beginning to drastically reduce rent costs, which is attractive especially for newer companies.
Many of the newer neighbourhoods, such as Evanston and Redstone, have been built with ease of access to commercial areas in mind. Planned neighbourhoods offer easier access to public transportation, as well as bike and walking trails. There is enough selection among the different neighbourhoods in Calgary that everyone stands a good chance of finding a location that offers plenty of conveniences.
3. The Market Has Favoured Buyers Recently
During most of 2017, Calgary home prices fell compared to 2016, making many of the most coveted neighbourhoods in the city more affordable. However, prices may rise as the demand increases. Buyers in the market for custom-built homes or quick possession options in these will likely find 2018 a good year to act.
If the market during 2018 shifts to being more favourable for sellers, buyers won't have as many advantages as they presently enjoy. Acting as soon as possible on buying a home will benefit you in the long run. Real estate is one area where the adage about timing being everything does ring true.
4. Luxury and New Home Neighbourhoods Are Important
Luxury and new home neighbourhoods offer that balance of city convenience and beautiful scenery that many people in Calgary want. One of the biggest benefits of new home neighbourhoods is access to lots where you can build a new home in the style of your choice. Builders in these neighbourhoods may have quick possession homes that are ready for buyers to move in to right away.
When you choose one of these types of neighbourhoods, you will also have a number of home styles to choose from, should you choose to build. Plus, new developments are focusing on families, meaning the surrounding areas offer residents with their lifestyle needs. The amenities you can incorporate into your home will make it worth the time you've spent searching for the ideal spot. Many prospective buyers are keeping these options in mind specifically because of how easily the houses can be customized.
5. Most Neighbourhoods Involve Shorter Commutes
Buyers relocating from many Canadian or American cities will be pleased with the relatively short commuting times that Calgary offers, regardless of the neighbourhood. One of the major considerations to keep in mind is how many neighbourhoods are designed to connect with key commercial areas. Even rush hour commutes seldom last longer than 45 minutes.
Besides easy commuting from new neighbourhoods, there are other features that are attractive to buyers keeping transportation in mind as part of their decision. Many neighbourhoods have stops on the public transit lines or have such stops planned in the future. In addition to good commuting times and public transportation access, rideshare options like Uber also operate in Calgary.
Knowing about some of the ins and outs of real estate buying in Calgary makes it much easier to decide when and where to buy property in the city. The more you know about unique situations involving the real estate market here, the sooner you'll be able to select the perfect place.