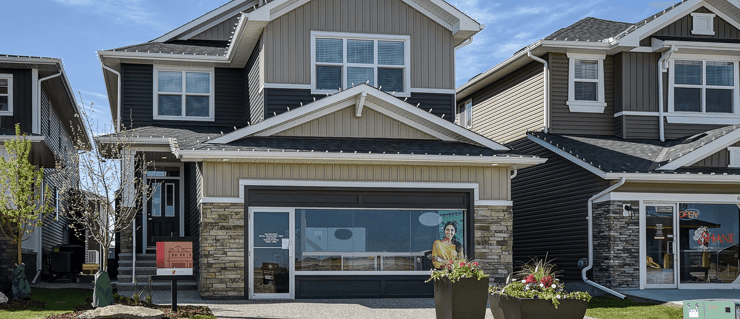 When it comes to real estate, curb appeal is everything. A well-cared-for exterior is welcoming to guests and neighbours and invites you home from work every day. Along with improving the first impression of your home, boosting your curb appeal can also increase its value. Maintaining your home's exterior can even save you money by increasing energy efficiency and warding off costly repairs down the road.
Here are some of the best ways to boost your curb appeal while increasing your home's value at the same time.
1. Upgrade Your Front Door
Your home's entryway is like its smile, and a worn, undersized, or unattractive front door can be a huge drain on your home's appearance. If your front door has seen better days and a fresh coat of paint isn't enough - or you want a completely new look - replacing your exterior front door can be a great investment.
Upgrading to a new steel or fibreglass front door offers one of the best returns on your investment possible and gives your home a facelift. A new door can also offer better insulation than an older exterior door and can potentially reduce energy loss and lower your utility costs.
2. Replace Your Windows
Speaking of energy loss, outdated windows can be a huge contributing factor. Old, leaky windows don't just increase your heat bills, they also detract from your home's curb appeal. Repairing or even replacing old windows can offer immediate savings, update the look of your home, and offer another great return on your investment. According to the Appraisal Institute of Canada, replacing all of your windows may be a little more expensive, but it can offer a return on investment of up to 75%.
3. Revamp Your Landscaping
Whether your front yard is a blank slate, or you're ready for something completely new, few projects boost curb appeal like good landscaping. As a general rule, good landscaping adds anywhere from 10-30% to your home's value by boosting your curb appeal and adding functional outdoor space to enjoy.
You don't necessarily need to invest in professional landscaping, though. If you have a green thumb, you can design your own yard to meet your needs. Extensive flower beds can look great but can also be high-maintenance. If you're concerned about how much time you will need to spend watering and weeding, opt for small- to medium-sized garden beds and choose native plants that grow well in Calgary.
4. Maintain Your Yard
It isn't enough to simply add colour; you'll also want to stay on top of yard maintenance to keep your front looking well-kempt. No matter how great your home looks, a scraggly lawn and overgrown trees can ruin the effect. Take the time to edge the lawn, clear weeds, apply a fresh layer of mulch, and prune your trees and shrubs.
Regular pruning improves the appearance and health of your trees. Pruning can encourage your trees to take a certain shape or even enhance flowering. When it comes to caring for your trees, make sure you know when to prune and when to leave them alone. The right season for pruning will depend on the type of tree and your goals.
5. Add Lighting
Outdoor lighting can serve many purposes. It can highlight your yard, throw a spotlight on architectural elements of your home, and increase safety after dusk. Soft outdoor lighting also improves your curb appeal by making your home look more friendly and inviting.
Solar lights can be a good choice for footpaths because they are easy to install and don't require cables, but they don't offer a lot of illumination and their light doesn't last very long. A smart investment might be a professional outdoor lighting system that doesn't just illuminate paths but also creates an atmosphere around your home. Professional-grade exterior lights come in many styles to add drama, highlight features, and improve function.
Outdoor lighting effects you may want to try for your home include:
Uplighting: Highlights the trunk or the underside of the canopy of a large tree

Shadowing: Sets a mood by creating shadows against flat surfaces

Silhouetting: Highlights dramatic shapes

Grazing: Creates shadow play to highlight uneven patterns and surfaces like masonry
6. Pressure Wash Your Home's Exterior
Sometimes the best thing to do is to give your home a thorough cleaning to remove years of built-up grime and stains. You can wash your home, driveway, and walkway yourself with a pressure washer, detergent, and a long-handled brush.
Just remember there's a right way and a wrong way to use a pressure washer. A pressure washer can easily damage your home and concrete with improper technique. Start with a wider fan pattern, do not blast the water too close to the surface, and always avoid blasting water upward at a steep angle under your siding. You should also avoid directing the water directly into corners or under the edges of doors and windows.
Pressure washing should also be combined with old-fashioned elbow grease. Use a bucket of soapy water and a long-handled brush to clean nooks and crannies and areas susceptible to damage. You can also use bleach to remove stubborn mildew stains that pressure washing alone won't treat.
Boosting your home's curb appeal and value doesn't have to be a huge investment. Many of these ideas are budget-friendly and can be completed over a weekend. Just remember that your home's curb appeal is worth 10% or more of your home's total value; it pays to put effort into maintaining your home's appearance.