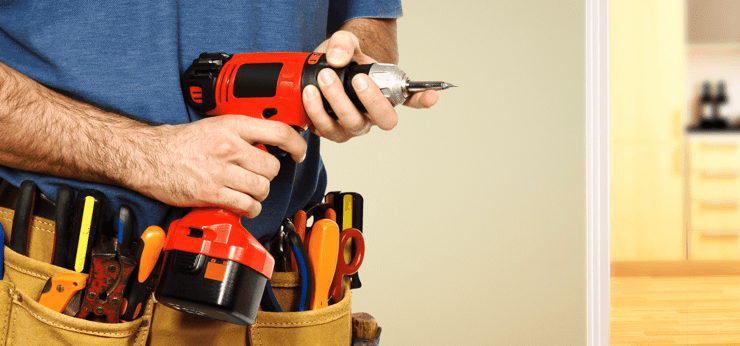 One of the greatest benefits of buying a new home is the reduced maintenance needs compared to an existing home. As a home's age is the greatest factor in affecting maintenance costs, homeowners can spend upwards of 4% of their home's value annually on repairs and upgrades. For a single-family home, that's $16,000 a year!
There is good news, however. Today's reputable home builders use highly functional and energy efficient appliances, systems, and materials - making their new construction homes more low-maintenance than ever. Factor in a 1-2-5-10 year comprehensive home warranty and you are guaranteed a worry-free home for many years to come.
Here's what you can expect in terms of maintenance in a new home build.
Appliances and Home Systems
Not only has the life expectancy of household components and mechanical systems (such as roofing, HVAC, furnaces, water heaters etc.) increased over the last few decades, they have also become a staple for new home builds. Their energy-efficient design guarantees a much longer, low-maintenance lifestyle than would be found in older homes.
If you buy a 20-year existing home, for example, over 12 years of ownership you will likely need to replace the roof, appliances, heating and cooling system, carpets, wood flooring, and water heater (that's assuming they are all original). While there is no guarantee you will not need to replace any of these components with a new home during the first twelve years, your maintenance costs will still be much lower.
Here's the average life expectancy for common household appliances and systems:
Heating and cooling systems: a central AC system will usually last for 15 years while a furnace will last for 20 years. Replacing either can cost $4,000 or more, depending on the type of system.

Roof: the typical shingle roof will last for 15-25 years. A new roof may cost $5,000 or more.

Flooring: buying an existing or resale home almost guarantees you will need to upgrade or replace the flooring. Depending on the type of flooring, it may cost a few thousand to more than $15,000.
Renovation-Free
With a new home, you can order everything to match to your needs and tastes. Buying an existing home may mean costly renovations within the first year just to bring the home to your style and replace outdated components.
The most common renovations after buying an existing home include kitchen remodels and bathroom remodels. The average Canadian spends more than $23,000 to upgrade their kitchen while the average bathroom remodel costs over $9,000. Calgary homeowners tend to spend more on their kitchens with an average remodel of more than $32,000!
A home renovation is about more than the cost, though; during renovations, which may take weeks or months, you will have strangers working loudly in your home and you will not be able to simply relax and enjoy your space.
Low Maintenance Products
Most new home buyers appreciate low maintenance features. When you choose a new home, you can customize the features to minimize daily and seasonal maintenance to spend more time on the things you enjoy. Low maintenance has three key benefits:
Reduced cleaning time

Reduced annual or seasonal maintenance

Longer life expectancy of building materials, features, and appliances
In addition to the decreased maintenance options already included in a new home build, you can even further reduce home maintenance by customizing your build options.
Low Maintenance Exterior
According to the Canadian Home Builder's Association, today's low-maintenance trim, windows, and siding can reduce or eliminate unpleasant homeowner chores like painting, sanding, and sealing. Save time on home repairs with the following low maintenance options:
Windows: Choose aluminum-wrapped wood instead of wood. Another option is fibreglass windows, which are rot- and moisture-resistant and do not warp.

Trim: A composite material instead of wood means no painting or replacing trim due to rot.

Siding: Vinyl siding can mimic the appearance of wood or other materials without rot, painting, caulking, and other maintenance. Fibre-cement siding is also a good choice for great curb appeal without the aging associated with wood. This type of siding only needs painting once every 15 years and it can have a warranty of 30 to 50 years.

Decking: Today's composite decking can mimic the appearance of expensive woods like cedar and redwood without fading, chipping, or splintering. There is no need to refinish your deck and it won't rot over time.

Roofing: There are many roofing options available with a new home. Single-tab asphalt shingles are the least expensive but they require replacement after about ten years. More durable composite shingles can last for decades, and metal roofs can last for more than 50 years.
Low Maintenance Interior
Cut back on household chores and maintenance inside your home with these options:
Flooring: Laminate flooring is made with a wear layer that resists stains, moisture, and scratches. Hardwood also makes for an elegant option that is easy to sweep and clean.

Countertops: Quartz countertops come in limitless styles and patterns to fit your style. Quartz is about the same cost as granite bit it is durable, almost impossible to stain, non-porous, and never needs resealing, unlike granite which requires sealing every two years.

Interior Paint: Durable high gloss and semi-gloss paints are wear and tear resistant, washable and stain resistant.
Looking for a Low Maintenance Lifestyle?
According to a recent survey, a new home will cost the owner an average of $8 per month in repairs and maintenance compared to $33 per month across all home types. Of course, this doesn't include the amount of labor and housework you can save by purchasing a new home with new appliances, systems, and features.
If you're ready to spend more time on leisure and less time sweating over home repairs, check with your builder to see which low-maintenance products are included in your new home and which can be added for the ultimate in relaxed living.