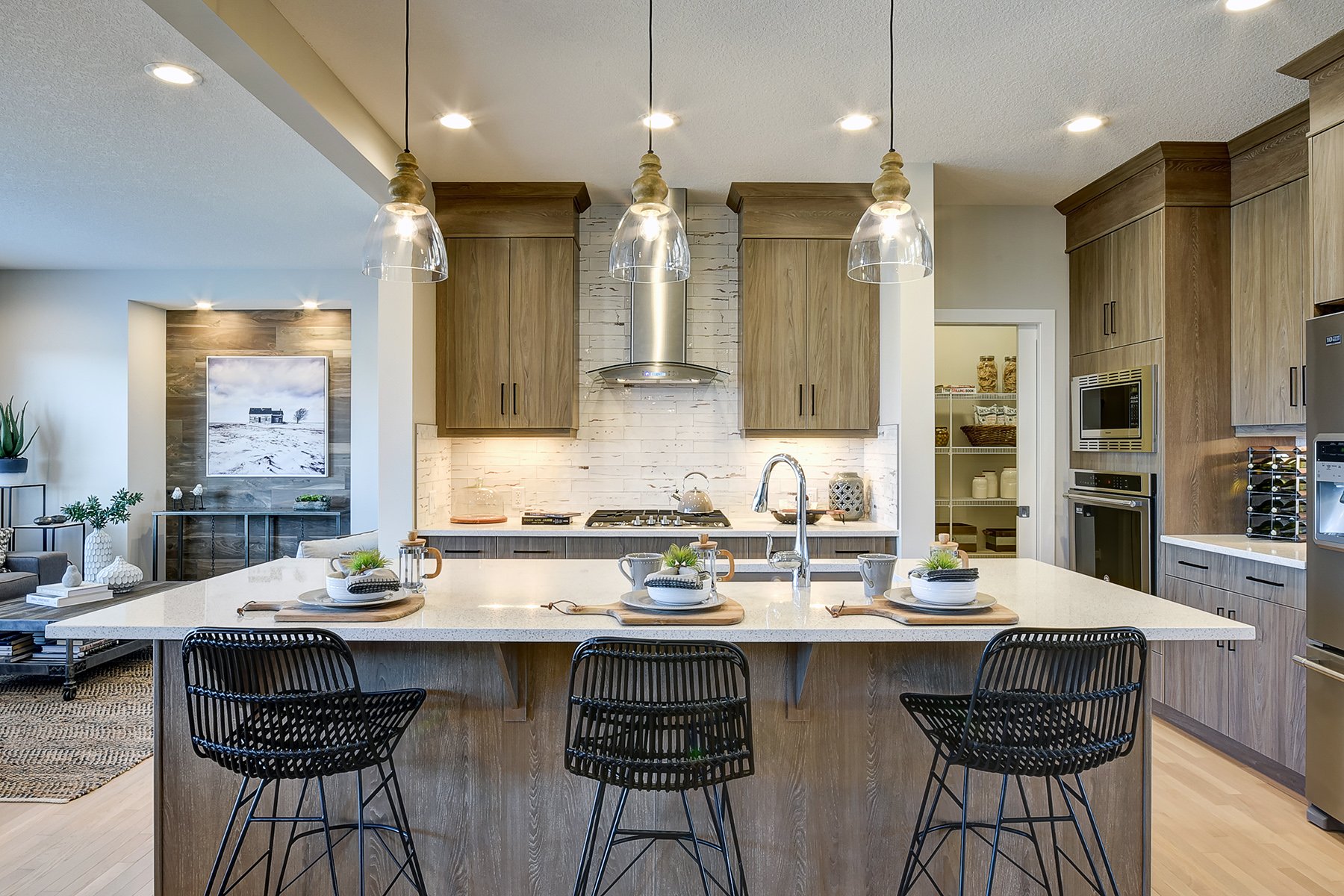 If you have a refined palette, love cooking, and are often instagramming your food, chances are you're a foodie. So you probably want the kitchen to be more than just the heart of your home - you want perfection. After all, the kitchen is where you express yourself from the sip of morning coffee to the delicate hors d'oeuvre with a glass of wine at night. If you're going to put your mark on a room in your home, your kitchen is the strongest candidate!
Layout
When it comes to a layout consider flow and efficiencies. What you need to know is how you work and move in your kitchen. Some people love having room beside the cooktop for cutting vegetables while others like working on an island where they can spread out. Neither way is wrong as long as it caters to your personal workflow. Think of the essential elements of the kitchen that you will use the most, such as your cooktop, sink and refrigerator. which have the greatest use. build your ideal layout with these as our foundation.
Will you want to be able to chat with guests while preparing food? Consider having an open concept floor plan design that will allow you to play host while preparing a meal at the same time.
Since functionality and style go hand-in-hand you might want to create a focal point in your kitchen. An island built with a different material or a stove with ornate vent hood can create extra wow factor!

Materials
Since you use your kitchen daily, choose durable and easy to clean materials for your cupboards and preparation surfaces, that won't be as affected by cooking oils, grease and oxidization. Avoid porous countertop surfaces such as certain types of granite or marble, unless you are willing to maintain them yearly with sealers.
Backsplashes should also be a non-porous and simple to clean as this will most likely be where cooking grease will build up. After all, you want the culinary experience minus the clean-up nightmare.

Environment
When creating your new kitchen space, you might consider using eco-friendly materials. In today's world, this has never been more easy with environmental agencies putting their label on eco-friendly products. When purchasing appliances look for the Energy Star symbol to ensure they meet or exceed current EPA (Environmental Protection Agency) guidelines for energy efficiency.
The same goes for plumbing fixtures which will have a WaterSense label as these are 20% more efficient than standard fixtures. Lighting is also a very important part of kitchen design, so utilizing LED bulbs and fixtures makes it simple to be easy on the environment and your energy bill.
Butlers Pantry
This may sound antiquated but butler pantries are making a resurgence (well, without the tuxedo wearing wait staff). In the past, the butlers pantry was an area to clean and polish the silverware, as well as complete last minute preparations before the food was presented to guests.
Today's butler pantries are used to host a second refrigerator or freezer, plus shelving for dried goods and smaller appliances. They can also include a small sink for clean-up. As a foodie, this is something to think about if you do a lot of entertaining.
Spice Kitchen
If you want to take the butlers pantry to a whole new level, then a spice kitchen is something to consider. These are smaller, contained kitchens within a home for cooking dishes with a stronger odour. Spice kitchens will almost always have a separate ventilation system to prevent any unwanted smells from seeping into the rest of the home, and host all the appliances minus the refrigerator of a conventional kitchen. Now you can keep the cooking mess out of sight while concentrating on entertaining your guests.
Whether it's a classic design, adding a spice kitchen or butlers pantry, be sure to create a space that is going to keep kitchen duties comfortable, functional, organized and beautiful for years to come. After all, this is the heart of the home, and where you will be spending a lot of your time enjoying your foodie experiences.