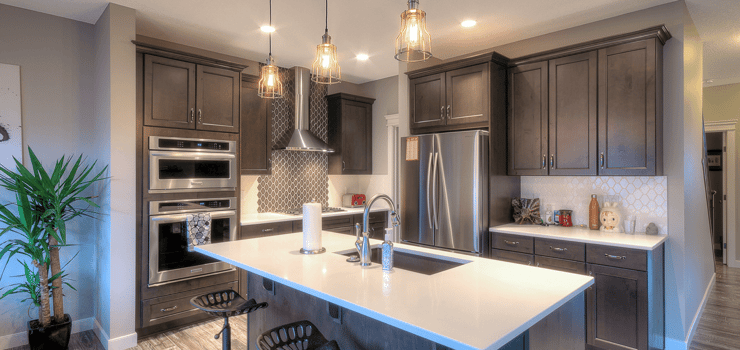 Are you looking for a style of home décor that's equal parts warm and charming? Whether you're decorating a brand-new home or want to give your current house a makeover, farmhouse style décor makes any home more inviting. Check out our guide to farmhouse style below that's sure to give your home a dose of rustic flair.
Wall Colour
Farmhouse style décor features tables, dressers and other furniture made of natural wood. So, painting your walls in a neutral colour such as white, beige, light grey, tan or ivory serves as an appealing backdrop to this type of furniture.
Furnishings
The furnishings you choose play a big part in bringing the whole farmhouse look together.
The Kitchen Table
Furniture items made of aged wood are an ideal choice for this type of décor. One idea is to get a picnic style table made of reclaimed barn boards. This attractive table is likely to become the centre of all the activity in your kitchen.
Coffee and End Tables
Consider getting an old wooden tack box or trunk to use as your coffee table in the great room. Find a few low wooden stools to use as end tables. These stools are also excellent for supporting houseplants near a window.
If you prefer something other than wood for your coffee table, think about a dark wicker chest with a leather strap to secure the lid. A wicker chest would also work at the foot of your bed in the master bedroom. An ottoman made of wicker with a small cushion on top can be used for sitting as well as storage in almost any area of a home.
Sofas and Chairs
A sofa in a neutral colour is perfect for complementing your wooden or wicker furnishings. If you go with a white, tan or beige sofa, mix in some colourful throw pillows in red or dark green to add interest to the picture.
Wooden chairs are a desirable addition to a great room or dining room. You can select seat cushions to put on your chairs to give them a bit of colour or complement another item of furniture in the room.
An antique dresser or wardrobe would be a highlight in the décor of a master bedroom or guest room. A four-poster bed made with dark wood and covered with a patchwork quilt would be another stylish feature in a master bedroom or child's room.
Lighting
Lamps and other sorts of lighting are practical items, but that doesn't mean they can't contribute to your farmhouse style décor! If you have an island in your kitchen, think about illuminating the area with a line of pendant lights in the form of old-fashioned lanterns.
You can dress up a lamp with a wooden base by pairing it with a lampshade featuring the silhouette of a barnyard scene or a farm animal. Or, find a rustic lamp with a traditional red barn or a horse as its base. These types of lamps would be fun additions to a great room, dining room, bedroom or kitchen.
Décor for the Floor
If you have hardwood floors, you can add a dash of farmhouse style to them by putting down an area rug. An oval-shaped, braided area rug in red, blue or green would look attractive on any hardwood floor.
A natural basketweave jute rug is another idea to enhance the farmhouse décor in a kitchen, foyer or great room. It could be a full-size area rug or a smaller rug near a door or beneath a table.
Don't Forget the Bathroom!
Yes, you can have beautiful decor in your bathroom too!
The Sink
You can have a bathroom sink that gels perfectly with your farmhouse style decor. An apron sink has rustic flair for your powder room. Or, a console sink with a bronze waterfall faucet with a country pump handle would be a memorable feature.
The Bathtub
If you are able to put in a new bathtub, a free-standing style would flow with your farmhouse décor. Make sure the colour of the faucet handles and spigot match the one on the sink.
Other Decorative Touches
An oval mirror with a frame of weathered wood is another idea for your bathroom's décor. If you get one, you can put in a towel rack made with the same type of weathered wood. Towels in bright red, deep green or navy blue can add a bit of bright colour to the space.
More Decorating Details for Farmhouse Style
If you don't want to completely redecorate a room, you can add detail here or there to give the space a bit of farmhouse flair. Sometimes a few simple items can change the tone of a room.
Small items perfect for a farmhouse style décor:
A bouquet of silk or real flowers in a metal watering can, an old-fashioned milk can or a glass ball jar
A cuckoo clock designed to look like a barn
A galvanized steel wash tub planter on the front porch
Antique copper canisters full of forks, spoons and butter knives kept out on the kitchen counter or island
You can redo all of the rooms in farmhouse style décor or sprinkle in a few stylish details here and there. Either way, your home is sure to feel warmer and more inviting to friends and family alike.